Rihanna Camo Puma Creepers Go On Sale At This Time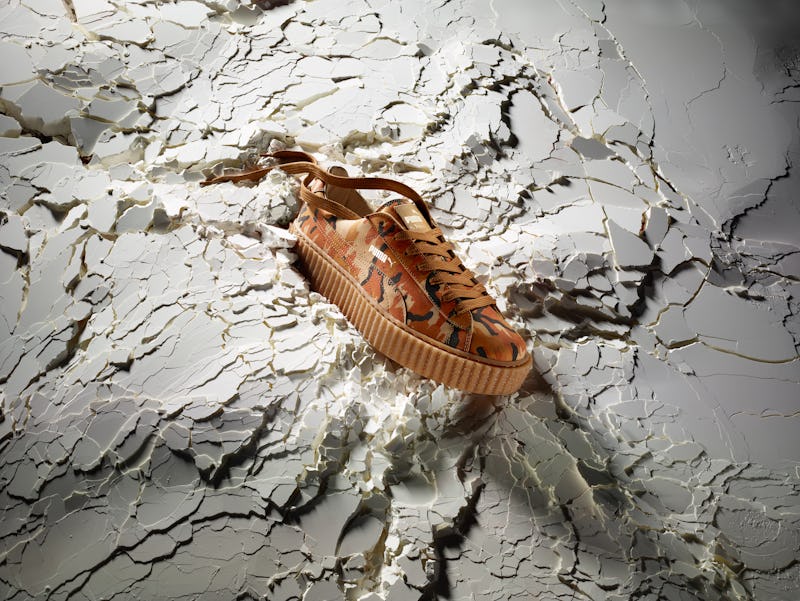 Are you ready for the next round of Creepers? Rihanna x Puma Creeper drops are usually accompanied by hype and hope! Fans and customers express their excitement and desire to shop the shoes on social media, along with wishing and praying they don't get shut out. That's due to the fact that these kicks usually sell out in minutes. Rihanna and Puma are releasing orange Camo Creepers on Thursday, July 28. The singer x fashion plate and the brand are also dropping grey Fur Slides on Friday, August 5. But let's not get ahead of ourselves. Let's keep the focus on the new Creepers, which will give any late summer or early fall outfit a fashion boost. What time are burnt orange Rihanna Camo Puma Creepers going on sale?
The Camo Creepers will be available to purchase at 10 a.m. ET/7 a.m. PT. There is a ticker on the Puma site, confirming the on-sale time. These sneakers are $140 and they will be shoppable via the Puma site, Puma stores, and other select retailers.
Below is the screen shot of the ticker image on the Puma page. I took it at around 7:30 a.m. ET. It says one day and approximately two-and-a-half hours. The quick calculation yields 10 a.m. on Thursday, July 28.
I love how the camo print matches the rubber sole, which is the sharpest element of the Creeper. The silhouette is utterly awesome.
The colors are so autumnal. The print reminds me a bit of leaves. Surprisingly, RiRi hasn't posted about the Camo Creepers on her Insta yet. She probably will before the on-sale time.
It's all about the details with the Camo Creepers.
This tweet says it all!
Good luck shopping the Rihanna x Puma Camo Creepers on Thursday, July 28 at 10 a.m. ET. I expect another swift sellout for these kicks. The are crazy cool and they will upgrade any outfit. If you are already shopping your back to school looks for high school or college, you need to add these shoes to your wardrobe.
Images: Puma (1); Puma/Instagram (1)