This Dating App Wants You To Hack Their Algorithm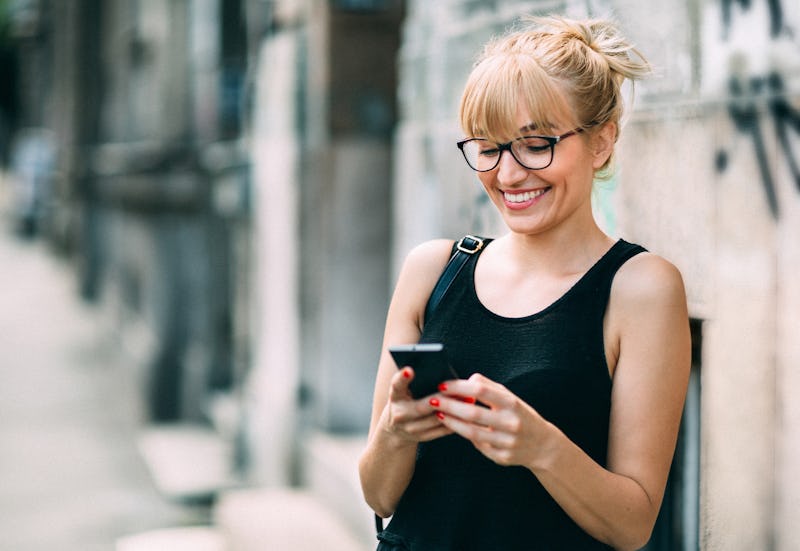 Whether you're looking for a Friday night date, your ~soulmate~, or a friend with benefits who will eventually proclaim their love for you with a flashmob in Grand Central a la Justin Timberlake, there is one thing everyone wants on dating apps: matches — and more of them, please. So how can you get more matches online? Some will tell you it's all about your profile pic (take off your sunglasses!), some will tell you it's all about the clever bio (stop saying what you don't want!), but what if it has to do with something entirely different? What if, like meeting people IRL, getting more matches has a lot to do with timing?
If you've ever liked on someone on a dating app and wondered when you'll show up on their feed, if you already did, if they even check the app anymore, or if they're now head-over-heels and living with someone and forgot to deactivate their account, you're not alone. And if you're busy AF, you may feel like don't have time — or the patience — to wait around and find out. That's where dating app The League's newest feature comes in, The Power Move. It offers users a way to pay ($7) to hack the app's algorithm and increase the chances of a match in just 24 hours.
"As adults, we are told to go after what we want in our professional life, and I think dating life should be no different," Amanda Bradford, founder and CEO of The League, tells Bustle. "Playing hard to get on a dating app completely defeats the purpose, and the busier you are, the less sense it makes to wait for a profile to match you back, send a message and reply back a few times, and then schedule an in person meetup. This whole process can take weeks, if not months!"
Basically, it's a way to cut the line when you see someone you're crushing on. You'll skip their waitlist and show up in their next batch with a special heart. You can send a custom message to them along with it if you'd like or let your Power Move say it all. On their end, they'll see a special icon on your profile and they'll receive note about why they should pay attention to your profile.
As it is now, The League's algorithm gives users two people (out of five) per batch that have already liked them and the rest are ones who haven't seen them yet. Those two people come from each user's "hearted queue" and they're ranked in the order of probability of a match occurring. So depending on how many others hearted them and how good of a match you are, the person you're into on may not actually see you for another 18 days — and that's just if they log on every day and go through their matches.
"We want to give the users who will get up off their couch to meet the other person a way to signal that intent, says Bradford. "Making a Power Move for someone cuts through the noise and flakiness that pervades the online dating space today and offers a way for the non-flakes to stand out from the rest!"
This isn't the first time we've seen popular dating apps offer ways to stand out — Tinder's Superlike, OkCupid's "Like" feature, and Happn's Charms — all let you show you're extra interested in someone. But being able to mess with the algorithm is a new move, and it seems pretty badass.
Going after what you want doesn't just feel empowering — studies have also shown that women who make the first move have more success online, too. OkCupid data from 2015 found that straight women who reach out to men have higher response rates and match with more desirable men. Better matches and time saved? I'll definitely give it a try.
Images: Fotolia; Courtesy of The League