Jared Padalecki Drops Hints About Rory's Love Life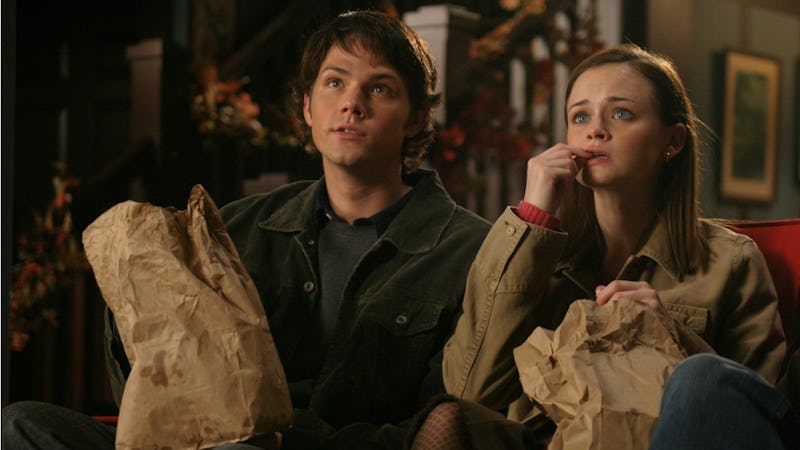 Whether you're currently of the opinion that Rory Gilmore should remain single in Gilmore Girls: A Year In The Life, or whether you're adamantly Team Jess, Logan or Dean, the fact is that fans can't stop speculating over who Rory will love in the Gilmore Girls revival. If you're starting to feel ever so slightly concerned that you're getting a little too invested in the affairs of Rory's heart, then don't sweat it, because clearly the cast of Gilmore Girls care just as much as you do. In an interview with US Weekly, Jared Padalecki (who plays Rory's first boyfriend, Dean Forester) made some extremely impassioned statements regarding Rory's potential love life in the Gilmore Girls revival, stating "There will always be some fans who are unhappy, but I think they'll be pleased with it." Padalecki elaborated on why he think fans will be pleased and simply urged them to trust in the talents of Gilmore Girls creator Amy Sherman-Palladino:
Amy didn't come back to f*ck it up — she came back to do it right, and she did it right... And I get to watch it on August 1 because I get to do my voice-over and stuff like that
Like, whoa. Slow down there, Skippy. Before I even attempt to unpack all the subtle, teasing details to be found in those statements, there is one extra thing to add. During the interview, Padalecki confirmed that he was only on the Gilmore Girls set for one day (as Team Dean shippers had feared), but that the experience was eye-opening for him:
I wanted to be a bigger part — I think they wanted me to be a bigger part of it as well. But it was shot during Supernatural, so I only did one day. But in that one day, it was a really good amount of stuff I got to do, and explained a lot.
OK, so now we can totally get down to the obsessive analyzing portion of this article, because seriously? There's more information here than you might realize. For starters, it may seem as though Padalecki is being nothing but his usual completely adorable self by making such a diplomatic statement regarding how happy fans will be with the result of Rory's love life, but actually his words may indicate the possibility that Jess could be endgame in the Gilmore Girls revival.
As Padalecki revealed to US Weekly in 2015, the actor is "totally team Jess," and so for him to suggest that fans will be pleased with the outcome seems to also suggest to me that he's totally pleased with the outcome too.
Adding some extra intrigue to that theory is the fact that in Padalecki's interview he mentions laying down his "voice-over" for the revival. Whilst this could, of course, simply be implying that he's recording the voice over to be used on the "previously on Gilmore Girls" voice-over segment, which may still precede each of the four movies of the Gilmore Girls revival (along with some other potential marketing for it), there is a second valid theory to be considered here — that he could be laying down a voice-over to be used in the actual show.
Considering that his filming time was so brief, it's unlikely that he'll have too prominent a role in the revival. However, a voice-over could imply that Dean may have left a heartfelt letter for Rory, which he'll narrate as she reads it. Taking into account the tension that has always existed between Dean and Jess, it feels right to imagine that, should Rory end up with Jess, that Dean may want to write to her about it, rather than speak to her face to face. Perhaps Dean will even be passing on his blessing for the potential relationship.
However, if Rory may remain single, then such a letter could simply be commending her on the wonderful person she's become, or helping her through a tough time. Padalecki mentioning that he thinks Sherman-Palladino has done the all new episodes "right" could also hint at the fact that the Gilmore Girls creator has finally been given the freedom to see her original vision for the show fulfilled (Sherman-Palladino was notoriously not involved in the seventh and final season of the show), and as such we may all be rooting for the wrong suitor altogether. Perhaps, there isn't even a suitor to be rooting for?
In an interview with MTV in 2015, Sherman-Palladino expressed the fact that she always believed that Rory had "the right boys for the right times" of her life, and didn't have any specific "allegiance" towards any of the character's boyfriends. In fact, she mentioned during the interview the one and only side that she had allegiance to — Team Rory. As such it would be easy to imagine the character enjoying some kind of a possible, fleeting moment of romance with all three of her exes whilst ultimately using such experiences to grow into simply feeling comfortable and happy enough with herself to remain single. And isn't that something that we all secretly hoped for Rory to realize during Gilmore Girls?
Whatever the outcome, I trust Padalecki implicitly when he says that fans will be pleased with whatever choices Rory makes for her love life. At the end of the day, the Gilmore Girls revival isn't about picking sides or seeing our favorite fictional boyfriend of choice sweeping back into Rory's life, but instead seeing the character flourish into a confident and capable young woman who doesn't need a man to define her. Any romantic engagements with Dean, Jess, or Logan will simply be an incidental (and definitely enchanting) added bonus.
Images: Warner Bros. Television; Giphy (2)