These 'Gilmore Girls' References Are So Modern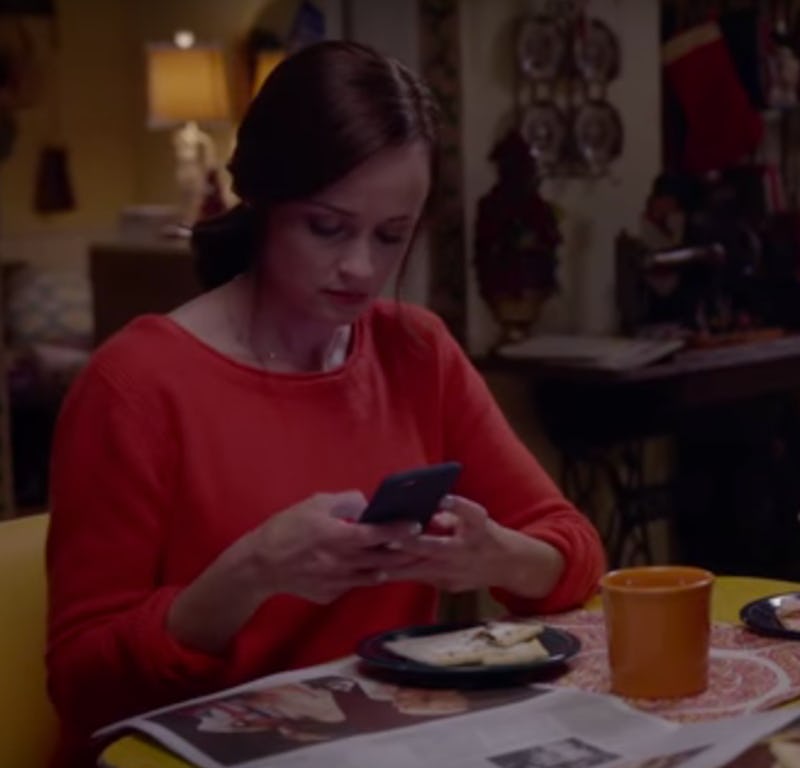 Where Lorelai and Rory lead, fans will follow, and, this fall, they'll be following them to Netflix. The Gilmore Girls premiere date has officially been set at November 25, and the revival will give us a look at a year in the mother and daughter's life. Hence, the title, Gilmore Girls: A Year In the Life. The show's trailer to announce the release date for its four-part series, which will start in the winter, doesn't give much away about where the two are in their lives — besides the fact that they're still in Stars Hollow. But here are some details that make it clear the Gilmore girls have entered the present decade.
It's true, the trailer filled with the familiar sounds of Sam Phillips' "la la las" does give fans some familiar sights of the town: the church, better known as the Churchogogue, since Christian and Jewish both worship there, Luke's Diner, Doose's Market, the town square's gazebo, the Dragonfly Inn, and Lorelai's house. It's there we see Lorelai and Rory sitting at the familiar kitchen table drinking what one can assume is coffee, eating Pop Tarts, and reading the newspaper. It's just like old times. Almost.
The two are not the women we left in 2007, but are the ones we're being re-introduced to in 2016. First of all, Rory has an iPhone. It's easy to forget that, back when the show went off the air, the iPhone had just debuted, but hadn't hit the shelves yet. Thus, the Gilmores we used to know were strictly flip phone users. But the ability to have, at your fingertips, the answer to any question must be so exciting for the curious Rory — not to mention very handy when your mom often goes on tangents that play fast and loose with the facts.
Case in point, Rory gets to use her iPhone to look up what the heck Lorelai is talking about when she mentions "a plant strapped to me that only blooms once every 50 years and smells disgusting." Ever the reporter, Rory factchecks Lorelai's smelly plant claims. Turns out, it's a corpse flower, and it only blooms once a decade. But since things have stayed the same, it's no surprise that Rory's Googling strikes a nerve with Lorelai, who lets her know this isn't a "teachable moment." (Though, it definitely taught me something. But like Rory, I like knowing things.)
Other subtle clues this show takes place in the here and now? Lorelai's updated pop culture references, with mentions of Amy Schumer and John Oliver. Back in 2007, Schumer was just an up and coming comedian on the reality show Last Comic Standing, which aired months after the Gilmore Girls aired its finale. And while there's no doubt that Lorelai would be watching Inside Amy Schumer now, it's hard to believe she would have ever sat down and watched Last Comic Standing. But, even still, now Lorelai would like to be her friend — barring any water sports.
When it comes to Oliver, Lorelai may have known him from The Daily Show, where he started as a correspondent in 2006. She was always very open about her love for the show, but I imagine she only had eyes for Jon Stewart. Bustle did assume that the Gilmore girls would be a big fan of Last Week Tonight, and Lorelai's question of whether Oliver would find her hot points to the fact that she is indeed a fan of the HBO show. While Schumer made it clear she'd totally be friends with Lorelai, the verdict is still out on whether Oliver would find her attractive. Like Rory, I'll be repeatedly Googling this looking for an answer.
Image: NetflixUS&Canada/YouTube