This Is What Inspired The KyShadow Packaging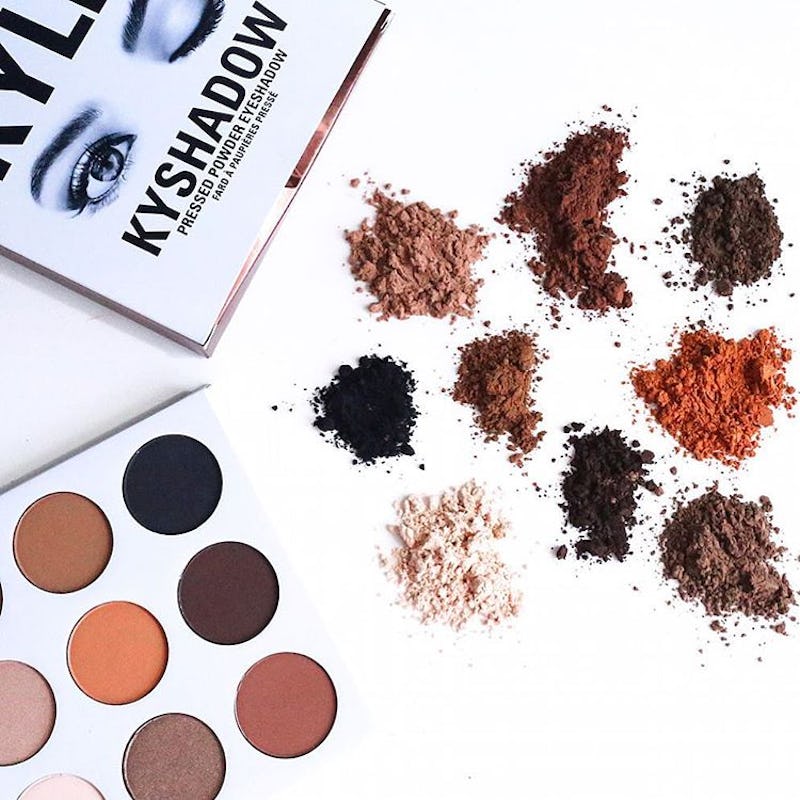 Kylie Jenner's KyShadow palette has officially become one of the fastest selling products from the brand. One glance at the product, though, and it's easy to see why this is the case. From the signature drips on the cover to the product inside, it's perfect. So what inspired Kylie Jenner's KyShadow packaging? She spills all on her app including her vision for the packaging and the one element she needed to be included in what became the perfect Kylie Cosmetics KyShadow packaging.
Kylie Cosmetics has always had a signature look, and Jenner is responsible for that incredible branding. What look am I talking about? The bold drips found on the Kylie Cosmetics lip kit, gloss, and matte lippies and now on the KyShadow packaging. According to a video posted to Jenner's website, the cosmetics mogul chose not just to include the drips on the packaging's cover but pumped up the cool factor a bit as well. The drips are actually the colors contained inside the palette itself.
By making the drips the same hues as the shadow itself, Jenner is able to achieve what she describes as her vision in the video. Jenner explains, "I wanted it simple but still cool, and I really wanted to incorporate the drips." Welll, if Jenner's simple but cool inspiration was the goal, she's definitely hit the nail on the head with the KyShadow palette.
According to another post over at the Kylie Cosmetics Instagram page, Jenner went into more detail regarding the changes she'd made over the past several months to the packaging. No one can say that Jenner isn't dedicated to her product. In the post, the original KyShadow packaging was black. In another iteration, the drips from the eyes — which are, in fact, Jenner's — were simply solid gold.
Jenner, however seems to have had a very unique vision for the KyShadow packaging, and her official look is total perfection. So if you were wondering what inspired Kylie Jenner's KyShadow packaging, it seems to be an ideal combination of loving her existing brand, wanting to keep things simple, but also making things fun. In my opinion, Jenner definitely realized that vision.
If you want to know more about the Kylie Cosmetics KyShadow palette, head over to Jenner's website for more insights on the beautiful packaging.
Images: Kylie Cosmetics/Instagram