Biden Tears Up At Obama's Speech & You Will, Too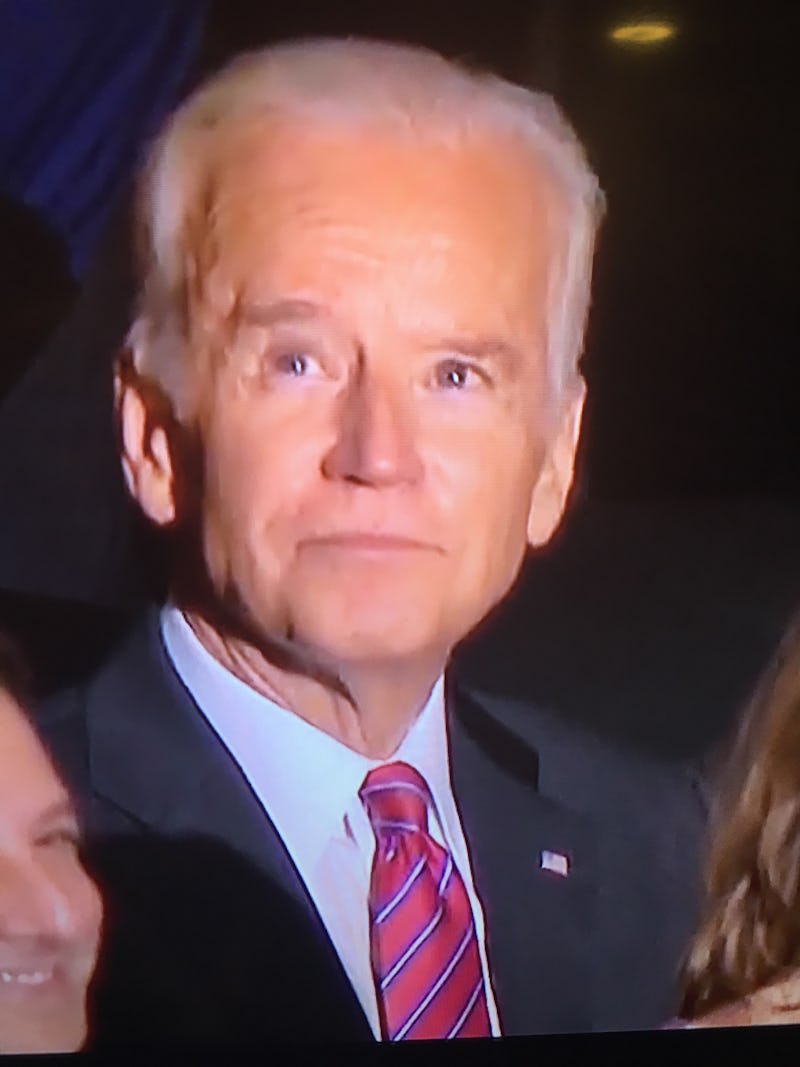 President Barack Obama delivered a much-anticipated speech on Wednesday night at the Democratic National Convention, marking his fourth appearance at a DNC. During his speech, while offering a ringing endorsement of Virginia Sen. Tim Kaine, Obama took a moment to honor Joe Biden, his own vice president:
And by the way, in case you're wondering about her judgment: Take a look at her choice of running mate. Tim Kaine is as good a man, as humble and as committed a public servant as anybody that I know. I know his family, I love Anne, I love their kids. He will be a great vice president, he will make Hillary a better president, just like my dear friend and brother Joe Biden has made me a better president.
This was an endearing moment. It's no secret that Obama and Biden have had a close relationship that was never just political. According to Biden, Obama and his wife were a major source of support when Biden's son Beau experienced a stroke in 2010 and passed away from brain cancer in 2015. Biden, as many analysts have pointed out, offered Obama a close friendship, and often served as a sounding board for important ideas.
This brief exchange between Obama and Biden did not go unnoticed. Many people took to Twitter to express their fondness of the Obama-Biden White House — and, more importantly, their friendship.
In his speech on Wednesday night, Biden also spoke to his friendship with Obama, and applauded his presidency.
But we not only have worked together, as it becomes pretty obvious, we've become friends. We're now family. We're family. Folks, you've all seen over the last eight years what president Obama means to this country. He's the embodiment — he is the embodiment of honor, resolve, and character. One of the finest presidents we have ever had. That's right.
This is a man of character. And he's become a brother to Jill and me.
The friendship between the president and vice president has been called the "closest" of its kind. When Biden's son Beau passed away in 2015, it was Obama who delivered the eulogy at his funeral. On that day, Obama made eye contact with Biden, and the words he uttered spoke volumes about a relationship that these two men will likely maintain long after they've both left the White House: "Joe, you are my brother. I'm grateful every day that you've got such a big heart and a big soul and those broad shoulders. I couldn't admire you more."