What Lip Kit Colors Will Kylie Jenner Do Next?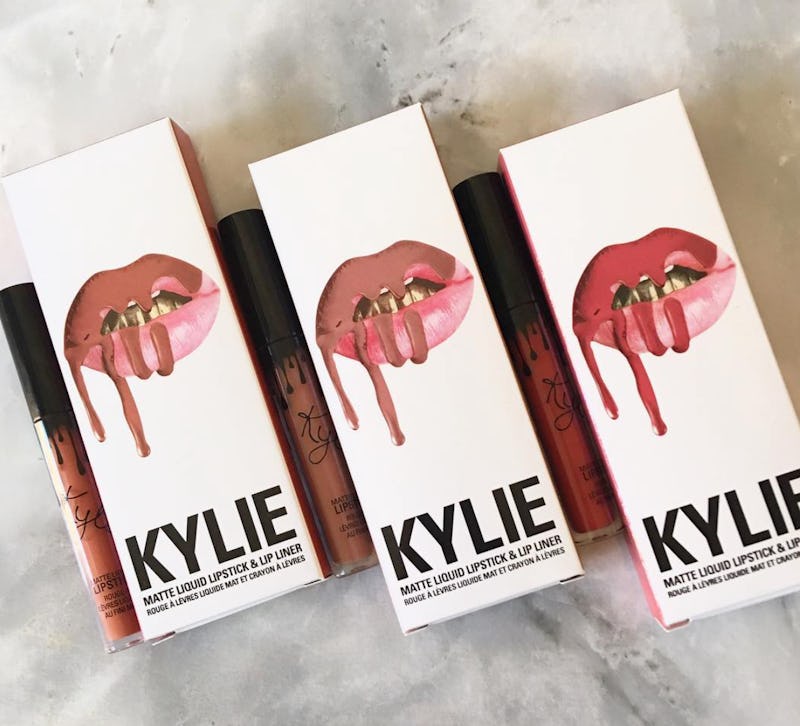 The Kylie Jenner cosmetics empire is constantly growing! Jenner's Bronze Kyshadow Palette sold out in a minute upon launch. The colors are beautiful and wearable and her fans and kustomers were excited about the makeup mogul adding a brand new product for a feature other than lips. Up until this week, Kylie Cosmetics was all about lips — mega matte Lip Kits, Kylie Glosses, and the Metal Mattes. While Jenner did confirm that there are other Kyshadow Palettes forthcoming, including a restock of the best-selling bronze on Friday, July 29, she is not stepping away from the liquid lippies on which she built her brand. Not. A. Chance. Jenner has created three additional new Lip Kit shades. The news comes hot on the heels of her summer hues — Ginger, Kristen, and Maliboo.
Jenner teased the upcoming new colors with the grey filter on Snapchat, which is easily her fave social media app. What colors will the new Kylie Lip Kits be?
While Jenner was coy and has yet to reveal the shades, we can certainly analyze the clues and make some educated guesses about what's on deck.
First, witness her Snapchat tease below. She's "on it" and is working to get these produced. Even with the sneaky grey filter, we can still come up with some ideas, hopes, and wishes about which colors will be added to the Lip Kit lineup.
The center shade looks deep and dark. Meanwhile, the shade on the left appears to be a lighter version of the one in the center. The one on the right looks super light but possibly in the same color family. Could it be another nude or neutral?
Or could she be creating matte, Lip Kit versions of her original trio of glosses aka Like, Literally, and So Cute? Remember, she took the Candy, Exposed, Koko, and Posie mattes and turned them into megawatt, shiny glosses. Perhaps the reverse is happening?
The first three glosses were all in the same color family and the greyed out new Lip Kit shades look similar in color gradation. So that's definitely a possibility.
Jenner's new summer shades will certainly carry over and be wearable into fall. Will she go with deeper, darker, more fall-like shades with her newbies? Richer pigments and heavier makeup looks usually cruise into vogue with the cool weather, since you don't have to worry about product melting off your face.
There's also the distinct possibility that the new Lip Kits could be inspired by the Kyshadow palette, which was an instant hint with her shoppers. Because #synergy.
Lastly, the three new KLKs could be totally brand new and have nothing to do with any other colors or products in her makeup repertoire. That's also a realistic option.
Whatever the case, I cannot wait to see what she is giving us to paint our lips with next. #MatteRules #Matte4Ever #LipKitsGiveMeLife.
Images: Kylie Jenner Snapchat (1); Kylie Cosmetics/Instagram (5)