'Glee's "100" Is Going To Be The Most Nostalgic 2 Hours On Television — PHOTOS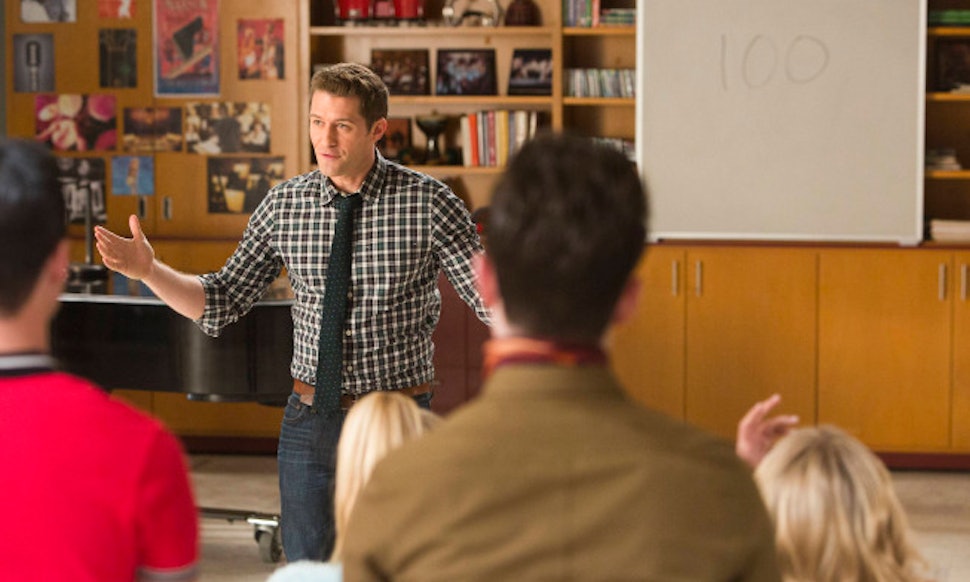 Well, it looks like Ryan Murphy's going to give Glee a proper send-off by reminding us of all of the GREAT things it had going for it when it started. FOX released 20 official photos from the upcoming two-part "100" and we're as nostalgic as ever for simpler times at McKinley High. We knew all of our favorite characters were coming back, but seeing Brittany, Santana, and Quinn back in their Cheerios uniforms gives us a lot of feels.
FOX and Murphy have bombarded us with info about "100" for the past few months — from the episode's track-list to the numerous returning and new guest stars — and now it's almost here. Are we ready to say goodbye to Lima and all of the great things that came from the show's first season for good?
Check out the images from "100" and take a walk down memory lane.
Images: FOX
Brittana's Reunion
Fans went into an epic frenzy when this pair broke up. In their prime, Brittana was one of the fan-favorite Glee couples and now they're finally about to reunite for the first time since last season. They're going to perform "Valerie" during the episode, but we'll never forget their amazing "Landslide" duet with Gwyneth Paltrow.
Image: FOX
Someone's Getting Dumpster'd
Remember when Kurt got dumpster'd on the daily during the first season of the show? Well, until Finn joined the glee club and most of Kurt's bullying stopped? Dumpster-ing kind of fell by the wayside after that but it looks like the new kid in town — Chace Crawford as Quinn's Yalie boyfriend Biff — is going to get a taste of one of Glee's signature bullying styles.
Image: FOX
The Unholy Trinity
AND THEY'RE IN THEIR CHEERLEADING UNIFORMS and singing Britney Spears' "Toxic". If there's anything more nostalgic than these three reuniting, singing together, and wearing their original costumes — I don't know what is.
Image: FOX
April Rhodes Is Getting Kids Drunk
Remember when she convinced Kurt that he should fill a thermos with alcohol and he ended up puking all over the place? Well, she's back and she's still inappropriate and getting kids drunk on school grounds. Hell yeah, girl.
Image: FOX
This Love Triangle
Puck, Quinn, and Finn's retired jersey all in one place. They buried the hatchet about Quinn cheating on Finn with Puck a long time ago, but we'll never forget it. Especially that scene from season one where Quinn and Puck are "baking".
Image: FOX
Everyone's Back In The Choir Room
It's almost like we're back in 2009 again. Well, if you can look at this photo and un-see all of the new New Directions. Either way, it really tugs on the heart strings to see everyone sitting in their usual seats again with Mr. Schue commanding attention.
Image: FOX
Quinn FINALLY Pays Her Respects
We all wondered where Quinn was when everyone returned to McKinley for "The Quarterback" to honor Cory Monteith. Well, apparently she wanted to have a more personal moment. Seeing her with Finn Hudson's retired football jersey brought back a flood of memories about their relationship.
Image: FOX
These Three...
Get ready to feel super-nostalgic because Rachel, Kurt, and Mercedes are going to sing "Defying Gravity" and will be doing their signature poses. Here's Rachel in hers which we'll call "Pseudo-Illuminati".
Image: FOX
Will Get Solos...
Here's Kurt in his — "The Pencil". Kurt is king of maintaining perfect stillness while singing an emotional solo.
Image: FOX
Because They ALWAYS Do
Mercedes is obviously going to belt out the final epic, note of the song. At which point she'll do her signature "Outstretched Arms Rising" pose as if she's lifting her voice up to the heavens.
Image: FOX
The Best Dancers Return
YES — Harry Shum Jr. and Heather Morris in the same room dancing again. Jacob Artist is a great dancer, but he's got nothing on those two.
Image: FOX