How You Know the 'Trophy Wife' Kids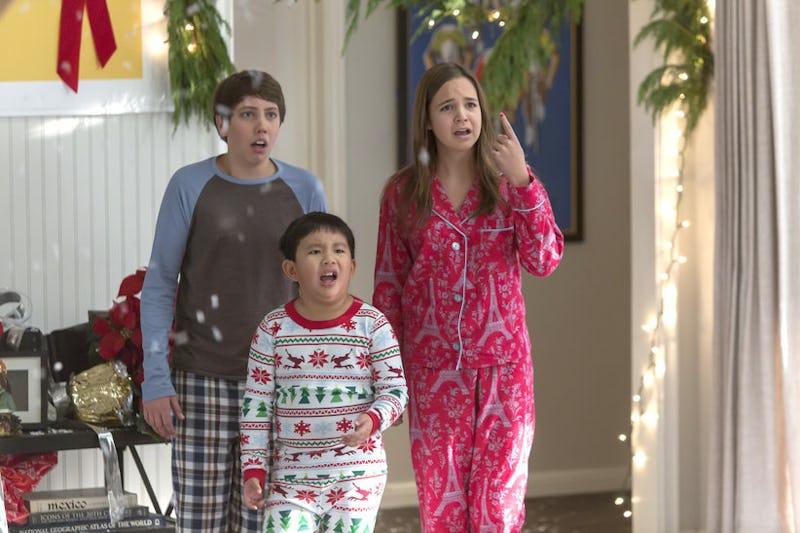 Trophy Wife, one of ABC's newest comedies, managed to land well-known actors for all four of its main adult characters. The West Wing's Bradley Whitford, comedy staple Michaela Watkins, 27 Dresses' Malin Akerman and Oscar winner Marcia Gay Harden serve as the Harrison family's adult population, but the series has a few more important characters: their kids. Warren, Hillary and Bert are the Trophy Wife kids and they're played by stars in their own right.
Well, rising stars. There's only so much you can do as a teenager, and these child actors deserve credit for their great performances on Trophy Wife. They've each stolen scenes from their very talented onscreen parents and step-parents and sometimes they even deliver an episode's biggest laughs. That honor usually goes to the youngest of the three, Bert, who's also the group's only newcomer. And while the two older kids might not bring as much overt, silly humor on a weekly basis, they're still great on the show and have resumes that would be impressive for any actor, especially a teenage one.
In fact, you've almost definitely seen both Warren and Hillary somewhere before Trophy Wife. Here's why you might recognize the talented young actors.
Ryan Lee
The oldest Harrison kid (though he may not act like it) is Warren, played by Lee. The 17-year-old recently appeared in Judd Apatow's This Is 40, in which Melissa McCarthy memorably played his feisty mother. He also had a role in 2011's Super 8 and has appeared on many TV shows including Workaholics, Breaking Bad, Good Luck Charlie and Community. Now prepare to be very jealous of a teenager—Lee's first ever role was on Friday Night Lights. Not a bad way to start an acting career.
Bailee Madison
Madison has played Hillary since the second episode of Trophy Wife, when she replaced Gianna LePera. The 14-year-old's acting experience is even more impressive than Lee's. On TV, she plays the child version of Ginnifer Goodwin's Snow White whenever Once Upon A Time has a flashback, had a recurring role on Wizards of Waverly Place, starred in the Nickelodeon movie Merry Christmas, Drake & Josh and recently booked a role for the second season of ABC Family's The Fosters.
Her movie career has been even more expansive, with roles in Parental Guidance, Just Go With It, Conviction, Don't Be Afraid of the Dark, Brothers and Bridge to Terabithia.
Albert Tsai
Even though Trophy Wife's Bert is only Tsai's second role, following a one-episode appearance on How I Met Your Mother, you should keep an eye out for the talented actor. He's one of the series' bright spots and should start appearing in more shows and movies soon.
Images: ABC