Movies To Watch If You Need More Kathryn Hahn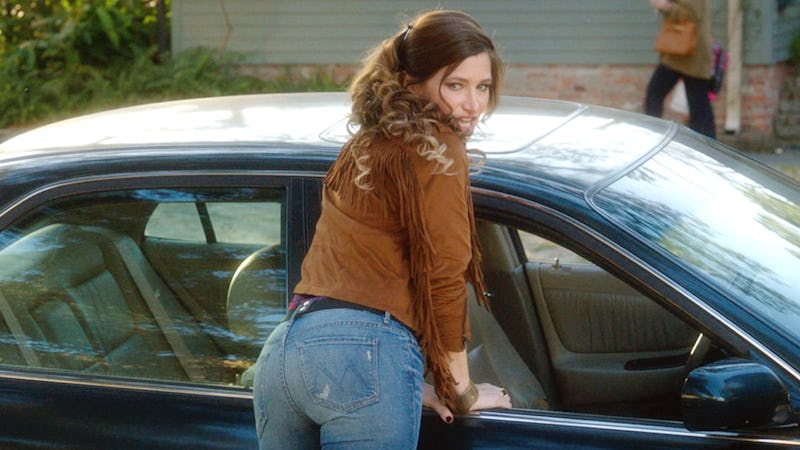 I'm going to just come out, and say it and let the chips fall where they may. I am one of Kathryn Hahn's biggest fans. Why? Because Hahn is one of the most under-appreciated actors working in Hollywood today, despite being one of the most definitively talented women there. She has no equal, because she is a sage, vibrant actress who delivers comedy as well as she does drama. She is probably a magical being of some kind, and we honestly don't deserve her.
Hahn has been working for over 20 years, with her first major role occurring on television's Crossing Jordan. While she made in-roads on the small screen, she quickly racked up supporting credits in Win A Date With Tad Hamilton! and Anchorman: The Legend of Ron Burgundy. What has become evident throughout Hahn's varied career is that she is a high-caliber actress who can adapt to any character with ease.
While she is poised for serious high-profile status with her recent role in Bad Moms, Hahn has always been a standout performer. She may be a supporting character in the billing, but every time she's on camera she manages to steal scenes red-handed. Need proof? Here are some of Hahn's most unmissable performances.
1. How To Lose A Guy In 10 Days
Playing the epitome of a wise-cracking bestie, Hahn's first major role was in one of the best rom-coms of the '00s. She was adorably memorable as the faux relationship counselor, doling out crazy advice to her bestie and boyfriend. How could you not love Hahn right then and there?
2. Step Brothers
I don't think I'm overstating it when I say Hahn was hands-down the best part of Step Brothers. I watch this film regularly and am still having rib-tickling reactions to her performance as a love-starved sister-in-law relentlessly pursuing the one guy she shouldn't.
3. The Visit
Unpopular opinion time: The Visit is underrated and brilliant and Hahn is one of the best things about this film. Often only seen through a camera or computer screen, she is the lovably oblivious mom to two frightened kids. Sure, she's playing an archetypal role, but Hahn makes it worth the watch.
4. Parks & Recreation
Let's all bow down to Jen Barkely, the queen of political campaigns and know-it-all boss of Ben Wyatt. Hahn legit stole every single scene she was in during her run on Parks & Rec. She also served, in Jen's shoes, to be one of the motivational characters in the later seasons. More Jen please.
5. We're The Millers
In yet another role that makes you go, "Where's the feature length film for this character?", Hahn was the quaint homemaker road-tripping with her family, who happen to cross paths with the boundary-pushing Miller family. She is just perfection.
6. Win A Date With Tad Hamilton!
As rougher-than-sandpaper bartender Angelica, Hahn was a bit of comic relief in this early '00s comedy. While the rest of the film may have been a bit of a snooze, Angelica stole the show — especially when hitting on her customers.
7. Anchorman: The Legend Of Ron Burgundy
One of Hahn's earliest roles with future Step Brothers co-stars Will Ferrell and John C. Reilly was another star-maker. She played one of Veronica Corningstone's BFFs, throwing in the occasional jibe, but she was such a stand-out.
8. Tomorrowland
OK, so, I won't try to defend Tomorrowland, but Hahn makes the first act semi-bearable. She plays a robot-in-human-clothing, alongside Keegan-Michael Key. They make an excellently goofy duo that makes you wonder why we couldn't have followed their journey for the rest of the film.
9. A Lot Like Love
Inhabiting yet another thankless "best friend" role, Hahn is the partner-in-crime to Amanda Peet's vacillating protagonist. She is the pep talker, the shoulder to cry on and, as this is one of her earliest film roles, the first time we see Hahn's own star quality.
10. Bad Words
Hahn is seriously one of the few bright spots as Jason Bateman's awkward but loyal love interest.
11. This Is Where I Leave You
The actress is firing on all cylinders in one of her more dramatic roles to date. As Annie Altman, she is devastating as a woman aching for motherhood yet seemingly unable to get her wish. A must-watch performance in an otherwise serviceable flick.
This is just the tip of the Kathryn Hahn iceberg. Seriously, if you aren't already in love with her, start with these amazing performances and get ready for the feels. She is America's Sweetheart from here until eternity, and her skills onscreen confirm it.
Images: STX Entertainment; Giphy (6)