'Bad Moms' Puts Kathryn Hahn In The Spotlight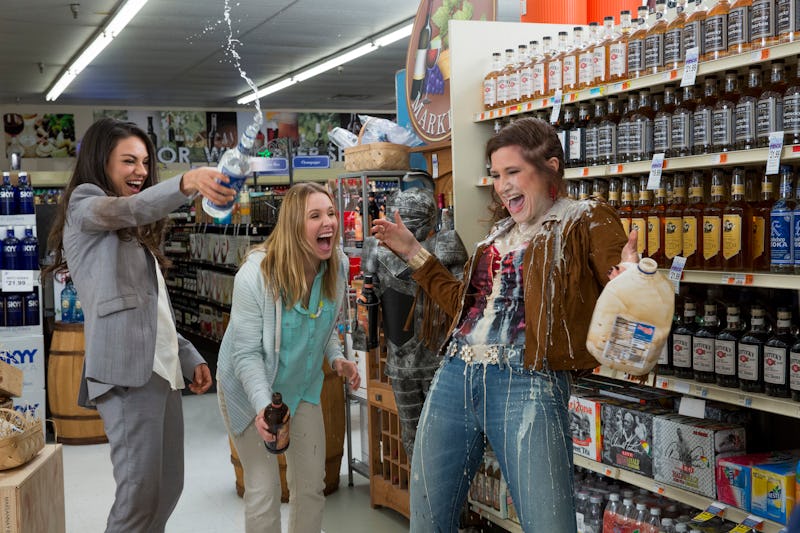 If you like comedy and you're a bit of a pop culture junkie, odds are you're in love with Kathryn Hahn. But many people don't even know her name, as although Hahn's star has been steadily rising since the early 2000s, she's mostly been relegated to supporting roles or indie projects. Recently, she's taken on a slew of higher-profile projects — she recently starred in Amazon's Transparent, took on the indie comedy Afternoon Delight, and she'll soon be a leading lady in Transparent creator,Jill Soloway's next Amazon show, I Love Dick. Yet while she's thriving in the independent entertainment industry, Hahn's roles in Hollywood haven't really grown past the best friend role or small supporting part. Now, however, that might all change, thanks to the new film Bad Moms, in which Hahn finally gets to be a movie star.
Most audiences probably recognize Hahn when they see her on screen, even if they don't know who she is. She's had an impressive career since her 1999 debut, and today, she's best known as the girl who stole scenes in How to Lose a Guy in 10 Days, Anchorman, Step Brothers, and more. By all accounts, Hahn has had a successful career, appearing in everything from television to film, comedies to drama. Yet despite the wide breadth of projects, almost all of her work have two things in common: 1) her roles are mostly supporting , and 2) she's often the best thing in the project she's in. If you don't believe me, just watch This Is Where I Leave You, the underwhelming 2014 family drama that starred Jason Bateman, Tina Fey, Jane Fonda, Adam Driver, and Corey Stoll, all of whom were, frankly, easily overshadowed by Hahn.
In Bad Moms , though, Hahn gets to be a star. In the movie, she plays Carla, a single mom who embraces her wild side by hitting on other women's husbands and not worrying about constantly being involved in the PTA or in her son's extracurricular activities. She's a bit of a wild card, perhaps the closest thing to a stereotypical "bad mom" in the movie. She's also hilarious, endearing, and the best character in the film. She's the latest in a string of out-there characters — people who should be annoying and unlikeable — made relatable and lovable by Hahn, but what makes her different than Hahn's previous roles is that she plays a major part.
In a role that could be a depressing caricature of single motherhood, Hahn excels in Bad Moms and is easily the funniest person on-screen at any given moment — and, lucky for us, she's on-screen a lot. Though Kunis, as the fed up mom, Amy, is the main protagonist, Carla and Kiki (Bell) are never far behind, and have plenty of scenes themselves. It's about the closest thing Hahn has gotten to being a leading lady in a big, Hollywood movie, and it's about damn time.
After almost two decades in the industry, Hahn deserves to finally get pushed into movie star territory. As Carla, the actor gets the biggest laughs in Bad Moms, and it's proof she's more than capable of being a leading star of Hollywood comedies. Her comedic spark is simply something else, and she's far more than a one trick actor. It's Carla, not Amy, who delivers the touching and inspiring monologue in the third act of the film, and though Amy also gives a speech a few scenes later, Hahn's is so powerful and well-acted that it outshines Kunis' in almost every way. By giving Hahn the space to excel both comedically and dramatically, Bad Moms sets her up as the real breakout of the film.
Hahn is deserving of more great roles and great recognition. Here's hoping Bad Moms will help her get both.
Images: STX Entertainment (2); Warner Bros. Pictures