12 Annoying '90s Songs All '90s Kids Can't Forget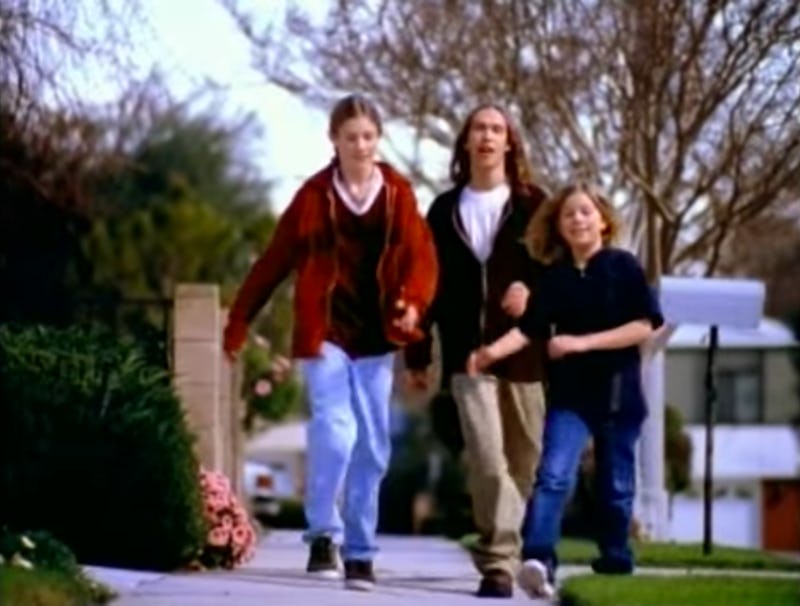 Despite many of us remembering the '90s as a mass of plaid and troubled grunge, '90s music wasn't all Nirvana and Sonic Youth. Nope. If you actually refer to the chart-topping hits of the time, there was a whole lot of the following genres: high-pitched pop that wormed its way into your brain for weeks, excruciating ballads, Abercrombie & Fitch clad boy-bands posing as something cooler, "pop punk," catchy sexism, and so so much more. No wonder there's so many annoying '90s songs that '90s kids can't forget. I'm not sure what the science exactly is behind this, but what what you listen to as a child/young adult seems to get burned irreversibly into your brain forever.
I want to forget these songs. I want to open my brain up to world music and jazz and all that good stuff. But, somehow, as soon as I've had three glasses of a wine and I'm at a party, all I want to listen to is one of the below. So sue me, I'm a monster with painfully embarrassing taste in music. The '90s, this was your legacy to me. A word of caution for those of you who weren't children in the '90s, who maybe were just fetuses or a twinkle in their parents' eye: these songs are as catchy as they are annoying and they'll be in your head for weeks. So don't say I didn't warn you.
1. "How Bizarre" — OMC
If you don't like this, you don't like fun. Somebody lend me a convertible so I can blast this with the top down.
2. "Thong Song" — Sisqo
Those sunglasses at the beginning of the video: #want
3. "Barbie Girl" — Aqua
You might have forgotten how high-pitched this was. Not anymore. The 1990s: what a time to be alive.
4. "MMMBop" — Hanson
Love it or hate it, they don't make summer hits like this anymore. Look at those lovable scamps having a time: I miss Hanson.
5. "Breakfast At Tiffany's" — Deep Blue Something
I'm sad to report that I was brainwashed enough by the fact that this song employed guitar chords, was sung by a white adult male, and the band had the word "deep" in their name to genuinely believe as a small child that this was an indie hit. Nope.
6. "Truly Madly Deeply" — Savage Garden
This song induces extreme nausea in me because it was used as the backing for so many troubled dramatic scenes on television. But, if you look up "ballad" in the dictionary, you find this video.
7. "Miami" — Will Smith
When did Will Smith decide he was going to stop making music? I can't lie right now. Every single song of his was gold.
8. "Livin' La Vida Loca" — Ricky Martin
In an age in which minimal electro dominates, what a deliciously maximal intro. You can imagine Ricky sat in the studio with the producers just shouting "More trumpet!"
9. "Be My Lover" — La Bouche
Sorry, you're never getting this out of your head. But that's OK. Imagine how dull your daily existence would be without this pulsing through your brain as a soundtrack.
10. "Rhythm Of The Night" — Corona
Just try and not dance to this. I dare you.
11. "Blue" — Eiffel 65
Europop's terrible, catchy finest. You can't help but admire their dedication to pure surrealist nonsense.
12. "The Bad Touch" — Bloodhound Gang
About as horny and weird as you could imagine any single from an album titled, pithily, Hooray For Boobies would be.
It was the best of times, it was the worst of times. A time of Europop. A time of horny songs rocketing up the charts. The earworm-iest era of them all. The 1990s, ladies and gentlemen. May we never forget.
Images: HansonVEVO/YouTube