Noel & Jenna May Have Sinister Motives On 'PLL'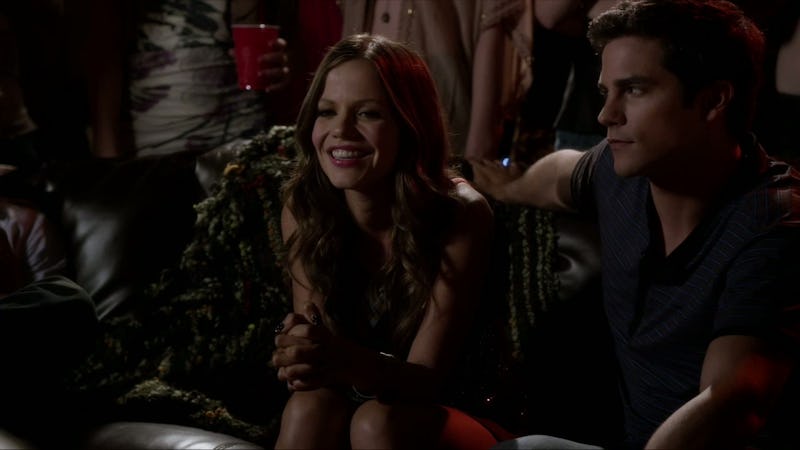 Pretty Little Liars is bringing back some of your favorite frenemies, and it really has been way too long since we've seen them. Luckily, Season 7 has been one full of homecomings, and though the Liars may not be excited about who's back in town, fans certainly should be. The July 19 episode, "Along Comes Mary," finally revealed that a former Rosewood High student is back in town, and there's no way he's there for a class reunion — though he is reuniting with one former classmate. At the very end of the episode, he met up with Jenna at the Radley for "babes and booze" and their encounter making us wonder: are Noel and Jenna dating on Pretty Little Liars ?
First, a refresher on Noel and Jenna's original relationship. Back when the two were shady students at Rosewood High, Noel and Jenna were the couple du jour. It was only appropriate, considering both seemingly had a vendetta against the Liars. (Hey, look at that, shared interests!) However, whether Noel was truly into Jenna — or just keeping an eye on her for Alison, whom he was helping on the down low — is still uncertain.
Jenna and Noel's interaction in Season 7 shows that they are on friendly terms despite their apparent split. Noel goes to see Jenna with her new friend Sara Harvey at the Radley, and the looks they exchange suggest something suspicious is going on. Given Jenna's apparent connection to Dr. Rollins (who she seems to know as Archer), and Noel's apparent distrust of Alison after their shared secrets, these two might be getting together for more than romance — they could be uniting for revenge.
It's interesting that Noel and Jenna only saw each other after Jenna started hanging out with Sara, perhaps the only person who can understand what it's like to be victimized by the Liars almost as much as Jenna can. Could this trio be plotting something big against the Liars? All three have a reason to hate Alison and the other Liars, and it's a little odd that they have all returned to Rosewood just when the Liars have found themselves stuck there.
Another big reason that Noel could be back in town is to help Jenna take down the Liars by acting as her eyes. Jenna is still blind, which means she could use someone on the inside who is able to spy on them in a way that she can't. Though it's unclear whether Jenna and Noel's relationship is of the romantic variety right now, it's definitely sinister and should make the Liars very nervous.
Images: Freeform; Giphy