Guessing 'BiP' Season 3's Engaged Couples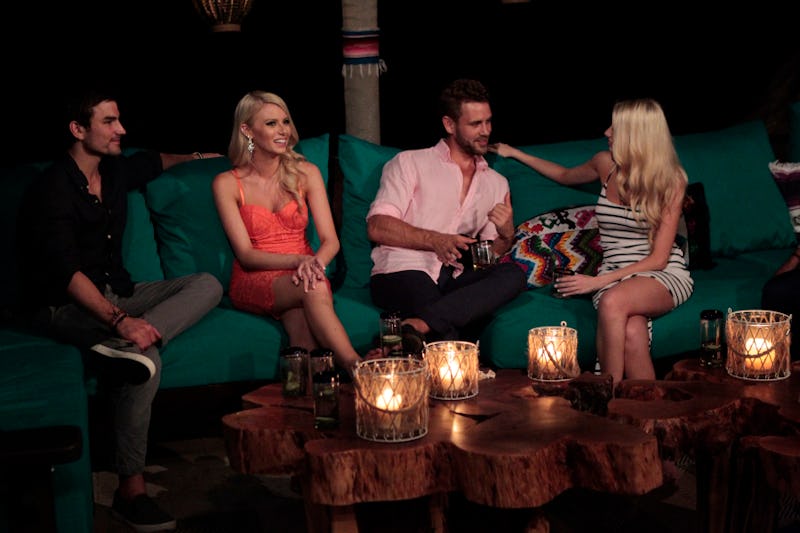 Start making your bets now on who gets engaged on Season 3 of Bachelor in Paradise. The use of spoilers is highly discouraged, and, of course, the cast isn't allowed to tell. But, even without the big announcement, people who are engaged have a certain way of acting when they're posting online. They get super into Pinterest, add tons of hearts to their Facebook posts, and begin giving cryptic hints on Twitter about what "fun" table centerpieces that all of the guests will love. (Or, at least, this is what I will be like when I get engaged.)
And, while the Bachelor in Paradise cast can't be quite so obvious, they have some tells as well. Back in Season 1, Marcus and Lacy were the couple who got engaged by the end of the season. Notably, they hooked up almost immediately, and they bonded early over Lacy's health crisis and brief hospital stay. Quickly, that turned into their engagement at the end of the season. While they didn't get to spoil that during the season, both of them were in Southern California just after BiP premiered, and they posted about their relationship all season long.
During Season 2, Tanner and Jade were the ones who got engaged in the finale. Tanner's Instagram is currently recovering from a hack, so there's no retracing his steps. And, Jade seemed to keep busy in the time between BiP's filming and its finale, perhaps to stop her from posting any unintentional spoilers. But, can the behavior of these stars hint at who's the lucky couple this season? I think so.
Emily & Haley
Emily and Haley Ferguson have always been a duo on the Bach franchise, and it doesn't seem like either one of them has had much luck in love this season. After all, they can't both pick Nick.
Lace
At first glance, it certainly looks like Lace Morris is hinting at an engagement. But, look at her expression — it's serious, even sad, without any of the no-filter-needed engagement glow. I'd guess heartbreak.
Josh
Josh Murray just took a cross-country road trip, ostensibly to spend more time with his dog, but it could be as a clever cover for visiting his new fiancée.
Chad
One person who I'm totally confident isn't going to be getting down on one knee? Chad Johnson, who hasn't changed one bit from his ab routine and meme posts since Paradise finished filming.
Carly
A post-Paradise trip with one of her Bachelor Nation BFFs in Southern California, which has one of the highest concentrations of fellow cast members. Possibly a cover. And, almost all of her pictures determinedly hide her left hand, though that could just be a coincidence.
Amanda
Amanda Stanton's cryptic love meme — that's got to be a pretty strong sign that she falls into some kind of relationship during the season. Chance of engagement? High.
We'll have to tune in to see if any of these stars find love, but, for now, I'll be stalking their social media for clues.
Image: Rick Rowell/ABC