'AHS' Isn't The First Show To Try To Solve Roanoke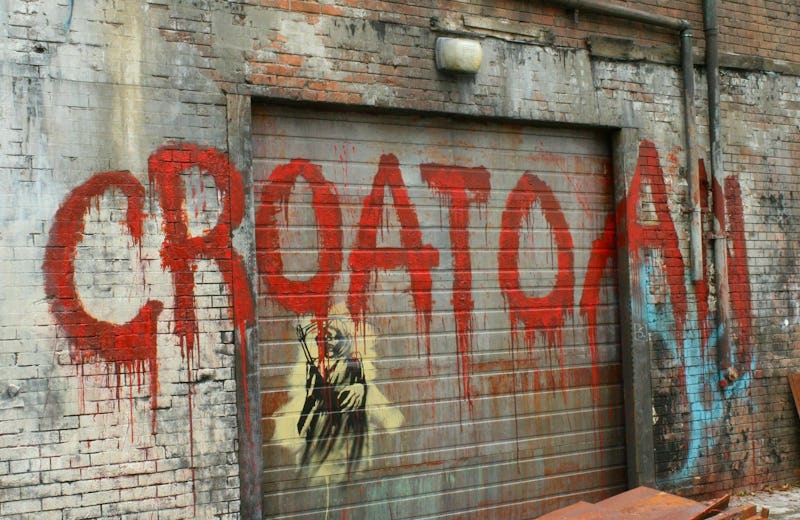 Perhaps there's a reason why American Horror Story Season 6 has been so shrouded in mystery. Maybe it's because the upcoming edition of the FX anthology series is at its core a story about mystery — one of the longest-running mysteries in American history, in fact. Recent leaked set photos indicate that at least part of AHS Season 6 will be about the Lost Colony of Roanoke, a townful of people on the Outer Banks of what is now North Carolina that vanished into thin air in 1590, the only clue left behind the word "CROATOAN" carved into a nearby fence post. "What happened to the Lost Colony?" is certainly a question that has plagued our nation a bit longer than "What will Season 6 of American Horror Story be about?"
But the Ryan Murphy drama will be far from the first television series or movie to try to solve the mystery of what happened to Roanoke. Apart from History Channel documentaries and PBS specials, America's first mystery has also featured heavily in our pop culture, usually in a supernatural form — no surprise, considering the eerie and unexplained nature of the colony's disappearance. Before we learn Ryan Murphy's theory on what CROATOAN means, here are six other movies and TV shows that featured the real-life American horror story… and how they answered the question of where all those poor colonists went over four centuries ago.
1. Storm Of The Century
In this 1999 film written by Stephen King, a man named André Linoge arrives on a small Maine island just as a massive storm arrives. Of course, it turns out he's an ancient demon (real name: Legion) and he demands one of the townspeople's children as a protégé. If they refuse to acquiesce to his request, he will compel them all to walk into the ocean two-by-two until they all drown… just like he did on the island of Roanoke 400 years before.
2. Supernatural
In the Season 2 episode "Croatoan," the Winchester brothers discover that the titular word is actually the name of a demonic virus that drives those infected into a murderous rage. When the virus is tested in a small Oregon town, the afflicted citizens all kill each other. Croatoan pops back up again in Season 5, when Lucifer himself plans to unleash it upon the world to usher in the Apocalypse.
3. Vanishing On 7th Street
Hayden Christensen, John Leguizamo, and Thandie Newton starred in this 2011 horror film as survivors of a plague where people instantly vanish as soon as they're touched by darkness, and the only way to stay alive is to constantly stay in the light. One of the characters theorizes that this is the same plague that struck the Lost Colony — and indeed, later they find the word "CROATOAN" scrawled on a sign in the middle of an abandoned street.
4. Doctor Who
Although not technically an episode of the British sci-fi series, "Voyage To The New World" was a 2012 audio play starring the Sixth Doctor (Colin Baker) and his two sidekicks, Jago and Litefoot. In it, the trio travelled in the TARDIS back to Roanoke, where they tangled with a parasitic alien species with a habit of kidnapping colonists, holding them prisoner on Croatoan Island, and feeding off of them.
5. Sleepy Hollow
In the early Season 1 episode "John Doe," Ichabod and Abbie are drawn into a mysterious case when a young boy speaking only Middle English shows up with a very contagious infection. Following the case, the dynamic duo stumbles upon the rematerialized Lost Colony, which they learn perished from a disease brought upon them by the Horseman of Pestilence. The colony has been summoned from the past in an effort to re-start the plague, but Ichabod and Abbie are able to return the boy to peace… and Roanoke once more dissolves into mist.
6. Haven
This Syfy original series ended its run last year with a four-episode arc featuring William Shatner as the show's final villain, Croatoan. He's a Satan-esque demon hailing from The Void, who crossed over into our world through a "thinny," or a weak spot in the fabric of reality — presumably the same weak spot that the Lost Colony disappeared through all those centuries ago.
As you can see, most pop culture "theories" about the Lost Colony weirdly seem to evolve demons, viruses, or demon viruses. It will be interesting to see what Ryan Murphy comes up with for American Horror Story; hopefully it will be something totally off-the-wall and different from any versions of the Roanoke myster we've seen before. We do have one clue, since FX CEO John Landgraf told TVLine last January that Season 6 would take place "principally in the present" with "echoes of the past" mixed in.
Either that means the entirety of Roanoke somehow teleported into the present day, or the plot of the sixth season will in some way deal with the descendants of that long lost colony. Sadly, with no more answers forthcoming from the FX promotional team, we'll probably have to wait until Season 6 premieres in September to find out.
Image: The CW