JoJo Defended Jordan On 'After The Final Rose'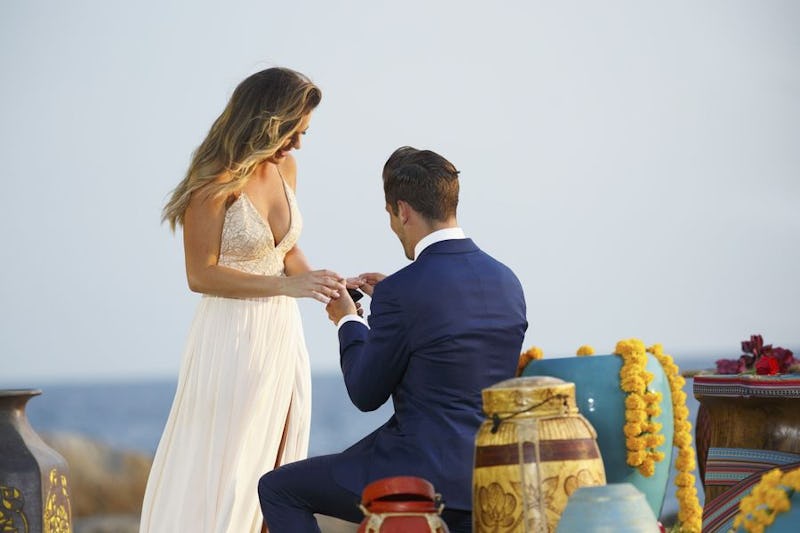 After months of silence, JoJo finally got a chance to strike back at the haters — she defended her new fiancé, Jordan Rodgers, against a slew of tabloid allegations that have been constantly on newsstands since filming of The Bachelorette wrapped. I couldn't walk past a register at the grocery store or at Target without seeing JoJo's face staring back at me, so I can't imagine what she felt like when she saw all those magazine covers. JoJo tearfully told Chris Harrison and the After The Final Rose audience how it hurt to see those things and not be able to defend herself of Jordan — they were still in secret hiding until the finale.
JoJo squashed a lot of rumors while she was sitting in the hot seat with Chris Harrison. She talked a lot about how honest Jordan has been with her about everything (I guess relationships and his family and stuff), how they went through a little bit of a rough patch, and how they're definitely stronger than they ever were before. JoJo also spoke to the fact that the battle with the tabloids was constant and really unfair to the both of them, and I agree.
It has to be really hard to have rumors swirl against you and your new partner and you can't even defend yourself! That would probably cause a problem in a relationship that wasn't under the intense scrutiny that Jordan and JoJo are facing. I wish these two whippersnappers well — as Ben Higgins said on After The Final Rose, it seems like JoJo and Jordan are doing something illicit by being out in public together, but they're not — it's the start of the rest of their life together.
Images: Matt Klitscher/ABC