Will Smith's "Summertime" Matters More Than Ever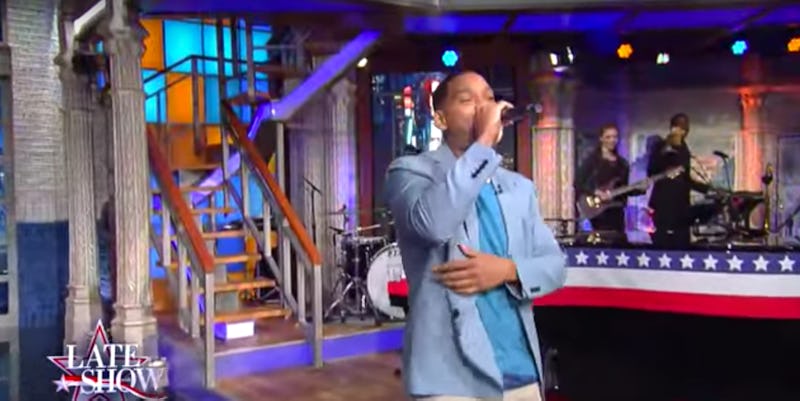 Will Smith is a magical unicorn trapped in the body of a human. How else to explain his insistence on bringing sheer delight to the, let's be real, often kind of mundane process of being a talk show interviewee? During Smith sang "Summertime" on The Late Show With Stephen Colbert , and it was, as you might imagine, the real Song of the Summer that 2016 has been waiting for.
Here's what went down: the show musicians started gently playing Will Smith's 1991 hit "Summertime" in the background as they began to cut to the commercials, but, nope, Will Smith was having none of it. Stephen Colbert is engaging him in some light chitchat, but Smith points to him like, hang on a tick, there's something I must attend to. And attend he does. He oozes over to the band and despite being DJ Jazzy Jeff-less, delivers a truly word-perfect rendition of "Summertime," bringing the audience to their feet in ecstatic applause. This, of course, begs the question of whether Will Smith listens to all his old hits as much as I do. I'm going to call it: yes. Yes he does.
The one thing that struck me as I listened to Smith enchant the audience was how much this, more than any other song, should be the song of the summer 2016. It is chill. It is charming, but doesn't try too hard. Honestly, why the heck not?
Nostalgia is lazy, and I don't normally advocate for it, but sometimes you've just got to be honest with yourself. Be real with me right now. Is there one single song in the charts that comes even close to the intense charm of "Summertime"? This is not a "there are no right answers" style question. The correct answer is no, no there are not. This song ticks all the boxes. It's the exact same tempo as a lazy summer day, but it's still totally danceable to and so perfect for a grilling session with a boombox (or, OK, 2016 version: a portable, bluetooth activated speaker). It not only features the word "summer" in the chorus but makes reference to all the summer things: school vacation, wearing less clothes, hot sunny flirt-offs, barbecues, open top cars, basketball.
Yes, it grosses me out too that, 15 years later, we still don't have a better song of the summer, but progress isn't always linear, you know? What I really like about this song is how universal it is. While most commercial pop acts now are required to write songs from a first person perspective and give us some diary-reading vibes, Will Smith isn't doing that here. He's not telling you what summer's like for him circa his Fresh Prince stardom (how Drake would that have been?); he's just giving us this generously universal, catchy vision of summer.
Look, I agree that the Calvin Harris/Rihanna hit "This Is What You Came For" is festival-appropriate and ravetastic, but is it really summery? Similarly, is the Drake/Wizkid/Kyla "One Dance" carefree enough? For me, it's got those melancholy undertones that so often come along with a Drake song. There are so many other songs I could consider here: "Ride" by twenty one pilots, the first Sean Paul song we've heard in years with his collaboration with Sia on "Cheap Thrills," some new Britney Spears, but no. Forget forget your high-energy dance music, your reggae revivals, your sultry pop magic. None of these can compare to "Summertime." Period.
Images: CBS