10 Fascinating Facts About Gymnastics From 'The End Of The Perfect 10'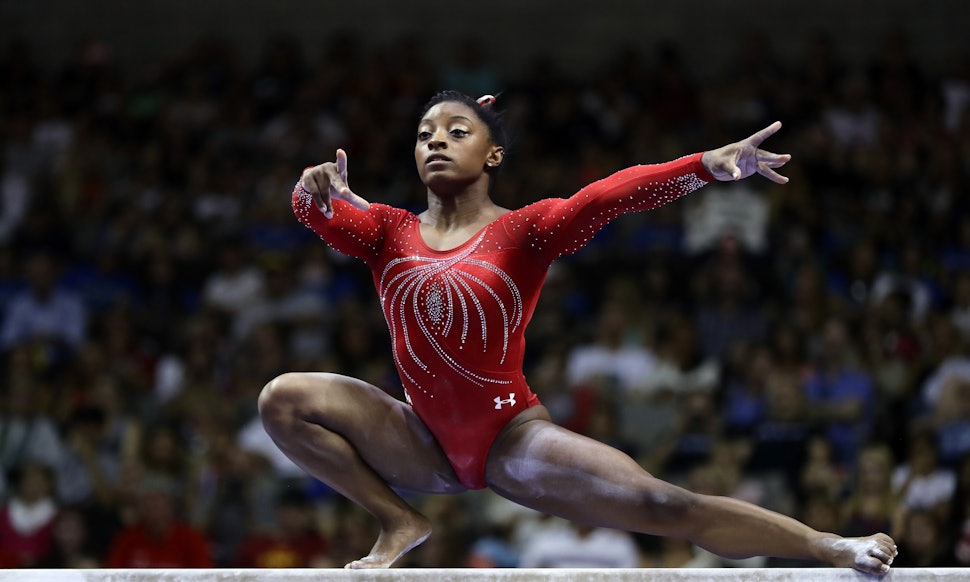 Ezra Shaw/Getty Images Sport/Getty Images
The history of gymnastics at the Olympics has as many highs and lows as an uneven bars routine; while there is a long tradition of glory, grace, power, and triumph, there have also been competitions and key players tainted by scandal along the way. The many sides of the sport are part of what makes it so fascinating, and we get to examine them all in writer Dvora Meyers' new book, The End of the Perfect 10: The Making and Breaking of Gymnastics' Top Score—from Nadia to Now.
Meyers focuses specifically on how gymnastics and its scoring system have evolved over the years, examining the impact of the so-called "Perfect 10" on the sport, both before and after its heyday. Her book interweaves fascinating stories of Olympics and Olympians past with gymnastics history, interviews with experts, and compelling commentary to create an accessible analysis. Whether you're a die-hard gymnastics fan or you tune in once every four years, you'll be captivated and — if you're anything like me — wind up journeying down a black hole of gymnastics videos on YouTube.
Below are 10 gymnastics-centric fun facts from The End of the Perfect 10 that will get you pumped to cheer on Team USA in Rio.
1. The Scoreboard Wasn't Ready For The First Perfect 10
Olympic on YouTube
When Romania's Nadia Comaneci became the first Olympic gymnast to earn her sports' top score (at the time) during the 1976 Summer Games, the scoreboard couldn't handle it. Instead of showing "10.0," it could only manage "1.00."
2. Fans Grew Tired Of Perfect 10s
As excited as fans were for the Olympics' first Perfect 10 to be awarded in Montreal, the mark was handed out so many times that some spectators became irritated. Meyers quotes Sports Illustrated Frank Deford, who shared that fans actually started chanting "No more 10s!" during the competition.
3. The Podium Has Been Used For More Than Celebration
CoCoNuTsiopatHic on YouTube
The Olympic podium has seen a lot of happy tears — and probably ones of disappointment —over the years, but there have also been moving moments of protest. Meyers highlights the example of Vera Caslavska, who remains one of the most decorated athletes in Olympic history. During the 1968 Olympics in Mexico City, the gymnast made a quiet but powerful statement by tilting her head down and away during the playing of the Soviet national anthem in protest of the country's recent invasion of her native Czechoslovakia.
4. Legendary Coach Bela Karolyi Was Never An Elite Gymnast Himself
Bela Karolyi has long been a key figure in American gymnastics, but the famed coach had a more impressive career competing as a boxer than as a gymnast. Nonetheless, that hasn't stop him. He has trained champions like Comaneci, Mary Lou Retton, Kim Zmeskal, Dominique Moceanu, and more.
5. Female Gymnasts Have Gotten Shorter In Recent Decades
Gymnastics has evolved over the past several decades, and the changes have carried over to the sport's preferred body type. Meyers lays out an engaging explanation for how various factors, from changing gender roles to the scoring system, have come into play, and the end result is telling: The average height of elite female gymnasts has dropped from 5-foot-3 to 4-foot-9 in the last 30 years, according to David Epstein, author of The Sports Gene.
6. Gymnastics Isn't Just For Young Girls
There have been so many age controversies in gymnastics that it's easy to assume that you have to be young to succeed in the sport. While Meyers points out that there certainly are a lot of teens competing, it's possible to compete when you're older. In fact, the Rio Olympics will feature the oldest female gymnast in the Games' history: 41-year-old Oksana Chusovitina of Uzbekistan, who is competing in her seventh Olympics.
7. The U.S. Women's 2000 Olympic Team Received Bronze Medals… A Decade Late
When the U.S. Women's Olympic team came in fourth place — finishing off the podium — at the 2000 Sydney Games, their performance was considered to be a huge letdown, writes Meyers. It wasn't until 2010 that they got any glory. In a strange turn of events, a Chinese gymnast applied for a job at the IOC, only for the committee to take note of the fact that the age she gave proved that she had been too young to compete in Sydney. Her team's bronze medals were taken away, and the U.S. women received much-delayed medals.
8. The Last Perfect 10 Awarded At The Olympics Was In 1992
Cheryl Chong on YouTube
The last Olympics in which it was possible to earn a Perfect 10 was in 2004 in Athens, but the judges had already started being stingier with the coveted score. The final one was bestowed on Lavinia Milosovici at the 1992 Games in Barcelona.
9. Some Competitions Still Give Out Perfect 10s
The Perfect 10 is no longer seen at the Olympics and other international competitions now that elite gymnastics has transitioned to a new scoring system, but it hasn't gone away completely. College gymnasts still get to see the iconic score because the NCAA hasn't made the switch.
10. Rio Will Feature A Unique World Champion
USA Gymnastics on YouTube
If you've followed any gymnastics coverage leading up to the Rio Olympics, you'll have heard of Simone Biles. The powerhouse competitor is the only woman to ever win three consecutive world all-around titles. You'll definitely want to watch her.
Images: Giphy (2)