The One Toy You Should Invest In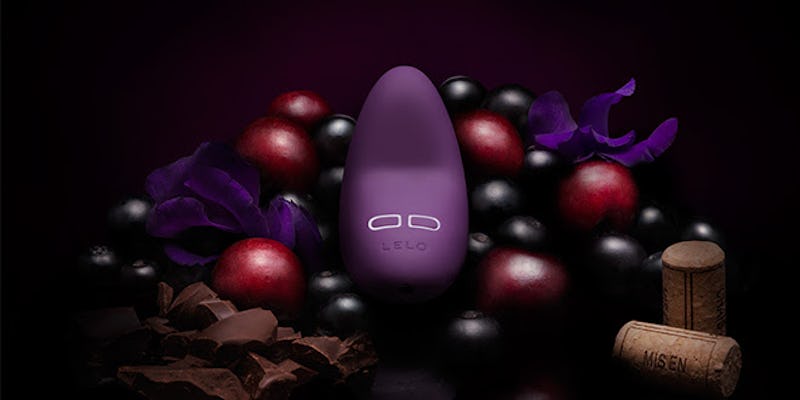 I don't take my vibrator recommendations lightly. I know that when I've looked at vibrator reviews in the past, I was researching a major investment. Luxury vibrators these days usually run upwards of $100, and you can't return them, for obvious reasons. So it is only after a year of consistent use and the trial of many, many other luxury clitoral vibrators that I feel I can recommend one sex toy above all others as the best vibrator for use during penetrative sex: the LELO LILY 2.
I was very skeptical when I was first sent this vibrator to review, over a year ago. The LILY 2 is $139 and comes in three scents — Lavender and Manuka Honey, Rose and Wisteria, and Bordeaux and Chocolat. I hated the idea of a scented vibrator, and I still do — there's so much shame out there about how vagina's smell that I was worried this was an attempt to mask it. Luckily, the fragrance is contained completely within the toy (so it won't mess with your pH!), and LELO says it isn't meant to mask your natural scent in any way; it's only intended to serve as an aphrodisiac.
LELO Lily 2, $139, Amazon
Indeed, I was pleased to find that the lavender scent of my light purple LILY 2 was barely noticeable, and has largely faded within a year of use, while the power of the toy itself has stayed strong. Though the scent didn't serve as an aphrodisiac for me, the LILY 2 itself certainly did. I was immensely and pleasantly surprised by this toy — so much so that it has actually become my go-to vibrator for use during penetrative sex.
Small, quiet, strong, and waterproof, with eight stimulation settings, this toy is a wonderful clitoral vibrator. Though it's made from a harder material than other similar designs like the WeVibe Touch (a solid silver medalist, by the way), it feels great on your body, and is easy to use in multiple sex positions — from Woman On Top to Doggystyle, and even positions that don't offer much room to maneuver, like when you're laying flat on your stomach. This toy gives me consistent, strong orgasms, nearly every single time, and has made penetrative sex a whole lot more fun for me.
We-Vibe Touch, $70, Amazon
It's really hard to find a toy that doesn't feel intrusive to use during intercourse, but this one does the trick. It's ergonomically designed to fit perfectly in your hand, rest on your pubic mound, and is easy to grip in multiple positions. The point at the tip is directed enough that it is very strong — but also not so pointed that it's easy for it to end up in the wrong place with a lot of movement. While I mostly use the LILY 2 during intercourse, I like it so much that I've even often found it very satisfying on its own, often even more so than my Magic Wand (which is quite an accomplishment).
Vibratex Magic Wand Massager, $45, Amazon
I really can't recommend this toy enough — if you're looking to incorporate vibrators into your partnered sex life, this won't let you down. If you're not sure where to start, here are seven sex positions for using the toy I'd recommend trying.
1. Woman On Top
Personally, I like sitting all the way up in this position — it provides me easier access to my clit, and I find I like the angle of penetration more. Either way, this gives your partner a great view, and for you, a great ride. It's a go-to for good reason.
2. The Cross
This one is great when you're both feeling lazy. It's an easy position to be in, and nothing is in your hand or clit's way. Just drape your legs over his side and try to sit back, relax, and enjoy.
3. Butterfly
This one provides super-deep penetration, plus the oh-so-fun feeling of being picked up by your hips or ass. Assuming he can hold you up, your hands are also free to access your clit with the LILY 2 easily.
4. Buzzed Doggystyle
Only Woman On Top is this dependable for me. It's not so hard to hold yourself up on one arm, and you get to enjoy all the deep thrusting with clitoral stimulation in this position. This is also a great one if you're working your way into being comfortable using a toy during penetrative sex, since all your partner will be looking at is your fine ass.
5. Spooning
Another great one for when you're tired, I like this position when I want all the intimacy of Missonary, plus access to my clit. Your partner can hold you, and you can hold the LILY 2, without it feeling like a third party.
6. Spread Eagle
Since I'm not disciplined enough to make it to yoga regularly, I like to sometimes work a bit of deep stretching into my sex. This position is great for that, and you'll be so busy feeling awesome you won't even notice you're stretching. Since it looks more complicated than it is, I'll let Bustle's sex columnist Vanessa Marin explain: "Start in Missionary, then have your partner sit up, pulling your hips up into a low bridge position. They can crouch upright, or rest their butt on their calves. One of your legs should be on either side of your partner's body, so you'll be spread wide open! You can reach down a use a sex toy on your clitoris, or your partner can use one on you."
7. Modified Doggystyle
This is one of my absolute favorites, and one of the positions I was most impressed the LILY 2 worked in. Though this picture shows the woman on one arm, I actually like lying completely flat on my stomach, with one hand holding the toy to my clit while my partner thrusts from behind. The perfect shape of the LILY 2 contours so that this works seamlessly, allowing you to enjoy the feeling of being pressed flat into the bed and penetrated extremely deeply. I especially recommend this one if you tend to enjoy feeling dominated.
If you try out the LILY 2 and it doesn't work for you, I sincerely apologize! But, like I said, I'm pretty picky, and I feel this toy is the only one I would confidently recommend to anyone trying to have more orgasms during penetrative sex. May the orgasms be with you!
Images: LELO; Caroline Wurtzel/Bustle