You Have To See Team USA's Opening Uniforms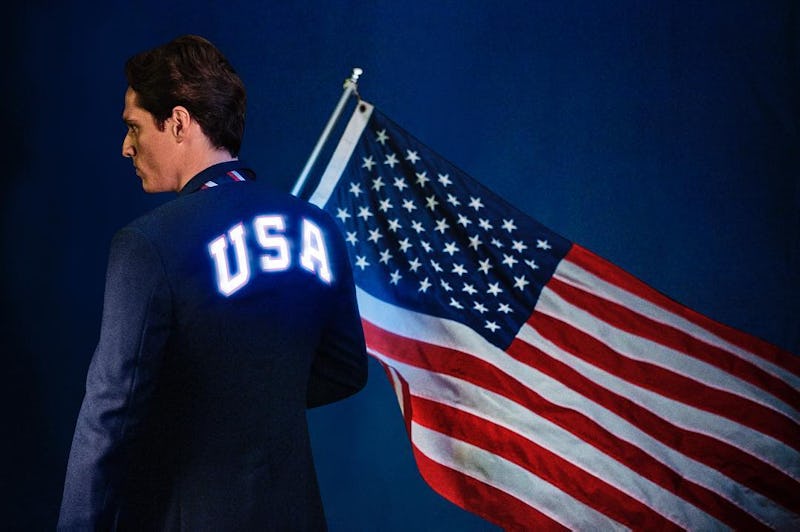 The 2016 Rio Olympics kick off today, August 5th, and while we're all totally stoked for the games to actually begin, there's something else that deserves a little bit of our attention first, because the Team USA Rio opening ceremony uniforms are the most eye-catching they've ever been. Seriously, wait until you see this.
We got a look at the all-American closing ceremony uniforms, designed by Ralph Lauren, a while back, but they've managed to keep the opening ceremony uniforms under wraps for far longer. But as you can imagine, it was totally worth the wait, because these uniforms are seriously great.
The Team USA opening ceremony uniforms were also designed by Ralph Lauren, and at first inspection, they seem like that classic, preppy vibe we have come to expect from the designer, but this year, there's a little something something extra. The team is wearing a navy blue blazer with a striped shirt and white pants, which is a little more chic and polished than the casual closing ceremony uniforms, but the best part is totally the flag bearer's uniform. Every blazer has "USA" on the back, but the flag bearer's lights up. Talk about catching everyones attention there.
So nothing too out of the ordinary there — classic, chic, and polished. But wait until you see the back:
Totally ground-breaking, and a seriously influential way to kick off the games. So not only is Team USA going to kill it in their events, but they have the style game on lock.
Erik Shoji
Looking super fresh, guys!
Serena Williams
The tennis team in formation.
Haley Augello
Meet your wrestling team.
Rickie Fowler & Michael Phelps
Heart-eyed emojis all around.
Miles Chamley-Watson
Sunglasses on point.
Dagmara Wozniak
Purple hair was a good choice, Dagmara!
Jeremy Taiwo
Need those boat shoes.
Abby Johnston
Get that gold, girls.
Maya Dorito
Golden hour, indeed.
Tina Charles & Carmelo Anthony
NY representtttt.
Phil Dalhausser
So spiffy.
Elena Delle Donne
#HairGoals.
Daryl Homer & Sue Bird
All set to dominate!
Meghan O'Leary
You're never too old to play dress up.
Jake Dalton
Ugh, adorbs.
Women's Rowing Team
Even though they won't be attending the ceremony, they're still rocking the uniforms.
Ashley Nee
A million cool points for the silly faces.
Katie Meili
Even her nail polish is repping 'merica!
Steele Johnson & Kyrie Irving
So handsome.
Angel Mccoughtry
All set to slay.
Gevvie Stone
Could she be any cuter?!
Jess Parratto
Fact: The uniforms look even better with a Snapchat filter.
Elizabeth Beisel & Allison Schmitt
So excited and they can't hide it.
Townley Haas & Jack Conger
Game faces on.
Allison Schmitt & Michael Phelps
She's as stoked about this jacket as we are.
Sam Mikulak
#SquadGoals.
Katie Reinprecht, Kat Sharkey, & Julia Reinprecht
The more I see this shirt, the more I want to own it.
Vincent Hancock
Ready for the ceremony!
Tony Azvedo
Cue the "awww's".
Chase Kalisz
So artsy.
Men's Waterpolo Team
Watch out, world. They're comin' for ya!
Courtney Okolo
Rocking that Polo.
Kim Rhode
Oh hey Opening Ceremony!
Men's Rugby Team
Studs.
Bubba Watson
Lookin' so fly.
Grace Latz
Mini American flag? Too cute.
Henrik Rummel
These are some seriously good looking dudes right here.
Christa Dietzen
Smiles all around!
April Ross
Chillin' in style.
Leah Smith
Cutest friends award.
Women's Hockey Team
Babes.