The 'Star Wars' TV Show Possibilities Are Endless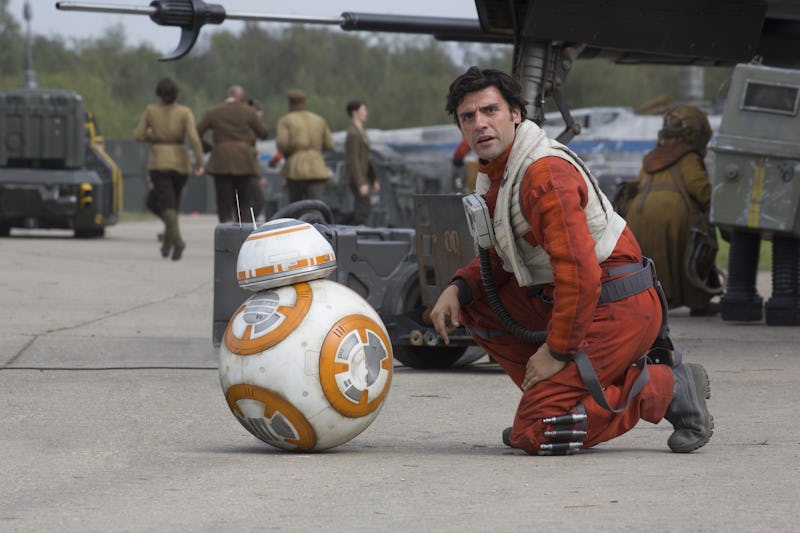 A long time ago in a galaxy far, far away, ABC Entertainment president Channing Dungey revealed that the network was in conversations to produce a new Star Wars TV show in cooperation with LucasFilm. Oh, just kidding, that happened this Thursday and at the Television Critics Association press tour in California — which means a Star Wars TV show may actually be a reality beaming its way into your living room sometime in the very near future. "It's all a little bit hush hush," Dungey said, but "talks are ongoing." So what would a Star Wars TV show be about?
For the record, this wouldn't be the first time that LucasFilm created a television series. The company has produced seven animated shows over a span of three decades on the likes of ABC, Cartoon Network, Netflix, and Disney XD; the list includes titles like Droids, Ewoks, Clone Wars, Rebels, and The Yoda Chronicles, among others. But one thing that would immediately set this new ABC series apart from those previous efforts would be if it turned out to be an actual live-action hour-long drama, as opposed to the half-hour cartoons that has been the small screen staple of the franchise so far.
The mere fact that ABC is in talks to air the series suggests that it will be live-action, since the network doesn't really have an animation line-up like FOX. And the hypothetical Star Wars TV show would fit right in on the network alongside the Marvel Cinematic Universe spinoff Agents Of S.H.I.E.L.D., since Disney — which owns ABC — also owns both LucasFilm and Marvel Studios.
If the network really wanted to parallel that particular piece of brand extension, then that seems a clue that the Star Wars TV show might be focused on some non-Jedi element of the franchise, just like AoS began its run centered around a group of non-powered S.H.I.E.L.D. agents. This certainly seems a likely scenario, since it's bound to be difficult to replicate the high production values of the feature films' Force-fueled adventures — and the franchise has proven to be willing to go Jedi-free with the upcoming release of Rogue One: A Star Wars Story .
However, I doubt ABC would be likely to simply replicate AoS'sformula for Star Wars. Another possibility would be that the network would go back to the idea for the franchise's first live-action TV show. Announced by George Lucas at Star Wars Celebration III in 2005, Star Wars: Underworld was supposed to be a series that bridge the gap between Episode III and Episode IV, taking place in the criminal underground of the city-planet Coruscant.
When Disney bought LucasFilm in 2012, Underworld was scrapped while the House of Mouse laid their plans for the new mega-franchise that would include Episodes, anthology films, and comic books. But now that the studio seems to be gearing up for a small screen brand extension, it's possible that they'll simply resurrect Underworld rather than starting from scratch.
Even if Underworld stays dead, though, there are plenty of story elements that ABC could mine from that aborted series. Han Solo, Lando Calrissian, and Boba Fett were all rumored to be involved in Underworld in some form or other; now that Han Solo is getting his own spin-off anthology film (and possibly a whole trilogy), the chances of the character making an appearance on ABC are slim to none. But the other two characters would be ripe for exploration on the small screen.
For a while, it was rumored that the third Star Wars anthology film after Rogue One and Han Solo would focus on Boba Fett; but ever since director Josh Trank left the project, that movie's future has been in doubt. Whether it has been cancelled entirely in favor of more Young Han Solo movies, or whether it's still happening — but not about Boba Fett — is unclear. But if Disney no longer has faith in a spin-off movie about the bounty hunter, giving him his own relatively low-budget TV show could be a perfect compromise.
Of course, if the new Star Wars television series doesn't end up being about non-Jedi Resistance fighters or the Coruscant mafia or Boba Fett the bounty hunter, there are still literally limitless possibilities for what ABC could have in store. Just don't count on seeing Jacen Solo or Mara Jade or any other of the Star Wars Expanded Universe's popular characters, since that entire off-shoot of the franchise has no longer been considered canon ever since Disney bought LucasFilm.
There's no word on when to expect this Star Wars show to hit our TV screens, but since it's in such early stages, it would probably be too optimistic to even expect it in Fall 2017. Good thing we have so many Star Wars feature films to look forward to in the next few years!
Image: Walt Disney Studios Motion Pictures