The One Song That Will Prepare You For 'Glory'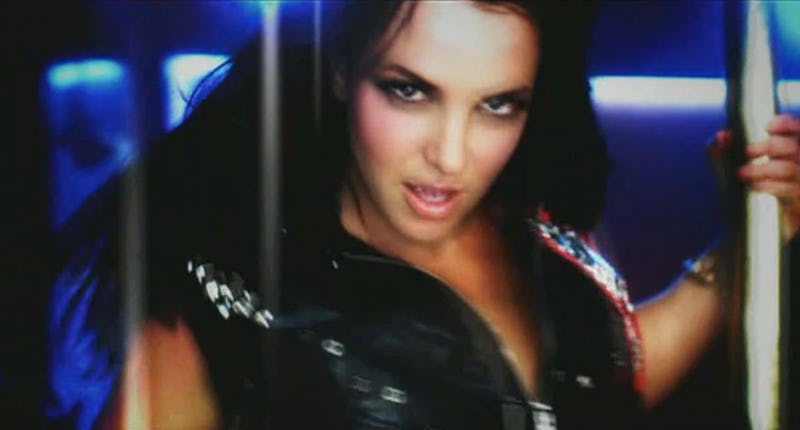 I'm sure that every Britney Spears fan right now has a countdown app on their phone showing how much time is left until Britney's new album Glory is released. Due out on August 26, we've been treated to a glimpse of the new cover art and two tracks from the album, and my god my heart can barely take the anticipation. Based on everything we know about Britney's new album, it sounds as though we're in for a special treat. With a host of supreme songwriters on board and soundbites which have Britney proclaiming that it's "the best thing" she's made in a long time, I'm confident that Glory is going to be something extremely special. However, to help you prepare for the album's eventual release, there's one Britney song which you need to listen to. And that song is "Gimme More."
Personally, I believe that "Gimme More" is a vastly underrated gem of Britney's back catalogue. It's easy to understand how it's gone under so many people's radars all this time considering the sheer quality of her musical output, but I actually think it's one of her very best. We're talking top five territory here, folks. It's also the perfect song to prepare you for Glory, and why? First, have yourself a listen to the classic track below, and then allow me explain.
1. "Gimme More" Is The Aggressive, Younger Sister Of "Make Me"
Oh, come on. Surely you can hear that? With its repetitive, sultry chorus and pulsating melody, "Make Me" sounds like a far more mature, mellower version of what Britney was delivering in "Gimme More." Though the two songs are sending out completely different messages ("Make Me" is a sensual demand to a lover, whilst "Gimme More" is about being enjoyed on a voyeuristic level), they both share a positive, sexual confidence which is Britney all over.
She doesn't give a damn what people think of her and is unapologetic in celebrating her sexuality however and whenever she likes. If "Make Me" is any indication of what the rest of Glory may sound like, then we could be getting even more of Britney owning who she is and celebrating it at every possible level, just like "Gimme More" did.
2. It Shares Themes With "Private Show"
The latest song to be previewed from Glory is "Private Show," and lyric-savvy fans may have already made the connection between the themes of that song and the similar themes of "Gimme More." Though "Private Show" is more pronounced in blurring the pleasurable boundaries between performing on stage and fooling around in the bedroom, the idea that Britney is essentially getting off on her own performance is evident in both. Don't believe me? Check out these lyrics:
From "Gimme More":
We can get down like there's no one aroundWe keep on rocking, we keep on rockin'Cameras are flashing while we're dirty dancingThey keep watching, keep watchin'Feels like the the crowd was sayingGimme, Gimme More
From "Private Show":
We don't need crowds, we just need usAll my feelings out, about to eruptAll my tricks, they're spectacularMy encore is immaculateSwing it to the left, swing it to the rightStrutting on the stage, center of the lightsDripping in smiles, they come on downTake your seat now
"Private Show" almost sounds like "Gimme More: Part 2," except Britney's no longer giving herself up completely to the audience. She's saving a special part of that performance for that extra special someone.
3. It Sounds Like A Dance Remix Of A Song That The Weeknd Could Have Made
Spears' lonngtime manager, Larry Rudolph, divulged the idea that Glory may sound a little like "Britney meets The Weeknd," during a podcast with the Las Vegas Sun. With that in mind, it's worth considering the overall sound of "Gimme More," which blends a few genres (notably, dance and R&B, with a little Joan Jett And The Blackhearts thrown in there for good measure) in a way that definitely could sound like a more danced up version of The Weeknd.
Seriously, listen to "Can't Feel My Face" by The Weeknd, and, for a moment, just imagine Britney covering it and adding a growling, repetitive, and breathy dance vibe to it. Definitely sounds a little like "Gimme More," at least in my slightly deluded mind. Glory, as a result of this possibly over-reaching guesswork, could well bare overall similarities to "Gimme More." Though, as "Make Me" has proven, probably a little less dance and definitely more mature and mellow.
4. It Was The First Time That Britney Sounded Truly Empowered By Her Persona
The phrase which opens "Gimme More" — "It's Britney, b*itch" — has become synonymous with Spears' overall brand. Though the sultry singer had always been truly sexy and had the music videos and songs to prove it, it wasn't until "Gimme More" that the artist finally owned her sexuality with those three little words. It was a statement that introduced the song with a clear war cry against her critics. Whether anyone else liked or approved of her saucy on stage persona or not, she was clearly reveling in every aspect of it and flipping her critics the bird in the process.
Judging from how empowered and free she sounds on "Make Me" and "Private Show," I'd like to believe that Britney is returning to this vibe on Glory and will celebrate everything about herself which makes her so beloved and fierce.
See what I mean? From everything we know about Glory so far, "Gimme More" is the perfect prep-song for it. It's powerful, sex-positive, and even totally cheeky. It epitomizes everything that fans so dearly love about Britney (and a little more, of course).
Images: BritneySpearsVEVO/YouTube; Giphy (4)