These Films Will Get You Olympics-Ready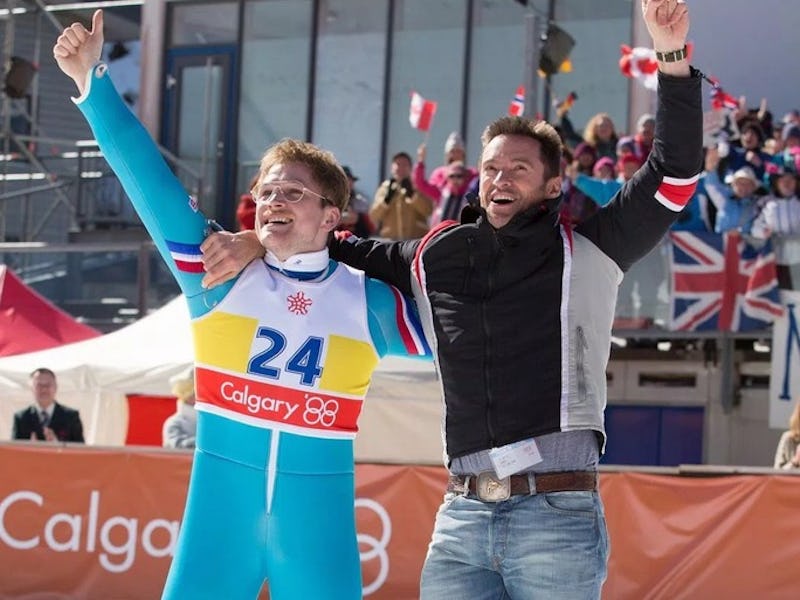 We're officially off to a big start in Rio for the 2016 Summer Olympics. After an eventful opening ceremony, complete with trippy bikes, some interesting Olympic rings, a well-oiled Tongan citizen, and a casual Game of Thrones reference, the first day of the Summer Olympics has begun. But, being the film fanatic that I am, I can't help but feel the urge to take a break in between the Olympic coverage to indulge in something more cinematic. Sure, there are plenty of historic Olympic moments waiting to be made in Rio, but why not take a moment to indulge in the retellings of some amazing Olympic stories? Or maybe watch fictional athletes pursue Olympic gold? Or maybe just kick back with a sports movie that let's you get in an Olympic state of mind while you wait for your favorite Olympic event to air?
Whether you're in the mood for a chuckle, want a gripping drama or perhaps want to take a trip down memory lane by watching some of the best sports films of yesteryear, you'd be hard-pressed to find a film that won't get you in the Olympic spirit. Where do you begin? Try these films on for size:
1. Cool Runnings
An actual classic Olympic film if ever there was one. The story of the Jamaican bobsled team making it all the way to the Winter Olympics still manages to delight more than 20 years later.
2. Eddie The Eagle
This recent entry into the Olympic film canon was wholly inspiring. But also, how can you not be charmed by geeky, determined Eddie, as played by rising Brit actor Taron Egerton?
3. Stick It
I am seriously ride-or-die for this film, and you should be too. There's gallons of humor, feminism, and gymnastics glory, all capped of with a the interminably cool Jeff Bridges as a world-weary gymnastics coach Burt Vickerman.
4. Blades of Glory
I won't even try to tell you how underrated but brilliant Blades of Glory is; you have to watch it for yourself. If you need a bit of comic relief, watch Will Ferrell and Jon Heder battle, then unite, as male figure skaters looking to capture Olympic gold. Tune in for the wacky protagonists but stay for the hilariously weird antics of Will Arnett and Amy Poehler as super-close sibling figure skaters.
5. D2: The Mighty Ducks
The Mighty Ducks franchise is pivotal to many a millennial's childhood. The most Olympic-y of them all is, without a doubt, D2. In the second installment, the Ducks go to the Goodwill Games (an Olympic stand-in) and face off against Iceland.
6. Prefontaine
Jared Leto is having a major moment right now, thanks to the release of Suicide Squad. But did you know he once played Olympic long distance runner Steve Prefontaine? Make sure to check out Leto's little-seen biopic ASAP.
7. Chariots of Fire
You may not have seen the movie, but you have definitely heard the Chariots of Fire theme song (listen above). That's because the song, like the movie, is inspiring to no ends. You'll probably end up crying after you watch the film but it's worth it; Chariots is unmissable.
8. The Bronze
Lead actress Melissa Rauch also co-wrote this indie gem about an aging Olympic gymnast looking to regain her former glory. If you're cheering for Simone Biles, Aly Raisman or Gabby Douglas this summer, peep this flick for humorous insight into the world of gymnastics.
9. Race
A recent biopic tracking the timely and thrilling story of Jesse Owens' journey to the 1936 Olympics in Germany, Race takes on two layers of meaning as it explores the sport of track and field and well as Owens' own fight with the racial politics of Hitler's Germany.
10. Munich
Falling on the darker side of the Olympic film spectrum, Munich is a Steven Spielberg-directed retelling of the five men who sought reparations after the events of the Black September's assassination of Israeli athletes at the 1972 Munich Olympics.
11. Creed
The most recent knock-out installment in the Rocky franchise is one of it's most thunderous. Helping to draw in a new generation of franchise fans, director Ryan Coogler and Michael B. Jordan were able to reinvigorate the boxing film narrative with style.
12. Foxcatcher
If you like your sports films to have a heavy dose of true crime, pop Foxcatcher into your DVD player. Based on the professional and personal relationship between wrestling team leader John DuPont and Olympic wrestling hopeful Mark Schultz, you'll be on the edge of your seat the whole time.
13. A League of Their Own
There may not be any crying in baseball, but there is certainly cheering. Aside from feature a line-up of the '90s heaviest film hitters (Tom Hanks, Geena Davis, Rosie O' Donnell, Lori Petty and Madonna), this film will not only ease you into the sporting mindset, it'll leave you with those happy, competitive vibes flowing through Rio.
14. Hoop Dreams
Hoop Dreams is not an Olympic movie per se, but it's inspiring AF. Following the lives of two young black men in Chicago with big basketball dreams, you'll be in the right frame of mind to watch basketballers like Kevin Durant and Kyrie Irving in the Olympics.
15. Bend It Like Beckham
The perfect, the empowering, the hilariously warm-hearted Bend It Like Beckham is an ode to the soccer fever of the early '00s (spurred on by players like David Beckham and Mia Hamm). Through the eyes of protagonist Jess, we get a lesson on English soccer — ahem, "football" — culture and the importance of women participating in sports.
16. Unbroken
Unbroken is a serious and soaring testament to the life of Louis Zamperini, the Olympic athlete who served in WWII and became a Japanese prisoner of war. Jack O'Connell's performance sends this film into the stratosphere.
17. When We Were Kings
With the recent passing of Muhammad Ali and the Olympic spirit reaching peak levels, this is a perfect way to pay homage to one of the greatest and witness what an athlete's journey is like from training to the main event. When We Were Kings is a great sports film and rightly so with Ali front and center.
Don't wait, get to watching. I promise you'll be ready for Rio by the time you're finished with these films.
Images: 20th Century Fox; Giphy (13)