Everything You Need To know About Shakur Stevenson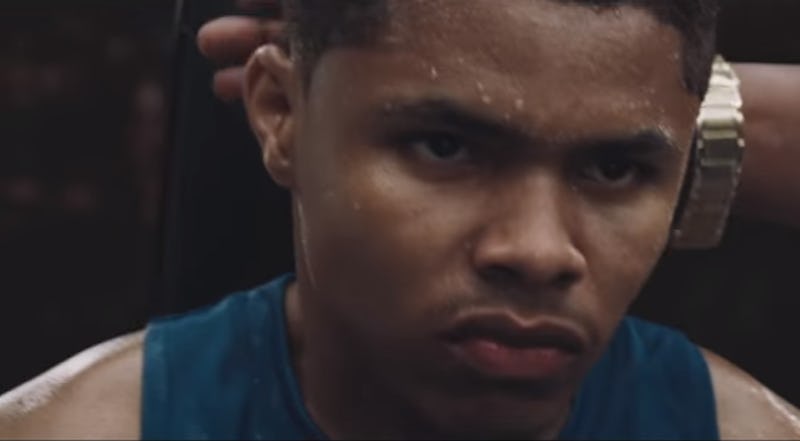 Commercials are rarely as powerful as the 2016 Olympics Powerade ad starring Shakur Stevenson. The ad focuses on the 19-year-old boxer's refusal to quit no matter how many blows he takes. It tells an emotional story backed by info on who Shakur Stevenson is, as the U.S. Olympian could possibly make history on Aug. 14 — and trust me, you're going to want to be following his time in Rio.
According to his Team USA stats, Stevenson has a "23-0 international record and is the first American male to win junior and youth world titles and a Youth Olympic Games gold medal." Named after Tupac Shakur, Stevenson started out as a little boy who loved shadowboxing and he credits his grandfather for channeling his energy into boxing. Since then, Stevenson has been on a steady rise to the top of the sport. The internationally undefeated boxer won a bye into the Olympics where he will now face the winner of the bout between Brazil's Robenilson DeJesus and Algeria's Fahem Hammachi on Aug. 14. If he wins his match, Stevenson will have a chance to advance to the gold medal bout. No male boxer from Team USA has won a gold medal since 2004, but if anyone can bring one home, it is the determined Stevenson.
Hailing from Newark, New Jersey, Stevenson's hometown pride is not exaggerated in the Powerade ad currently putting him on everyone's radar. Stevenson is the oldest of nine siblings and he seems to want nothing more than to bring home the gold for his family and state. "I want to bring something positive back to the city," Stevenson said in an interview with NJ.com. "I want to inspire the kids and show them that just because you're from Newark doesn't mean you can't be something. It means a lot."
Whether he wins a gold medal or not, Stevenson has already made his hometown, state, and country proud. The may not even be out of his teens yet, but he has already proven himself to be a consummate athlete. His Twitter feed is full of love from his New Jersey family who are so proud to see how far he has made it, but Stevenson also has a clear head and is focused on his game. He may be young, but the man has proven he has serious talent.
His upcoming fight is a can't miss event, especially for boxing fans. The determination he shows in his commercial is nothing compared to the determination he brings to every single one of his fights. Stevenson could be the future of boxing, and it's all starting in Rio.
Image: Powerade/YouTube