9 Books To Read If You Love 'The Night Of'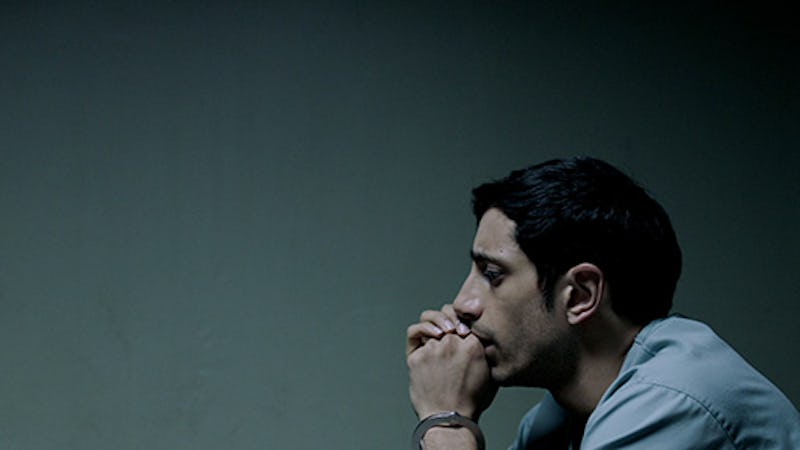 Sunday marks the series finale of the nail-biting, totally obsessive The Night Of on HBO. The eight-episode miniseries is ending far too quickly (that can't just be me) and I could easily spend another few years in the New York City populated by the "did he or didn't he" teenager Nasir Khan, eczema-riddled attorney John Stone, newbie laywer Chandra Kapoor, no-nonsense detective Dennis Box, and king of Riker's Island Freddy Knight. To help ease the pain, read books like The Night Of to keep you entertained until the next season of Making a Murderer comes out.
Unfortunately, HBO has promised this isn't just the season finale but the series finale of the show, so fans are absolutely going to need books to read if you love The Night Of once we find out who killed Andrea and more importantly, what happens to Naz.
These nine books won't be exactly like The Night Of, but some capture the noir spirit of the hit TV show, others will give you the same tension-filled mystery you need to solve, and still others bring in the issues of race and class into a crime story just like The Night Of.
Until another show hits the small screen that can fulfill this obsessive need that has us bingeing The Night Of, we'll just have to chain read each of these nine novels.
1. Clockers by Richard Price
Richard Price is one of the two incredible writers behind HBO's The Night Of, and Clockers is one of his most beloved novels. If you're a fan of the miniseries, there's a style and a tone that you'll love in Clockers . Homicide detective Rocco Klein walks the beat in a tough inner-city New Jersey neighborhood, where it seems every day there is another drug-based murder. But that all changes when the supposedly clean-cut, do-gooder Victor Dunham (ahem, Naz) confesses to a murder and Klein delves deeper into the crime to figure out what really happened.
Max Cantrell is a petty criminal, but he's not a murderer, right? To make a little extra cash, Max sells forged permission slips and cover stories for fellow high schoolers under the name Liars, Inc., teamed up with his pals Preston and Parvati. But one day when Preston wants his own cover story from Liars, Inc., he never comes home and is found dead. Max becomes the prime suspect, and readers will find themselves going back and forth on the main character, much like they do with Naz, until the final page.
Fans of The Night Of and How to Make a Murderer will find a lot to be obsessed with in Dear Daughter. Janie Jenkins was convicted of murdering her mother, but she maintained her innocence. Finally, after 10 years, she is released on a technicality, and the masses who were hooked on her televised trial are convinced she got away with murder. It's up to readers to decide whether they agree.
4. Monster by Walter Dean Myers
If your favorite (if you can call something so jarring and depressing "favorite") part of The Night Of is following Naz's experience in prison, you'll be fascinated by Monster. Walter Dean Myers' classic YA novel centers on Steve Harmon as he's in juvenile detention and on trial for felony murder. Steve dreams of being a filmmaker, and he tells his own story in the book as a screenplay. Just like in The Night Of with Naz, readers have to decide whether they believe Steve is guilty.
5. Manhattan Noir , edited by Lawrence Block
Though it's based on a British TV series, The Night Of is purely New York now. Remember that scene when Detective Dennis Box is tracing Naz's whereabouts in the taxi the night Andrea Cornish died? And then we see flashes of Naz passing into Manhattan from Queens and sitting at "the beach" and more? That full-throttle New York noir is perfectly displayed in this collection of Manhattan Noir when you just can't get enough. There are stories from Carol Lea Benjamin, S.J. Rozan, Xu Xi, Lawrence Block, and more.
Though the plot may vary greatly, Laura Lippman's Hush Hush (and so many of her other novels) imbue the same sense of escalating mystery and tension that has you nail biting through The Night Of. Also, both the show and Lippman bring in societal and cultural issues to the mystery that can change the game. Hush Hush centers on P.I. Tess Monaghan, who as a mom herself, takes on the case of a wealthy mother who kills her daughter by leaving her in a hot car, and after pleading insanity, is let off. Now, the woman wants to hire Tess to look into her security, and Tess has to confront her own feelings as a mother and a human being.
The Night Of brings post-9/11 Manhattan alive; Walter Mosley's iconic Devil in a Blue Dress brings 1940s Los Angeles alive. The noir novel is the first appearance of Mosley's protagonist Easy Rawlins, a black war vet-turned-private investigator, who is hired to find a missing woman, Miss Daphne Monet. Mosley is one of the most accomplished mystery writer out there, so if you're looking for a twisty-turny story, you can't go wrong.
How It Went Down and The Night Of both have top-notch character studies and infuse questions about how race, class, and culture factor into crime and the justice system. In Kekla Magoon's YA novel feels so appropriate today: it centers the aftermath of a shooting in which black teenager Tariq Johnson is killed by white Jack Franklin. Every witness and community member has something to contribute to the story, continually obscuring the truth as the story is told and re-told again and again.
Jasper "Jazz" Dent is the son of one of the most infamous serial killers and so he has insight into the mind of a criminal. When another killer is dropping bodies in his community, Jazz helps the police hunt down the murderer, but um, is Jazz the one following in his dad's footsteps? Or can he clear his name in the eyes of a judgmental police force? Unlike Naz, Jazz fits the bill for a killer, but that doesn't mean you know how this is going to go.
Image: HBO