The 'Gilmore Girls' Pregnancy Theory May Be Wrong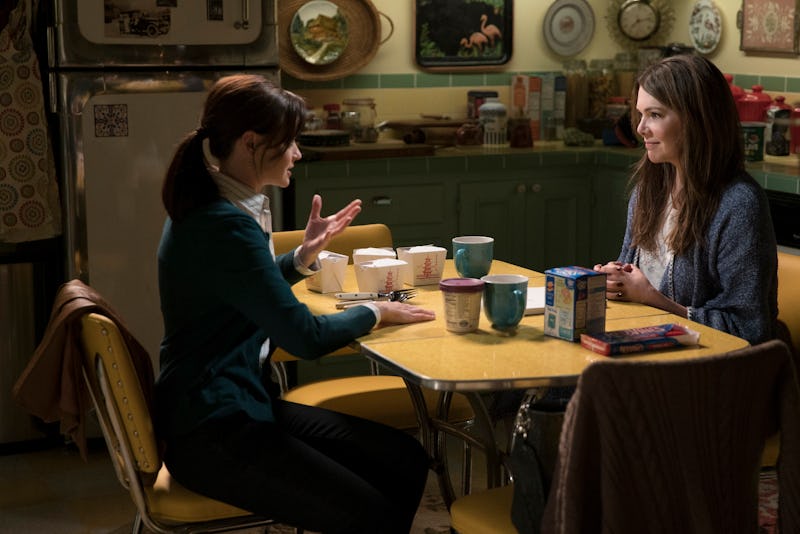 Where the fan theories lead, fans will follow. Unfortunately, with so much speculation floating around in regards to the Gilmore Girls Netflix revival, Gilmore Girls: A Year In The Life, fans can easily get wrapped up in theories that are just plain wrong. Following last week's release of a new promotional photo for the revival, fans immediately pointed fingers at the possibility that one of the Gilmore girls could be pregnant in the revival. However, if you re-watch the series and look back at all of the craziness, you'll realize right away that Gilmore girl probably isn't pregnant. In fact, fans were focusing on the wrong moment from the series.
When the photo of the apple surrounded by Pop-Tarts emerged on the show's official Instagram page, fans jumped to the moment in Season 5, Episode 21 when Lorelai told Rory that she thought she was pregnant with Luke's baby. Why did she think she was pregnant? Because she only ate apples when she was pregnant with Rory. It seemed like a fair enough theory to ponder for quite some time. But, if you go back and look at Gilmore Girls as a whole, it soon becomes clear that the combination of Pop-Tarts and an apple was the truly important part of the photo.
That exact platter was seen before. In Season 1, Episode 6, Rory heads into the kitchen to get more snacks from Lorelai for both herself and her study group. In response, Lorelai hands Rory a plate full of Pop-Tarts with an apple right in the middle — exactly as it appears in the recently shared photo for the revival series. Just look at how proud she is of her creation.
Considering the fact that the show was just beginning, this platter was certainly not related to a possible pregnancy or baby announcement at that stage in the game. The apple was just a healthy kick in an otherwise sugar-filled meal — both then and now. However, if you want to believe that there's still the possibility of Gilmore pregnancy in the revival, so be it. I, for one, would love to see Rory become a mother and Lorelai become a grandmother.
However, we all have to admit at this point that the apple in the revival photo was a call back to an early season of studying with nutrients and pure sugar, rather than a clue that Rory's about to get a sister. Gilmore Girls: A Year In The Life premieres on Netflix Friday, November 25. Feel free to theorize as much as you want until then. I know I will.
Additional Reporting By Samantha Rullo
Images: Saeed Adyani/Netflix; Warner Bros. Television (2)