This 'PLL' Casting News Could Mean Big Things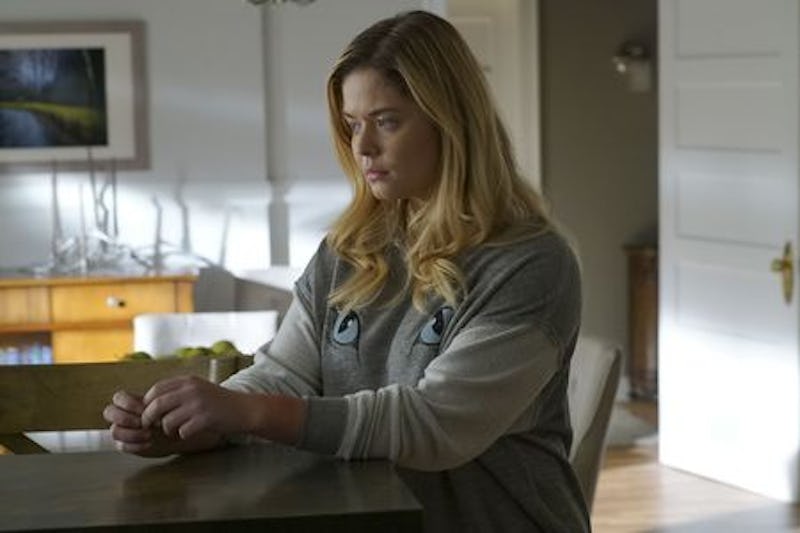 Season 7 of Pretty Little Liars has been full of twists and turns, with this season's villain taking the A game to deadly levels that Mona and Charlotte never quite reached. With so many suspects for Uber A piling up, it's easy to want the series to reach its inevitable conclusion and tell us who, exactly, is behind all of this mayhem. Unfortunately, with that answer comes a tragedy: according to Freeform, Season 7 will be the end of PLL as we know it. However, while the Uber A storyline will end with Season 7, showrunner I. Marlene King made it clear in on Twitter that Season 7 may not be the end of PLL , leaving fans to consider whether a PLL spinoff or reboot is possible. Now, some brand-new casting news for Season 7B of Pretty Little Liars is making some fans speculate whether the series is introducing characters that could play a part in a potential reboot.
According to Deadline, Pretty Little Liars has cast Ava Allan in Season 7B, and her character sounds suspiciously like another beloved PLL character. Allan will play a character named Addison, whom Deadline describes as a "pretty little bully" who is "attractive, entitled, manipulative and intimidating, and every insecure high school girl's worst nightmare." Hmm... can you think of anyone else who used to fit this bill on Pretty Little Liars? I'll give you a hint: it already rhymes with Addison.
There are so many things that could be going on with Allan's character, but one potential clue is that the actress won't appear until Season 7B — a.k.a. the final stretch of the series "as we know it." The actress is seemingly playing a high school student, and though it's unclear where we'll meet her, one theory that has been floating around the comments on Reddit is that she'll be ushering in a new crop of Liars. Think about it: if the series does want to reboot itself, one way to do it would be to bring in a brand-new mystery with similar elements to the first. "Addison" could be our new "Alison" in this mystery, perhaps leaving Season 7B with an open-ended mystery that could propel itself into Season 8.
It's not the only explanation for why Allan could be joining the show as Addison. Though it's pure speculation at this point, it is possible that Addison isn't actually the character's name — it could be a fake name that producers give the actress to hide her real identity. The show did the same thing with Dre Davis, who played Sara (RIP) on the series: fans were initially told Davis' character was named Kimberly, before the big reveal in Season 6A that showed she was the long-missing Sara. Perhaps Addison is actually Bethany Young, whom we'll see as a teenager in a flashback. Though Allan has dark hair, she does have blue eyes, just like Bethany did in the flashback.
If Allan really is playing a Season 8 Liar, it might mean that the series is looking to re-develop a similar story for a new generation of fans. Though I'll have to wait and see if Addison could really hold a candle to Alison, I would be willing to give a reboot of the series a fighting shot to hook me the way the original series did.
Images: Byron Cohen/Freeform; Giphy