The New 'Luke Cage' Trailer Gets Intense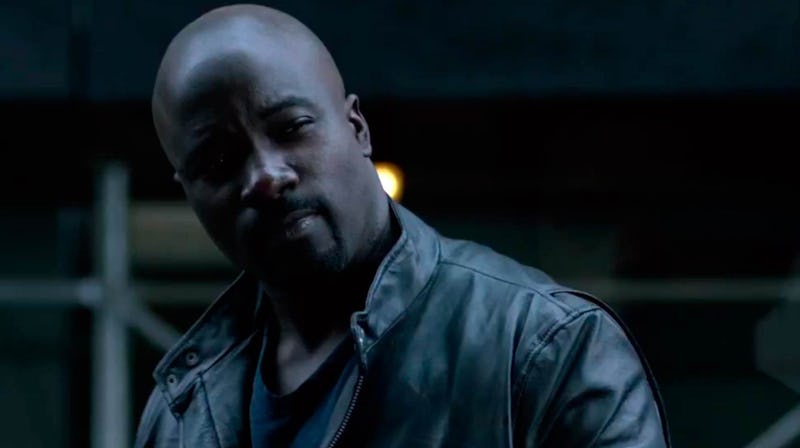 The latest Luke Cage trailer gives viewers a glimpse into the psyche of its titular character, as well as the place he calls home. The Marvel/Netflix show is only a few weeks away from premiere (September 30, what up), so it's about time we were made privy to a full Luke Cage trailer. For anyone who still has questions or concerns regarding how Luke Cage will live up to its hype, let this one calm your worrying mind. With a trailer that builds in intensity and plays not one, but two songs, the arrival of Luke Cage will be extraordinary. But, what are the songs in the new Luke Cage trailer? While you were busy thinking about how you're going to clear your schedule on September 30, I found out for you.
The new spot features Luke Cage doing all the Luke Cage-y things you'd expect at this point: stopping a moving vehicle with his body, lamenting his own powers ("You think I asked for any of this?" he ponders), wearing the metal headband from his original source material (!!!), saving restaurant owners, resisting punches with his impenetrable skin, throwing bad guys out store windows, putting on a hoodie, and quite literally taking bullets. All of this while Isaac Hayes's "Walk on By" looms on in the background for the first half, and the Run the Jewels remix of Miike Snow's "Heart is Full" blares through Luke Cage's wake of destruction in the second half. It's musically fitting switch from slow building peril to full on war, mimetic of Luke Cage's own superhero arc.
Setting the music aside for a moment, above all else, the trailer seems to be about Harlem — the place Alfre Woodard's Mariah Dillard calls a "perpetual symbol of hope and prosperity" is the same place that's threatened by crime and violence. There's Cottonmouth on the sinister brink of reigning supreme, and Misty Knight making an appearance to caution Luke.
But the character who seems to really have a finger on the pulse of the city is Rosario Dawson's Claire Temple. "Too much happens in the shadows" she tells Luke. "People fear what they can't see." It's menacing, and most likely prophetic. However, the most important piece of cryptic dialogue Claire throws out is this one: "Sometimes if you want justice, you have to get it yourself."
That seems to really strike a chord with Luke Cage, because from that point forward, you better believe he gets himself some justice. And I can't wait to see it happen. For now, though, I'll settle for just listening.
Images: Netflix