11 Sci-Fi Movies You Can Expect Before 2017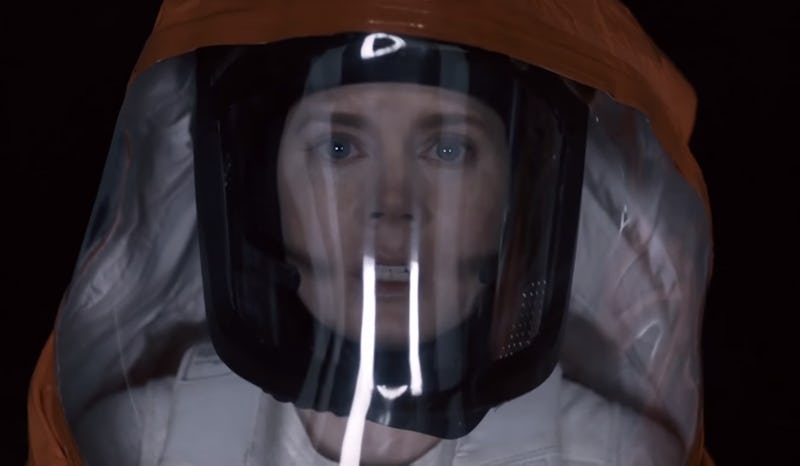 With the warm weather winding down, the season of summer blockbusters is (sadly) coming to a close. However, when looking at 2016 so far, it's safe to say that it has been a year full of excitement for science fiction fans. Sci-fi movie releases included everything from superheroes to a return to the world of Cloverfield to continuations of the post-apocalyptic young adult franchises we know and love. But, when it comes to the rest of movies set to be released in 2016, the sci-fi era is certainly not over yet. Yep, there's still a slew of science fiction movies to come in 2016.
As we head into the Fall and holiday seasons, Hollywood is not slowing down the number of edge-of-your-seat thrillers headed to theaters. From zombie apocalypses to alien encounters to trips to space, the sci-fi movies to come will scare you, move you, or just generally get you thinking. And with sci-fi movies such as The Martian generating Oscar buzz in previous years, some of these movies may even be competing for the year's Best Picture prize. So no, sci-fi fans, your movie-going days are certainly not winding down anytime soon. Here are the science fiction films you have yet to see in 2016.
1. Ghost Team (August 12th)
The all-female team of Ghostbusters may have already fought off the ghosts of the summer, but now the sci-fi comedy theme is continuing with the help of Jon Heder, Justin Long, and more as they go on their own mission of documenting ghost activity.
2. Daylight's End (August 26th)
Falling under the category of sci-fi is a film centered around the possibilities of a post-apocalyptic world. Daylight's End provides what could be described as a breakout cast as it combines the apocalypse with a deadly virus and the outpour of zombies. Walking Dead fans, this one may be for you.
3. Morgan (September 2nd)
What happens when artificial intelligence goes wrong? That's exactly what Morgan is going to explore. With more of a horror feel attached to this science fiction concept, Lee Weathers (played by Kate Mara) is set to find out where their experiment went and what's to come.
4. Voyage Of Time (October 7th)
Terrence Malick's upcoming space-centered film is actually more of a documentary than a sci-fi film. But, with Brad Pitt and Cate Blanchett providing the film's voiceovers, Malick is sure to visually explore both the known and the prospects of the unknown. Making for one riveting adventure for anyone who just can't get enough of space.
5. Doctor Strange (November 4th)
When thinking of science fiction films, your mind may immediately jump to the ever-growing list of superhero movies set to hit theaters in the coming years. And, with Batman V Superman, Captain America: Civil War, and Suicide Squad, now behind us, Marvel is gearing up to deliver its latest hero: Doctor Strange. A surgeon turned sorcerer ready to take on an evil he didn't even know existed.
6. Arrival (November 11th)
Amy Adams may have dealt with aliens in Man Of Steel, but that's nothing in comparison to the unknown she'll be facing in Fall's Arrival. The sci-fi centers around communicating with Earth's new visitors and that in and of itself is a new take on earth-bound alien encounters.
7. Fantastic Beasts & Where To Find Them (November 18th)
OK, so this Harry Potter spin-off story may be considered more of a fantasy film than a sci-fi. But with magical creatures roaming the streets of 1920's New York, it sure seems like a science fiction story of a different time. That is, if the Wizarding World doesn't secretly exist in the first place.
8. Rogue One: A Star Wars Story (December 16th)
There may not be a new Star Wars episode coming in 2016, but Rogue One is bringing the galaxy to theaters in the all-new spin-off story. It'll follow Jyn Erso and her mission to help deliver the plans for the Death Star to the rebels — Long before Darth Vader was ultimately defeated.
9. The Space Between Us (December 21st)
However, no all science fiction has to be completely out of the possible. As for the upcoming film, The Space Between Us, it follows the story of a boy who was accidentally born and raised on Mars. Making for one heart-pounding and heart-warming adventure.
10. Passengers (December 21st)
Officially footage for this highly-anticipated Jennifer Lawrence and Chris Pratt pair-up is yet to be released to the public. However, the sci-fi romance is said to center around two people who are accidentally awakened 60 years too soon during a journey from one planet to the next.
11. Assassin's Creed (December 21st)
For fans of the Assassin's Creed video game, this film has been a long time coming. And now, with an almost a shot-by-shot film version of the game heading to the big-screen, Michael Fassbender stars as Callum Lynch as he takes the audience through the lives of his ancestors. The wait will soon be over.
So, which science fiction films will you line up see? No matter what you choose, I'll most likely be in the theater, too. Get your spacesuit ready and I'll see you there.
Images: Movieclips Trailers/YouTube