'Hook' Was Robin Williams At His Most Real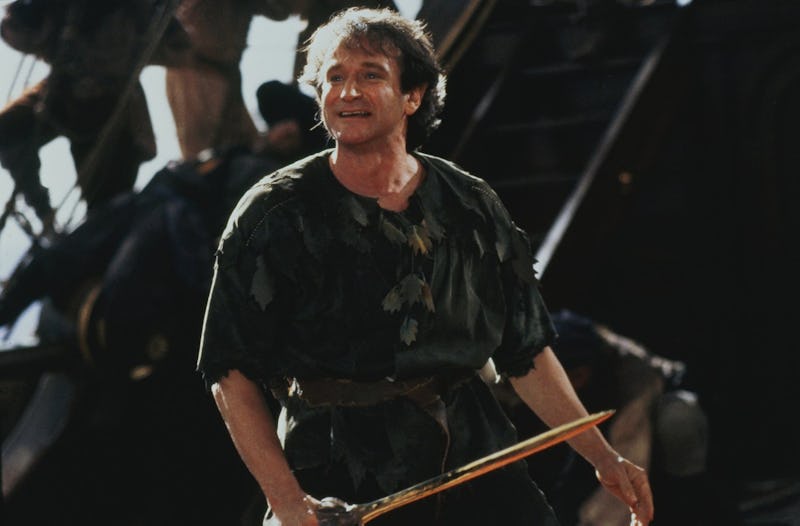 Aug. 11, 2016 will mark two years since the world lost Robin Williams. The much-beloved, brilliant actor was known for his comedic genius, but he also had a talent for nailing dramatic roles as well, and on the anniversary of his death, fans will no doubt turn to their favorite Williams roles to remember him. Millennials might turn to Disney's Aladdin for their fix, where the actor's improvisational and impersonation skills are on full display as the voice of the Genie. Others might lean more towards Williams' sincere side and give Good Will Hunting a re-watch. But my favorite Williams role comes from a film that is celebrating its own anniversary this year. Hook , Steven Spielberg's re-imagining of the story of Peter Pan, turns 25 in 2016, and it features one of Williams' best performances ever. While honoring the late actor, Hook is a great movie to revisit, as it'll help you remember the child in Williams, and in us all.
I've had a lifelong love of Peter Pan, the character created by Scottish writer J.M. Barrie. Most people are familiar with the story of the boy who never grew up: Peter lived in Neverland with lost boys, pirates, and mermaids. Though the story seems, on a surface level, meant for children, it's overflowing with dark, adult themes. Loneliness, mortality, and family all play into the grander motifs of Barrie's story, and Peter is shown to be far from perfect. I've always been a big fan of the character — I even have an original 1911 copy of the Barrie novel Peter and Wendy — and my devotion to the story, and its various interpretations, is pretty big. So you can imagine that I have pretty high demands for anyone who plays the character, and believe me when I say that Williams' version, even though he plays Pan as an adult, is the very best of the bunch.
Hook premiered around Christmas in 1991, and since then has become a favorite for many '90s kids who grew up shouting "Bangarang!" and "Rufiooooo!" With Dustin Hoffman as Captain Hook, Maggie Smith as Wendy, and Julia Roberts as Tinker Bell, the movie features some great performances, but none better than Williams' transformational Peter. Hook places the story of Peter Pan further in the future as an almost sequel to the original tale, and as the uptight, adult lawyer, Peter Banning, Williams plays a cranky adult pretty well. But the genius of his performance is that the whole first section of the film, where Peter has no memory of his past and doesn't believe in Neverland, feels unreal. Williams' portrayal is silly, while still being serious. It's almost as if Williams is telling the viewer, "This is not who Peter is," while simultaneously saying, "This is not who Robin is, either." Just wait, and Hook will take you to see the true versions of both.
Once Peter Banning transforms to Peter Pan, Williams' wild side, just like that of the Genie in Aladdin , or the wild Adrian Cronauer of Good Morning, Vietnam, is set free. It's hard to separate Williams from Peter here. Peter is trouble-making, goofy, and a person who shows no fear, attributes that fans can lovingly ascribe to Williams as well. The actor always seemed like a child at heart, which is probably why he was perfectly cast in Hook. As an adult Peter Pan who has forgotten his past and must re-embrace his imagination and childhood wonder, it's almost as if Pan's journey was Williams' quest all along. He may have wanted to re-capture his youthful charm after three straight serious films: Dead Poet's Society, The Fisher King, and Awakenings. Or maybe he, and the film, just wanted to tell the kids who saw Hook to hang on to their childhood imaginations, to to remind adults that they have those wonder-like qualities still inside them.
Watching Hook as an adult, it's still one of my favorite movies, and I can more clearly see the darker themes that permeate Barrie's story. But the movie, and Williams' performance, still try to make the lasting message one of hopefulness. Remembering the actor two years after he died, Hook's message of recapturing not one's youth, but one's youth-like qualities and optimism, is a great reminder that Williams always seemed to have a positive outlook on life as well. Recently, the lost boys of Hook got together for a reunion, orchestrated by 22 Vision and presented on Entertainment Tonight , and it became clear that Williams' genuine nature has stuck with them through the years. "It was like his mission to make sure everyone around him is happy and laughing all the time," said actor Thomas Tulak, according to ET. "That's what I think his power was: his reach and being able to make anybody — even through a television screen or a movie screen — make you feel so great," added Ryan Francis.
Though sadness may be fans' first instinct when remembering Williams on the anniversary of his death, letting his overwhelmingly joyous work, like Hook, speak just as loudly and inspire our memories, may be the best way to remember Williams. With a tear for every happy thought.
Images: Amblin Entertainment, Giphy