'Harry Potter' Fans Will Love These New M&M's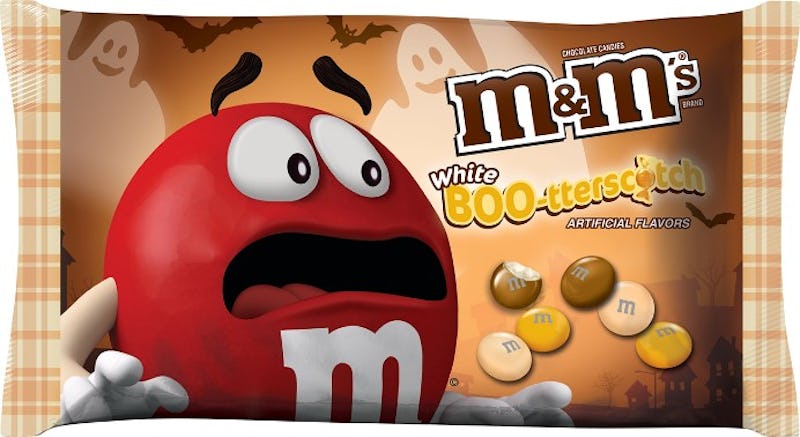 It is official: 2016 is the year the of the resurgence of the Harry Potter nerd, and it seems that everyone is on board with our cause. If the release of Harry Potter and the Cursed Child and the imminent Fantastic Beasts and Where to Find Them movie weren't enough to nerd us out to capacity, maybe the new M&M's "Boo-terscotch" flavor that tastes just like Butterbeer will finally be our delicious undoing.
As you might have guessed, "Boo-terscotch" is, in fact, butterscotch, and is being introduced to the M&M's flavor lineup as part of its fall flavors. According to Delish, right now it is only being sold at M&M's World, but it will be rolled out to the general (nerdy) population this fall for a limited time. And might we all suggest that it also get sold at movie theaters where Fantastic Beasts is playing? Because according to the taste testers of this new snack, the white chocolate butterscotch combo tastes remarkably like the Butterbeer that's sold at Wizarding World Of Harry Potter in Orlando. Butterbeer in solid form? Sounds like some impressive transfiguration work to me, y'all.
Here is what the new variation of M&M's will look like:
The poor red M&M's horror is all of our delight, because the possibilities of blondies, brownies, and cookies (oh my!) with this fall treat just got taken to the next level. And why not sweeten the deal by making your own homemade Butterbeer to really sweeten up the deal? (Seriously, guys, can fall just be here already? I'm so over pretending to like the sun and the not-Halloween treats that come with it.)
And while we eagerly await the wide release of these M&M's, we can also appreciate its autumnal brethren that we already know and love. Here are the other flavors you can look forward to this fall:
Candy Corn M&M's
Another white chocolate variation, this, I imagine, is much easier to bake with than actual candy corn.
Pecan Pie M&M's
May the glorious class and sass of the Green M&M live on in our hearts and whatever treats we bake with these, the chocolate-based Pecan Pie flavor of M&M's.
~Harvest~ M&M's
Basically M&M's, but in autumn colors like red, yellow, maroon, and brown. This year's altered ones will include the specialty flavors as well as regular, peanut, and (my personal favorite and legitimate addiction) peanut butter M&M's.
In conclusion, this fall is going to be delicious and spectacular and, thanks to Boo-terscotch, nerdier than ever before. Get your mixing wands ready to bake, guys, because we've got some Butterbeer Brownies to brew.
Images: Mars Candy