Expert Tips For Negotiating The Salary You Deserve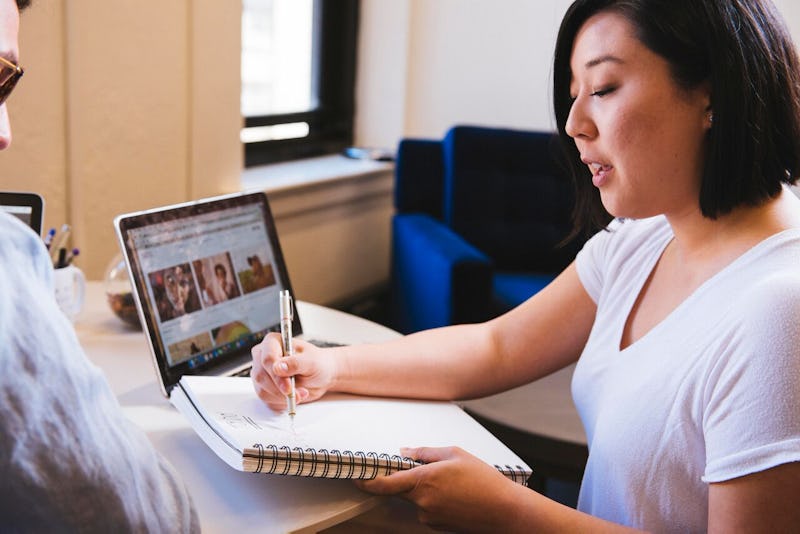 Negotiating salary can seem like a dreaded experience, especially when you're simultaneously trying to secure a position with a company. You might be asking yourself, "If I push them too hard, will they hire someone else instead?" Fear not — I've collected some expert tips for negotiating the salary you deserve that can help you ensure you land both the job and the right salary to go along with it.If you are not one for negotiating, doing so when it comes to a salary for a new job position can seem scary to say the least. The situation can feel that way, as you might be left wondering whether it's worth doing a back and forth on the salary figure, or if you should just go with the company's initial offer. Think about it this way: You know your own worth. Does the company's offer seem to align to this? If not, it's certainly worth the push back. If you're frightened or nervous to do so, don't be.
By using the right negotiation tactics, you'll be well equipped to have the salary conversation, and to have it successfully. That whole, "Will they hire someone else instead?" thing — get that out of your head. The company gave you an offer for a reason. If anything this should help fuel your confidence heading into the negotiation. You're worthy of a great salary, so let's talk about some ways to get you one. Here are 9 expert tips for negotiating the salary you deserve when heading into a new job.
1. Research, Research, Research
To help gain a better understanding of ways to best negotiate salary, I got some insight via email from Amanda Augustine, career advice expert for TopResume. According to Augustine, one of the first things you need to do is to be prepared. You can do this by being certain to do a good amount of research related to your job and salary ranges. "Research the market rate for your position by visiting Glassdoor.com, Salary.com, and PayScale.com, taking into account the company's location, size, and industry," Augustine suggests.
2. Wait Until The Right Time To Talk Money
When exactly do we start talking money? I've never been quite sure, but according to Randy Hood, national account executive at HireRight, who spoke to Mashable on the topic, you should wait until after your first interview to begin salary conversations. What if the interviewer brings it up? "Redirect the interview to your accomplishments instead of money," Hood told Mashable. "You do not want the company focused on your needs before they are committed to needing you."
3. Be Honest In Considering Your Current Value
Augustine says it's crucial to take time to consider the value you bring to the company. "Make a list of your major contributions and accomplishments, quantifying them whenever possible," Augustine suggests. According to Augustine, this could include ways you've managed finances, streamlined processes, and the like. All of these are important aspects that will determine your financial worth to the company.
4. Consider You Future Value As Well
Not only should you consider the things you've already accomplished, you should also consider ways you might benefit the company in the future, according to Augustine. For instance, Augustine suggests considering how do you imagine you will be able to cut costs, increase revenue, improve customer satisfaction, and so on.
5. Say, "Hmmm"
Let's say you've gone on the first interview and it went wonderfully. When you go in for the second round, they wind up giving you an offer. Instead of saying, "OK," try saying, "Hmmm" instead, according to salary expert Jack Chapman. Chapman, author of Negotiating Your Salary: How to Make $1,000 a Minute, penned an article on TheLadders.com offering tips for negotiating salary. He called the tactic, "The Flinch" — whereby instead of initially agreeing, you say that "Hmmm" instead. This allows you to take the time to really think about what that offer is and what it means. "Give yourself some time and in the seconds of silence the other person's offer is more likely to improve in some way," Chapman said. "Don't blabber. Be quiet. Let silence do its work."
6. Try Not To Bring Any Emotion Into It
I'm admittedly terrible at negotiating, and I think a huge reason for that is because I'm way too emotional. When it comes to salary especially, I tend to take offers personally (e.g. "Am I not good enough for a higher offer?"). Augustine suggests not bringing personal emotions into the mix, and remembering that it's not about one person winning and the other losing. Rather, Augustine says, "It's about each party giving a little to keep or get what they want most."
With that, Augustine says you should leave any emotion at the door, and if you feel any coming up, postpone the negotiating until a time when you're better able to suppress it.
7. Practice What You're Going To Say
If you were getting up to give a big presentation in front of your company, you'd want to practice what you were going to say in order to succeed, right? Well, treat this salary negotiation the same way. Real Simple spoke to Sara Laschever, co-author of Women Don't Ask and Ask For It, and the Academic Coordinator for the WIN Summit, who suggested outlining what you're going to say in your negotiation and then practicing saying the words out loud. Recruit a friend or family member to be your sounding board if you'd like. Laschever said these loved ones might be able to offer you some good feedback and suggestions.
8. Show Your Ability To Stand Up For Yourself
Believe it or not, pushing back a bit on your potential employer in the salary department can actually be a good thing. Monster.com spoke to Chris Voss, former lead international kidnapping negotiator for the FBI and professor of business negotiation at University of Southern California's Marshall School of Business and Georgetown University's McDonough School of Business. Voss provided the outlet some insight into negotiating successfully, and noted that it is a good tactic to stand up for yourself in this way (without offending the potential employer, of course). If they don't seem to be budging on salary, Voss suggested push them on non-salary terms, like benefits.
9. Wear Your Confidence Proudly
The last and final thing you should remember is to head into the salary negotiation confidently. "Confidence is essential to being a strong negotiator," Augustine says. "You must exude self-assurance, even if you insecure or uncertain. Don't apologize for negotiating – own it."
If you're in the process of landing a new job, be sure to consider some of the tips outlined here for negotiating the salary you deserve. Don't be surprised if you're able to secure both a great salary and a "can-do" reputation by using these negotiation tips.