Which Gymnasts Did Bela Karoyli Coach? The Legendary Coach Helped Establish A Winning Legacy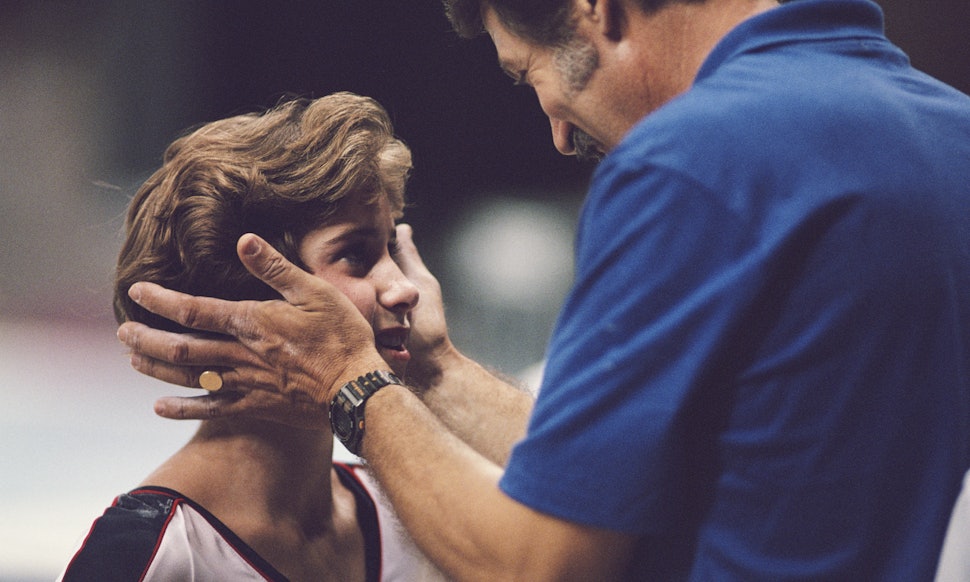 Joe Patronite/Getty Images Sport/Getty Images
Legendary gymnastics coach Bela Karolyi was first introduced to the world when his young mentee Nadia Comăneci scored an unprecedented perfect 10 at the 1976 Olympics in Montreal. Comăneci was the first in a long line of Olympians that Bela Karolyi coached throughout his 20 year coaching career, and while gymnastics has come a long way since the start of his career, Karolyi's penchant for coaching winners has remained astonishingly consistent.
Following his win with the Romanian team in '76, Karolyi's Olympic success was used by the Romanian dictatorship in place at the time to glorify the Communist system, something neither Karolyi nor his wife Martha could abide. The couple fled to the United States in 1981, where they continued their legacy for the next two decades.
The next gold medalist in Karolyi's line up was Mary Lou Retton, who won the United States' first ever gold medal for the individual all-around at the 1984 Olympics in Los Angeles. Retton was among the first batch of athletes who trained at the Karolyi's ranch in Huntsville, Texas, which the couple purchased in 1983 to turn into a gymnastics oasis. The team cleaned up that year — Retton, Kathy Johnson, and Julianne McNamara took home a combined total of seven individual medals, and the team won silver in the all-around competition, beaten out by Karolyi's former country of Romania.
Karolyi continued to coach through 1996, during which time the U.S. picked up another five individual medals, one for Phoebe Mills and four for Shannon Miller, and the team bronze in 1992. But it was the 1996 games that really cemented Karolyi's legacy for excellence. He coached the injured Kerri Strug to an unforgettable victory on vault, which brought the United States its first ever team all-around gold in women's gymnastics.
Karolyi officially ended his tenure as the team's head coach in 1996, but he came back for the newly created position of national team coordinator in 1999 and had a role in training the athletes. He watched from the stands at the 2000 Olympics in Sydney, where the team unfortunately had one of its worst showing in its history, leaving the games without a single medal (though, in 2010, the third place Chinese team was stripped of its medals due to allegedly lying about some of its team members' ages, and the U.S. team was retroactively given the bronze).
Although he stopped coaching after the 2000 Olympics, Karolyi has remained an active presence in the U.S. national team. All Olympic gymnasts make it to the Karolyi ranch at some point, where the Karolyis test them to see if they've got what it takes to be an Olympian. And due to the immensity of his legacy within the sport, Bela Karolyi did a lot more than just coach athletes — his work will continue to inspire generations of gymnasts to reach new heights and aim for Olympic glory.