Zakiyah Is Still On The Block On 'Big Brother 18'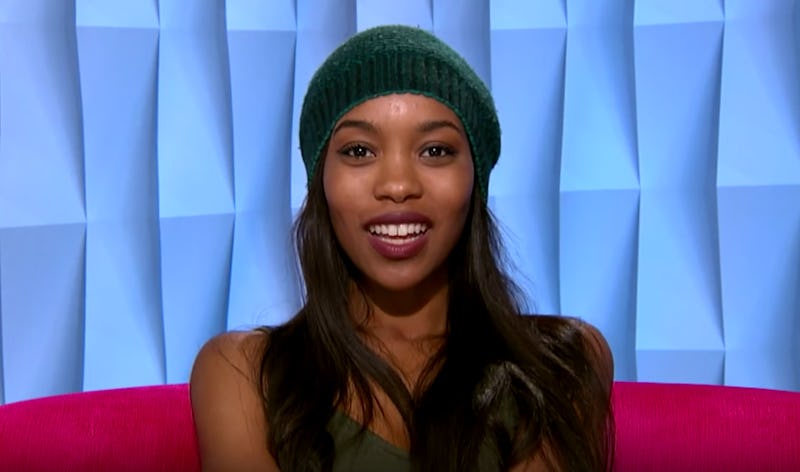 Zakiyah's showmance with Paulie might be what has protected her from eviction thus far on Big Brother , but now it looks like it might be the thing that sends her home. Even though Paulie talked about wanting to get Z out of the house, it turns out that he doesn't really want to see her go. After Victor put her up on the block with Michelle, Paulie struggled to get on board with Victor and Paul's game plan to evict her. He was so torn, he told Zakiyah that if he won the Veto Competition, he would pull her off the block. In the end, Zakiyah got to choose a houseguest to compete in the POV, and she chose Paulie, who won the Power of Veto. Unfortunately for Zakiyah, he also chose not to use it. So, will Zakiyah be evicted on Big Brother 18 ?
Zakiyah and Paulie ended up competing in the veto competition alongside Michelle, Victor, Nicole, and James, and Z was thrilled when Paulie won the POV. When Paulie promised her he'd take her off the block, Zakiyah admitted to viewers that she knew Paulie was being shady. Whether or not he followed through on his word was supposed to be an opportunity for him to prove to her that she could trust him. Needless to say, he failed. But, that doesn't really mean anything if Zakiyah ends up going home this week.
Still, the fact that Paulie told Zakiyah prior to the Veto Ceremony that he probably wasn't going to use it did make the blow a little easier to take. And, to Paulie's credit, he is actively trying to make sure that she gets to stay another week. With Paul and Victor set on evicting Zakiyah, Paulie turned to James in an effort to get him and Natalie to vote for Michelle's eviction instead, hoping to get rid of his biggest target instead of his Big Brother girlfriend.
That said, Zakiyah shouldn't leave it all up to Paulie. Zakiyah already put her fate in Paulie's hands, but it could end up being her biggest mistake in the house. If she doesn't want to get evicted from Big Brother, she's going to need to take some actions herself. "I'm gonna try my best to trust Paulie, but I didn't come here for no boy," Zakiyah said at the end of the episode. Let's hope she takes her own advice and starts advocating for herself in the house before it's too late.
Images: CBS; Giphy