Paulie & Paul Hit A Rough Patch On 'Big Brother'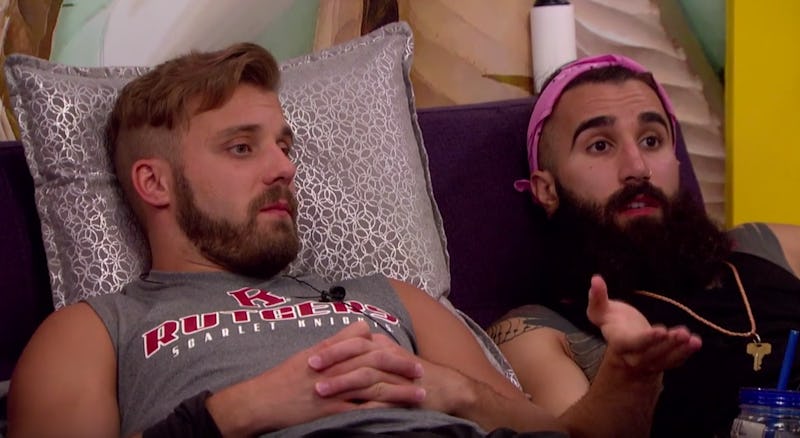 Paul and Paulie are not seeing eye to eye this week on Big Brother 18, especially when it comes to Zakiyah. After caving into peer pressure from Paulie last week and helping evict Da'Vonne from the Big Brother house, Paul's not taking orders anymore. At least, he's trying not to, and it helps that his other BFF, Victor, is sitting pretty as Head of Household. Victor, like Paul, is ready to say goodbye to Zakiyah, but Paulie isn't thrilled with the decision. And, just like that, Paul and Paulie might end up on opposite sides this week, which raises the question, are Paulie and Paul still working together on Big Brother ?
These last few weeks on BB18, Team PP seemed unstoppable. Paul and Paulie have dominated pretty much ever since the house turned on Frank, but their reign of bro terror might be coming to an end. Though Paulie had previously spoken about his desire to evict Zakiyah, his showmance partner this season, he's having second thoughts now that she's actually on the block. Instead, he'd rather see Michelle go home this week. Unfortunately, Paul disagrees. He sees Zakiyah as a bigger threat because she's not as emotional as Michelle. But, even after Paul and Paulie had "PP time" to discuss the pros and cons of Zakiyah and Michelle, they weren't able to agree on a target.
There's still time for Paul and Paulie to get on the same page this week, but it's not looking likely. Paul is sick of always doing what Paulie wants, like last week with Da'Vonne, and Paulie isn't willing to let go of Zakiyah just yet. This could be the beginning of the end for Paul and Paulie — PP twinsies.
Images: CBS