We Might Not See Bucky Again For A While, Sadly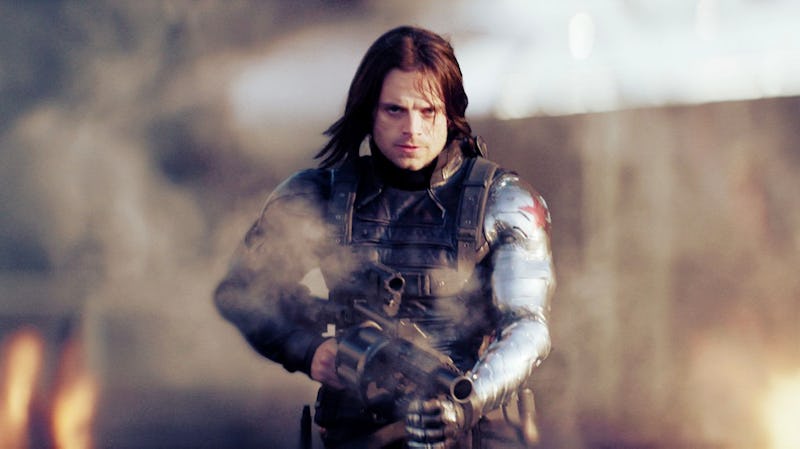 Fans who are eager to know what's ahead for the Marvel Cinematic Universe have been picking apart clues and Easter eggs and rumors and set reports ever since Captain America: Civil War kicked off Phase 3 this May. That, of course, includes the Civil War mid-credits scene of the film, which introduced the world to the reclusive (and fictional) African nation of Wakanda for the first time, the home of new hero T'Challa, and central location of his upcoming 2018 solo film. That scene featured the Wakandan king harboring Bucky Barnes — aka the Winter Soldier, an international fugitive — and putting him into cryogenic sleep. Was that scene a clue about the plot of the upcoming movie? Will Bucky be in Black Panther ?
While there is no official word from Marvel Studios on this question yet, the answer sadly seems to be: probably not. In a recent article about Sebastian Stan, who portrays the Winter Soldier, The Hollywood Reporter ended by saying that the actor "will shoot Avengers: Infinity War early next year." Infinity War; not Black Panther. Seeing as how the former comes out in May of 2018 and the latter comes out earlier, in February of that same year, that certainly makes it sound as though Stan won't be doing any filming for Black Panther.
Hardly a smoking gun, to be sure — Marvel Studios could just be keeping his role in the film hush-hush for now — but it does seem somewhat indicative. As Stan's slate continues to fill up and casting for Black Panther continues to be announced without any word of Bucky's possible involvement in the film, it becomes increasingly less likely that the actor would be able to fit it into his busy schedule.
As sad as that is, there is a silver lining here: not just the fact that the actor is officially confirmed to appear in Infinity War, but also that "busy schedule" I mentioned before. Just because Stan probably won't be in Black Panther doesn't mean we won't be seeing his beautiful face anytime soon. In fact, he has quite a few exciting projects lined up on the horizon.
First up is I'm Dying Up Here, a new Showtime comedy created by Jim Carrey and starring Oscar winner Melissa Leo (The Fighter) as the owner of an LA comedy club in the '70s; according to Variety, Stan will guest star on the series as Clay, "a funny and charming on-the-rise comedian who's idolized by his ex-girlfriend, fellow comedian Cassie" played by Fringe's Ari Graynor.
Then there's the indie drama I'm Not Here, in which Screen Daily reports Stan will co-star alongside Oscar winner J.K. Simmons (Whiplash), both playing the same man (presumably in different timelines?) who is "striving for redemption when he meets a flawed yet fearless woman." The film also stars Maiko Monroe (It Follows), Mandy Moore (A Walk To Remember), and Max Greenfield (New Girl).
Finally, there's We Have Always Lived In The Castle , which The Hollywood Reporter describes as a "creepy thriller" about "agoraphobic sisters" played by Alexandra Daddario and Taissa Farmiga (both veterans of American Horror Story) "divided" by the arrival of their cousin (played by Stan)… who may or may not have malicious intentions.
Of course, there's always still a sliver of hope that Stan will pop up in Black Panther, either in a cameo or in a small supporting role that's being kept under wraps for now. The actor himself hinted as much when he was asked by a fan when we could expect to see Bucky again at the Wizard World convention in Philadelphia last June. Stan responded: "I mean, there's obviously a very clear answer but I'm not maybe [allowed to] say it now. Where did he end up at the end of the movie? That's the movie he should be in. I feel like that would be the natural... But I don't know."
Until Kevin Feige himself officially announces the Winter Soldier's involvement in Black Panther one way or another, we can always keep the flame of hope alive. And in the meantime, at least we have plenty of other exciting Sebastian Stan projects to look forward to.
Images: Walt Disney Studios Motion Pictures