The 'BiP' Cast Weighs In On Josh Murray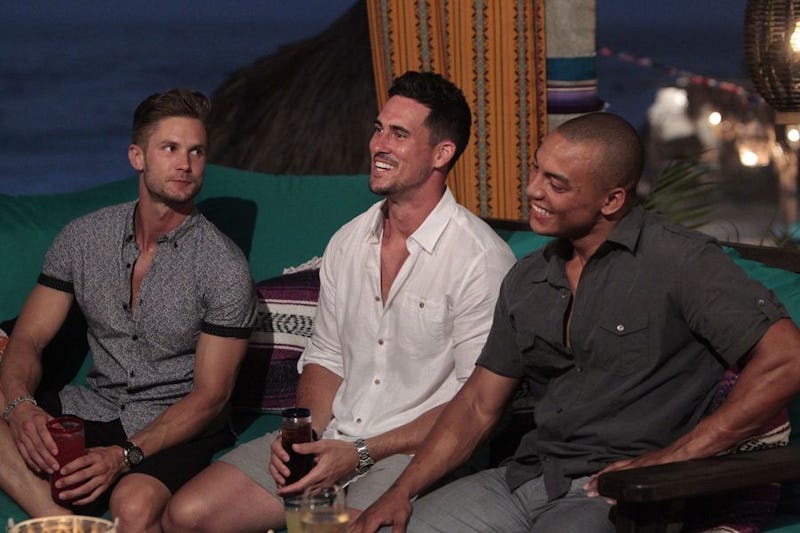 Now that Hurricane Chad has passed through Bachelor in Paradise, we can get down what the reality dating series is all about: Making connections, getting roses, and, occasionally, reigniting years-old feuds. At least, that's the case in Bachelor in Paradise Season 3 since Josh Murray joined the show and asked Amanda Stanton on a date — right after Nick Viall had given her a rose. So, since this particular feud/love triangle has been a focus in Paradise, what do the Bachelor in Paradise cast members think of Josh?
Well, first off, let's dive into Josh's history with The Bachelor franchise. Many will remember him as a contestant on Season 10 of The Bachelorette, in which he made it to the final two along with Nick before Andi Dorfman chose Josh and the two got engaged. However, the two broke off their engagement in January 2015 and Andi has since written a book about her time on The Bachelorette, titled It's Not Okay: Turning Heartbreak into Happily Never After. In the book, Andi wrote about the lead up to her breakup with Josh, at times claiming he was emotionally and verbally abusive. On Bachelor in Paradise, Josh denied Andi's claims with this statement: "I can't comment on specific things in any kind of book that my ex has written, because it's a fictional story. There's stuff that's so ludicrous; how do you comment on stuff like that?" Andi responded to Josh's statement on Twitter.
However, the book has come up on Bachelor in Paradise, with Amanda asking Josh about it on their first date and other contestants mentioning it as well. So, what do the cast think of Josh? Let's do a rundown.
Nick
When Josh arrived in episode 2 of Bachelor in Paradise, Nick made it pretty clear the two aren't exactly friends — and that he was annoyed by Josh's behavior when it came to Amanda. But, it seems Nick mostly tries to stay out of the feud everyone wants him to participate in. Plus, he seems to have a sense of humor about the situation.
Evan
As we've seen from promos for Bachelor in Paradise, Evan will confront both Amanda and Josh about the contents of Andi's book. However, I'm not sold on whether Evan really believes Josh is a bad guy or he just sees the book as a way to put a wedge between Josh and Amanda — or a bit of both. He did make it clear he's Team Nick though:
Jubilee
Also on Team Nick is one of my Bachelor faves, Jubilee — who, it should be mentioned, left Paradise before Josh arrived.
Christian
When Christian arrived in Paradise, he took the guys aside to get the low down on where all their relationships stood and though some may have not appreciated how Josh spoke about his relationship with Amanda, Christian didn't seem to mind. In fact, he tweeted that he and Josh formed a friendship while in Paradise.
Lace
Speaking of Josh's buds, it seems he and Lace may have formed a friendship as well. However, she can be seen in a promo for episode 4 released by ABC News saying to Amanda, "We've all told you, as women, be careful of Josh." Although it's unclear whether Lace is referring to Andi's book, she does seem to believe there's something about Josh that Amanda needs to be warned about.
Ashley I.
One of the most straightforward about their feelings in regards to Josh, Nick, and Andi is Ashley Iaconetti, who will be arriving in Paradise later this season. In her recap of Season 3 episode 2 for Cosmopolitan, she spoke about her relationships with each of these Bachelor Nation stars:
Plenty of Nick and Josh drama will happen this season though. I stay out of it as best as possible and will continue to do so with my recaps [Editor's note: I'll try to score the juicy deets anyway.]. I think Josh is sparkling, and holy damn, is that man otherworldly good-looking. Nick and I are really close also, though — he's like a big brother to me. And Andi Dorfman? I'm friends with her too, so as far as the fight over her tell-all book goes, I'll just say to interpret it as you like.
All in all, it seems many of the cast members from Bachelor in Paradise are staying out of the conflict between Andi, Josh, and Nick, instead choosing to remain neutral in this particular Bachelor Nation dispute. However, that may change as Bachelor in Paradise goes along if producers continue asking the contestants their thoughts on the situation. So, we'll have to wait, watch, and see.
Images: Rick Rowell/ABC