Rad New Brand Is Making Heels For Masculine Folks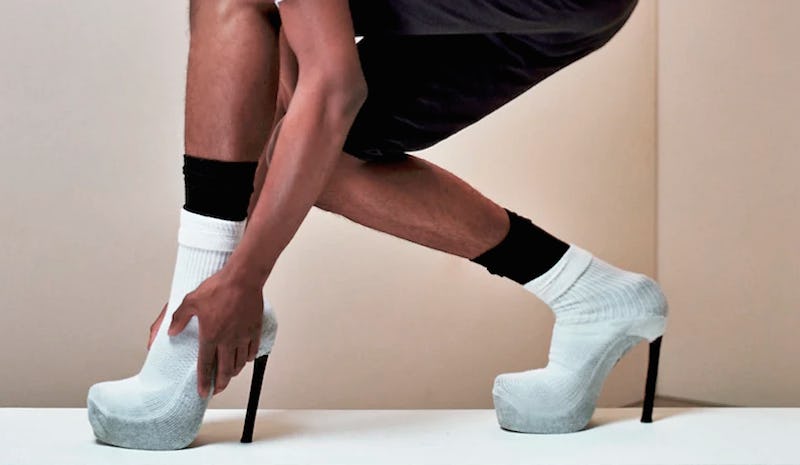 If I could name one item of clothing that's tragically inaccessible to transmasculine people, it would have to be heels (shoes usually reserved for cis women). It's for that reason that I think my transfeminine partner, as well as many other masculine folks I know, would absolutely adore the new shoe brand Syro. As a fashion lover and a trans activist, I couldn't be more in love with the company's mission: To outfit masculine, larger-footed individuals with heeled shoes that actually fit. Though I'm not a fan of stilettos and pumps myself, I respect every person's right to tower over us all in fabulous six-inch creations. And clearly, so does Syro.
My introduction to the brand came recently, when slam poet Alok Vaid-Menon of Dark Matter mentioned it on Instagram. In the post, Vaid-Menon raved about Syro's shoes, its mission to end the stigma of femininity in men, and the fact that they no longer had to crush their feet into footwear that was too small.
As a human with the privilege of being able to fit into most feminine clothing and shoes, it can be easy for me to forget just how tricky acquiring well-fitted and empowering feminine garments can be for masculine or assigned male at birth individuals. But for Henry Bae, founder and designer at Syro, the struggle was all too familiar.
In case it wasn't obvious through Syro, Bae loves heels. When I spoke to him via email and asked what it is about these shoes that makes him feel so liberated, he struggled to choose just one reason.
"The added height. No, the clicking of the heel against a hard floor. No, the swinging of the hips. No, the comforting discomfort. No, the attitude," he muses. "But the most important thing is, definitely, that they fit properly."
Thanks to the difficulty that came with finding and wearing the shoes that empowered him, Bae was motivated to found Syro for heel-lovers like himself.
"Syro was started with the intention of making heels large enough to fit bigger feet," Bae says. "Much of this venture is personal — I've always enjoyed myself in heels, whenever I could squeeze into them — but the catalyst for Syro's birth was the steady realization that I'm not alone."
And that's certainly true. Legions of folks coming from all backgrounds, sexualities, and gender identities like Vaid-Menon need fashion-forward shoes that fit them properly. With few stores carrying feminine shoes over a size 9 or 10, Syro is bridging the gap between retailers and masculine folks who need a good pair of heels at men's sizes 8 to 14.
"Heels are not exclusively adored by women; and men aren't all sneaker heads," Bae adds. "For some, it's just about fashion. It's just shoes."
For Syro customers like Wesley Berryman, the brand takes a lot of the stress and disappointment out of shopping. "Before Syro, I often had trouble shopping for heels because of sizing issues," Berryman tells me in an email. "And the styles that did have larger sizing would often not be as current or just plain ugly."
Berryman came across the brand after seeing posts about Syro on Bae's social media outlets, particularly his Instagram account. After buying his first pair, Berryman received lots of compliments from friends.
"People love my Syro boots," he says. "They're always asking where I got them, and are always surprised and excited when I explain they are from a brand that designs for men/masculine people."
Sean, $160, shopsyro.com
There are currently five different styles available on Syro's site, all of which are black leather creations. "In its initial offering, Syro pays decadent homage to classic designs: A wedge, a pump, a boot, a giant platform, etc.," Bae notes. "Going forward, Syro will focus on wearability: Designs that can be incorporated into daily, sober life."
Many of the brand's terribly chic shoes, as Bae points out, are not super ideal for street-wear. In his eyes, this reflects the almost-secret nature of men wearing feminine clothing.
"Queer expression feels safest in the nighttime," he tells me, "at the club, shrouded in darkness — but why must we shy away from the sun? I'm tickled at the thought of a man wearing Syro shoes to the post-office on a Monday morning. It feels so rebellious; and it's just a shoe!"
With so much stigma surrounding femininity in men and trans individuals at large, folks like Berryman love Syro shoes for how incredibly affirming they are. "These heels are empowering because they were made for me and because the goal of the brand I am wearing is to empower me," he tells me. "It's empowering knowing I'm supporting something that also supports me."
This is exactly what Bae and the people at Syro like to hear. "Our dream is for Syro to expand the options available for men to express themselves," he says. "A choice to wear a heel [can be] a choice to launch [yourself] into a greater conversation about gender and identity issues. I respect the bravery of our customers, and hope we continue to make them proud."
But though a brand like Syro can be incredibly affirming for transfeminine folks, it's important that we remember that trans activism doesn't stop with a pair of shoes. "Syro is not a brand that necessarily focuses on trans identity or trans visibility," Bae tells me. "The trans community faces horrible social injustice in our society. Trans equality is an issue that merits more serious attention and discussion than trans fashion models and gender-bending footwear. "
Despite the truth in Bae's statement and the humbleness of his words, I think it's safe to say that his shoes are doing great work in de-stigmatizing feminine and trans identities nonetheless, one leather platform at a time.
Images: Courtesy Syro