Season 6 May Connect To 'AHS: Murder House'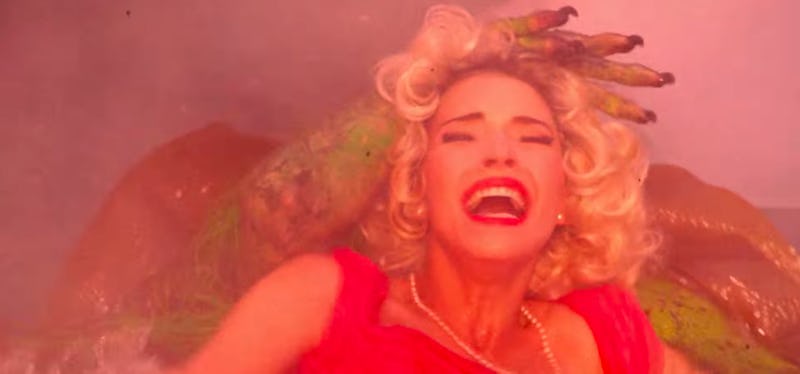 If you're a fan of all things creepy, than American Horror Story's Season 6 premiere on Sept. 14 can't come soon enough. I know that I had been anxiously awaiting news of the new season's theme, only to learn that FX's horror anthology series was keeping its theme under wraps to for much longer than previous seasons. Though FX has yet to unveil the series' theme — or clue us in on when we can expect to find out what the theme of American Horror Story is — it has released many promos for the new season that could act as a clue. Though FX CEO John Landgraf stated that only one of these promos is accurate, we have yet to hear word on the accuracy of Monday's new American Horror Story poster, which mirrors the promo also released on Monday. Could this be our first "real" American Horror Story Season 6 clue? If so, it suggests that Season 6 could tie directly into American Horror Story: Murder House .
The new American Horror Story poster features a woman being dragged into the water by some sort of creature, reminiscent of the monster from the 1954 horror flick The Creature From The Black Lagoon. Check it out:
The picture itself is very posed, almost like it's a promotional still from a movie. It seemingly ties directly into American Horror Story teaser "Blind Date" that also features a creature. However, this one reads as total camp — the tone doesn't feel very align with the previous seasons of American Horror Story. Could that be for a very important reason?
Though on the surface this poster and teaser could hint that the show will take on a theme similar to the monster movies of the '50s, the actual theme might be more about the behind the scenes of these films. Both American Horror Story: Hotel and American Horror Story: Murder House were set in Los Angeles and had connections to the film industry, though it wasn't a part of its main theme. The idea of Hollywood is quintessentially American, and it would make a lot of sense for the series to tackle a horror story that takes place against the backdrop of the entertainment industry.
A Hollywood theme could definitely connect to Murder House, just as Hotel connected back to the anthology's first season. Aspiring actress Elizabeth Short, known as murder victim The Black Dahlia, was a character on American Horror Story's first season after dying at the hands of the house's disturbed dentist. Should American Horror Story tackle a horror story set in Hollywood, it would make a lot of sense for another actress to visit the Harmon's final resting place, perhaps for one of the same services that brought the Black Dahlia and, later, the Countess from Hotel, to the first season's setting.
Though there's no word on when this new season will be revealed, American Horror Story may be leaving us just enough breadcrumbs to figure this thing out.
Image: FX Networks/YouTube