Jen Finally Gets Some Time To Shine On 'BiP'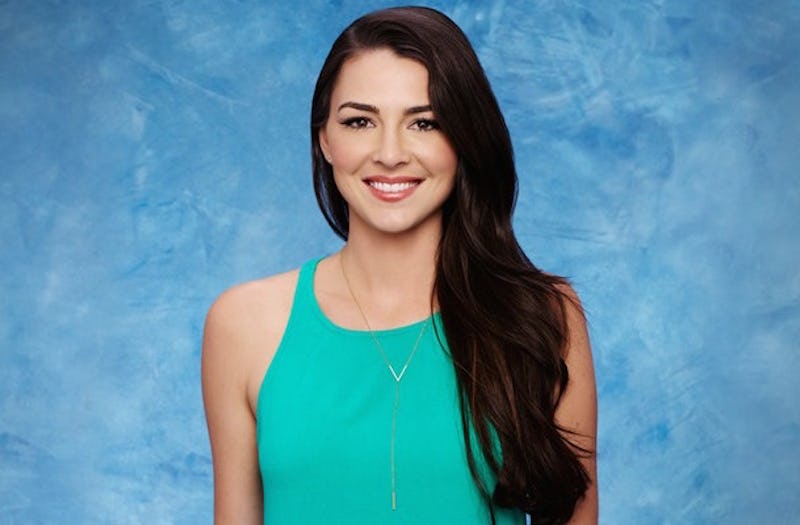 While Ashley Iaconetti is obviously the buzziest woman arriving on Bachelor in Paradise during the Aug. 16 episode, another woman is also headed to Mexico. Jennifer Saviano was shown in previews getting cozy on the beach with Nick, so what happened to Jennifer when she was on The Bachelor? If she's not super familiar, don't feel too bad. Although she was on Ben's season of The Bachelor for longer than Jubilee, she did not get as much screen time and wasn't as memorable, but that might all change with Jen headed to Bachelor in Paradise .
Jen, who Chris Harrison creepily called a "nubile newbie" in the preview for the Aug. 16 episode, will be really familiar with many of the women already in paradise. While Caila, Amanda, and Emily continued to get roses from Ben after Jen did, she stayed as part of Ben's season longer than Izzy, Lace, and Haley. Her biggest moment came early during the second episode when she gave the first official kiss to Ben after a group date at "Bachelor High," but unsurprisingly (when you consider the outcome of Ben's season), JoJo still earned the group date rose afterward.
During the third episode, Jen was subjected to going on another group date — this time a soccer-themed one with some help from World Cup champions Alex Morgan and Kelley O'Hara. Although Jennifer was pretty impressive — especially by comparison (no judgment, ladies! I would have been horrendous) — and scored a goal for Team Stars, they lost to Team Stripes and didn't get any extra time with Ben.
With the rest of the remaining women, Jennifer traveled to Las Vegas in week four and group dated it up. If they had thought soccer was bad, this group date was much more awkward since it was a talent show for Terry Fator's audience. Unfortunately, Jennifer's talent with a tennis racket was pretty forgettable, but that was probably preferable to the absurd level of backlash Olivia got for her showgirl performance. After Vegas, the gang traveled to Mexico City for week five, where Jen was put on a group date yet again. Clearly, her time on The Bachelor was coming to an end — not because she did anything wrong, but because she really wasn't getting any one-on-one time with Ben. She participated in the cooking challenge, but Olivia took center stage again and won the group date rose.
In Mexico, Jubilee was sent home by Ben before the rose ceremony, so he only had to send away one more woman during the episode. However, the episode ended on a to-be-continued note when the other women told Ben they had issues with Olivia — particularly about her making a Teen Mom comment about Amanda. Although Jennifer usually didn't get too involved in the drama during her time on The Bachelor, she did echo many of the other women in the house's sentiments about Olivia to Ben during the cocktail party before the week five rose ceremony. While The Bachelor added suspense by having fans wait until the next week to see if Ben would revoke Olivia's group date rose and send her home, the cliff-hanger ended up being unnecessary. Instead of Ben releasing Olivia, Ben sent Jennifer home alone during the first moments of the Feb. 8 episode while the remaining women headed to the Bahamas.
Although Jen never really got her moment to shine with Ben on The Bachelor, that's all about to change on Bachelor in Paradise since Nick appears to show immediate interest in her during the Aug. 16 episode. It's not surprising that the striking brunette will turn some heads when she crashes paradise and at least she won't be breaking any hearts like Caila since Nick is currently unattached. Since Nick was seen looking at an engagement ring in promos, it's a possibility that Jen could even get proposed to on Bachelor in Paradise. But all will be revealed in good time and until then, I'm just happy to see this Bachelor contestant get a one-on-one date for the first time — even if it gets interrupted by crabs.
Images: Craig Sjodin, Eniac Martinez, Rick Rowell/ABC