Why Is Pastor Ted Returning To 'PLL'?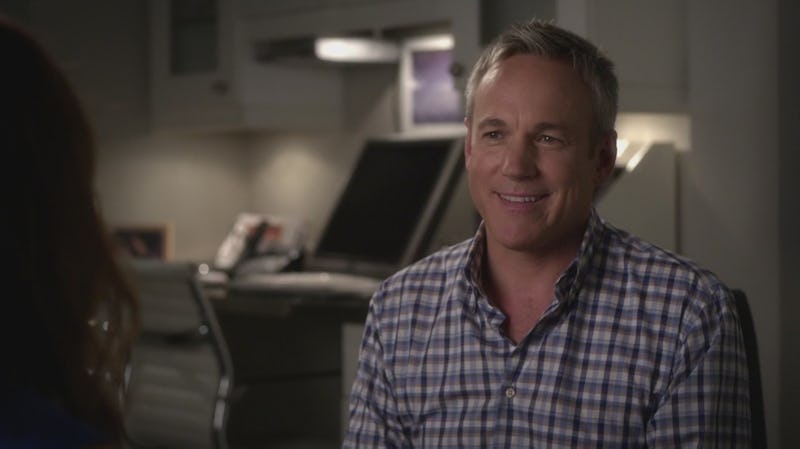 There's no such thing as a forgotten face on Pretty Little Liars. Now another Rosewood resident is returning to the series, and it's one we didn't expect to see much of since Hanna's mom Ashley bid him farewell in Season 5. According to TVLine, Pastor Ted is returning to Pretty Little Liars in Season 7B, and it's anyone's guess as to why at this point.
Well, okay, it's probably not true that there are no forgotten faces — I have a feeling we won't be seeing Spencer's tennis instructor love interest or Ella's creepy baker boyfriend ever again — but for the most part, Pretty Little Liars is planning on giving closure to plenty of characters you kept your eye on over the show's seven-season run. Paige, Noel, Jenna, and Jason have already made their return to Rosewood, while formerly MIA characters like Aria's pal Holden and Sydney will make a return in Season 7B.
But the last time we saw Pastor Ted, Ashley decided to end things with the church man. Ashley had cheated on Pastor Ted with Alison's brother Jason, and felt that she wasn't exactly the right person to be with him. So why might Pastor Ted return to the show after him and Ashley ended things? Here are a few reasons:
1. He's There For A Funeral
With so many deaths promised (and delivered) on this season on Pretty Little Liars, it would make sense for Pastor Ted to be in attendance at a future funeral. As a pastor, Ted could be presiding over the funeral of someone in the Liars' circle — perhaps, say, the funeral of the person who is supposed to die in the Season 7A finale?
2. He's Back To Woo Ashley
Personally, I think that Pastor Ted is a little boring for the always cool Ashley Marin, but that doesn't mean that he wasn't good to her and Hanna. Maybe Pastor Ted has returned to Rosewood to try to mend things with the woman who ended things with him years ago.
3. He's Dating Pam
Hey, Pam is single now, and needs to get back out there. I'm sure Ashley wouldn't mind Ted and Pam dating, as long as it made her wine buddy Pam happy.
4. He's Mary Drake's New Lover
Mary said herself that she's one to take lovers, so why not add Pastor Ted to that list?
5. He's Charlotte's Real Dad
It's the final season of PLL as we know it, and we still have no idea who Charlotte's biological dad really is. Could Pastor Ted have hooked up with Mary years ago? If that's the case, let's put him on the radar for Uber A, because any person related to a Drake or DiLaurentis is likely seriously shady.
Welcome back to Rosewood, Pastor Ted. Can't wait to see what drama you're bringing along.