These U.S. Serial Killers Were Never Caught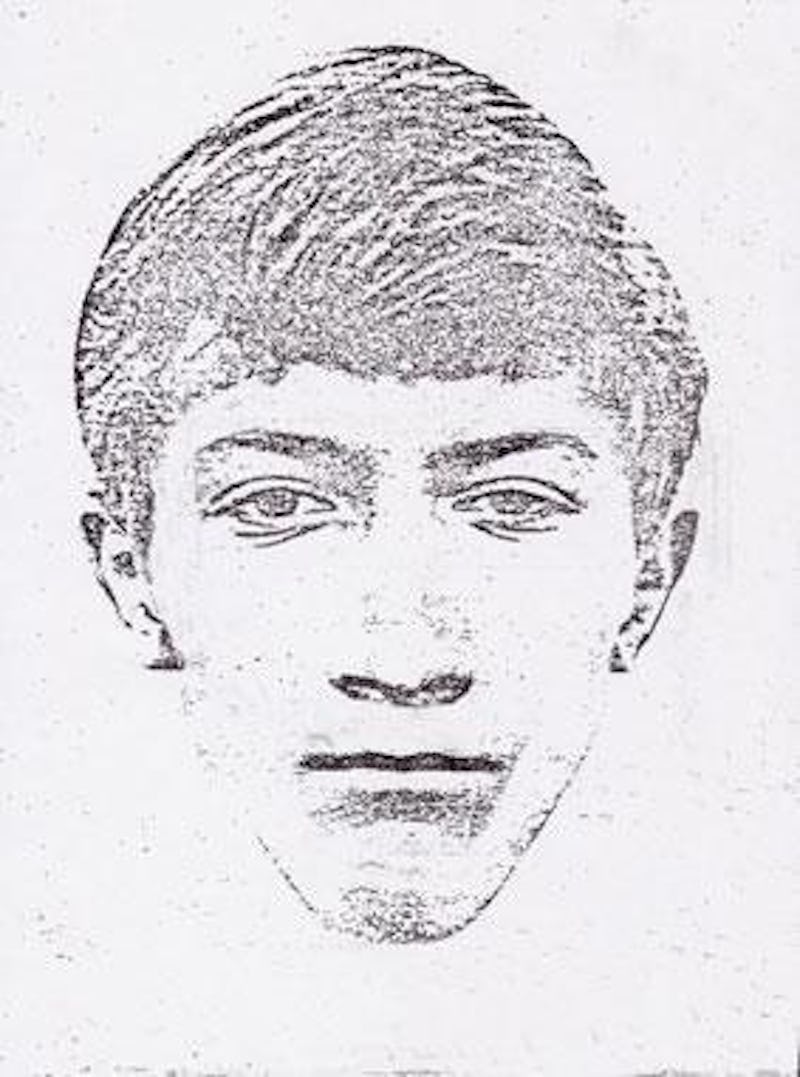 If you've ever idly wondered — as one does — how many U.S. serial killers were never caught, I have some bad news for you: We don't really know. Bustle's Gabrielle Moss explored the topic last year, and although she'd previously nailed down the number of serial killers who are active literally right now (25 to 50, for the curious), she later made a somewhat horrifying realization: Not only are some of those active serial killers never caught, we don't actually know how many will never be caught. Perhaps it's that uncertainty, though, that keeps us reading up about all those unsolved serial murder cases still on the books — cases like the five seen here.
You probably already know about the Zodiac Killer, who I would argue is the most notorious unsolved modern serial murder mystery, at least in the United States. But the Zodiac Killer (who — I hate to break it to you — is probably not Ted Cruz) is far from the only American serial killer who evaded capture; indeed, the mystery of who Zodiac is just scratches the surface.
As the FBI notes, for a long time, there wasn't actually a set definition of what a serial murder was; depending on who you spoke to, you could end up hearing something entirely different. What most of these many definitions had in common, though, were these two factors: There must be more than one murder (of course — you can't classify something as "serial" if there's only one of it), and there must be a period of time between murders. The period of time is what separates a serial murder from a mass murder; a mass murder is typically described as "a number of murders (four or more) occurring during the same incident, with no distinctive time period between the murders." Today, the FBI defines serial murder as "the unlawful killing of two or more victims by the same offender(s), in separate events."
And honestly, it's not just horrifying that so many of the perpetrators of these crimes are never caught — it's also enormously sad. Not only will the victims' friends, families, and loved ones never receive any closure about what happened to them, but in many cases, the victims may never be identified at all.
That's the one thing we can't forget when reading up about these cold cases, as titillating as they might be: These are all real human beings who suffered unimaginable horror at the hands of another person. In fact, maybe that's why we keep reading about them in the first place: In the hopes that maybe, just maybe, we'll finally figure them out — and finally get some closure for the victims.
1. The Cleveland Torso Murderer
Active primarily during the Great Depression, the Cleveland Torso Murderer killed at least 12 people in and around Cleveland, Ohio — both men and women, but all from low-income socio-economic backgrounds. The uncaught killer's name comes (as they so often do) from their M.O.: The victims were always beheaded, and frequently dismembered. They haven't all been identified, largely because many of them were found a year or more after their deaths and weren't in good enough condition to identify.
While 12 is the number of victims that have been confirmed, it's possible that the Cleveland Torso Murderer killed upwards of 40 people. Similarly, the dates the killer was active haven't been entirely nailed down; although the 12 confirmed victims were killed between the years of 1935 and 1938, the out edges of the Torso Murderer's reign may stretch as far back as the 1920s and as far ahead as the 1950s. The "Lady of the Lake," found in 1934, is considered a strong candidate to add to the list of victims; so, too, is Robert Robertson, who was found in 1950.
A Cleveland bricklayer named Frank Dolezal was arrested in 1939 as a suspect in one of the murders — that of Florence Polillo — but most researchers don't believe he was actually responsible for the Cleveland Torso Murders. Either way, though, there's nothing more to be gleaned from him now — he died under suspicious circumstances while incarcerated in the Cuyahoga County jail.
2. The Phantom Killer
If the nickname given to this uncaught killer doesn't ring a bell for you, maybe the name given to the crimes they committed will: They're known as the Texarkana Moonlight Murders. Between February and May of 1946, the region known as Texarkana — which is anchored by Texarkana, Ark. and Texarkana, Texas — was stalked by a serial killer who attacked eight people and claimed the lives of five. It sparked a panic at the time, and many in the area still fear the Phantom Killer today.
The killer went after young couples using a .32, usually in secluded areas (the classic "lover's lane" scenarios seen in so many urban legends) and always at night. The attacks occurred roughly three weeks apart on weekends. A number of suspects were investigated, but none of them were ever proven to have committed the crimes. According to Texas Monthly, the Texas Department of Public Safety has referred to the Texarkana Moonlight Murders as "the number one unsolved murder case in Texas history."
If you know the 1976 film The Town That Dreaded Sundown (or the 2014 reimagining of the same name), the events depicted are a highly fictionalized version of what actually happened in Texarkana in the '40s. More interesting to me, though, is this: As the documentary Killer Legends (which is available to stream on Netflix, by the way) explores, it's possible that the Texarkana Moonlight Murders inspired the "Hookman" urban legend that's still used to scare teens straight today.
3. The Long Island Serial Killer
It's not uncommon in cases of unsolved serial killings for the precise dates of activity and number of victims to remain difficult to pin down; without a culprit from which to glean information directly, we're left with detective work and estimation. Such is the case with the Long Island Serial Killer; we think they were active between 1996 and 2010, and we believe there to be around 10 victims, but we don't know for sure.
What we do know is that about 10 sets of remains were found between December 2010 and December 2011; many of the victims had been strangled and wrapped in burlap sacks elsewhere, then deposited along Gilgo Beach in Long Island, NY. Others were found along the Ocean Parkway, near Oak Beach, and near Jones Beach State Park. According to PIX 11, a set of legs discovered in Davis Park in 1996 may be the work of the same killer.
What's even freakier is this: It's possible — likely, even — that the Long Island Serial Killer isn't the only person to have used Gilgo Beach as a dumping ground; some of the remains found during the investigation were determined not necessarily to have been deposited there by the same person. Said Suffolk County District Attorney Thomas Spota in 2011 according to ABC7 Eyewitness News, "It is clear that the area in and around Gilgo Beach has been used to discard human remains for some period of time. As distasteful and disturbing as that is, there is no evidence that all of these remains are the work of a single killer."
4. The Original Night Stalker
You've probably heard of Richard Ramirez, who was convicted in 1989 of 13 counts of murder, five counts of attempted murder, 11 counts of sexual assault, and 13 counts of burglary in the Los Angeles and San Francisco areas; dubbed "the Night Stalker," he was sentenced to death, but died of complications from B-cell lymphoma in 2013 before the sentence was carried out.
That's not the Night Stalker I'm talking about here.
Between 1979 — about five years before Ramirez began committing his crimes — and 1986, an unknown assailant raped 45 people in Northern California, murdered 12 people in Southern California, and committed more than 120 burglaries. The rapes occurred first; in several areas east of Sacramento, at least 50 women were assaulted between June 1976 and July 1979. At the time, the assailant was given the name "The East Area Rapist." The Southern California murders began in 1979, although it wasn't until 2001 that they were linked to the Northern California rapes.
Like the Zodiac Killer, the Original Night Stalker, as this one has come to be known, frequently communicated with authorities and the public through a variety of media, mainly letters sent to the Sacramento Bee and phone calls. Although several suspects were investigated, whoever committed the crimes was never caught. The case was just reopened this summer, though; for more information — including how you might be able to help — check out the FBI's webpage on the case.
5. The Servant Girl Annihilator
Here's one from the history books: Between 1884 and 1885, a serial killer operating in Austin, Texas murdered five black women, two white women, and one black man, seriously injuring six more women and two more men. The "Servant Girl Annihilator" — a moniker bestowed upon the assailant after the fact by writer O. Henry — had a fondness for axes; although their M.O. wasn't exactly the same in all the attacks, most of them died due to blows from an axe. Six of them also had sharp objects jammed into their ears.
Eyewitness accounts varied so dramatically that it was virtually impossible to identify a suspect on sight; descriptions included people of many different ethnic and racial backgrounds and wearing a huge variety of clothing options, although generally most accounts reported the perpetrator as a man. We'll probably never know, though, because after Dec. 24, 1885, the murders stopped.
Interestingly, just three years after the Servant Girl Annihilator ceased activity in the Austin, another set of notable unsolved serial killings began: Those of Jack the Ripper. The theory that the Servant Girl Annihilator was also Jack the Ripper has never been proven — and, in all honesty, probably never will be — but still. It's a curious connection all the same.