Say Goodbye To Jane Foster, Marvel Fans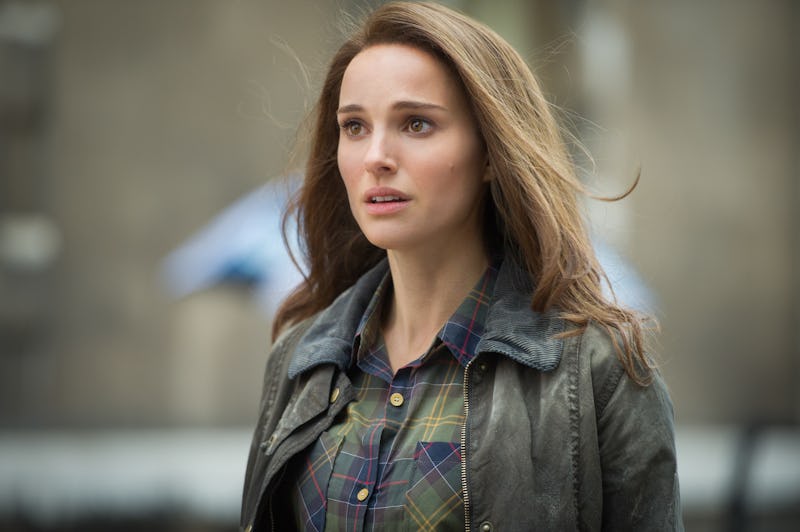 Someone send Thor a pint of ice cream, because it doesn't sound like he will be seeing his girlfriend again anytime soon. In a new interview with The Wall Street Journal, Natalie Portman revealed she's done with Marvel. While the actress did leave the door open for a possible return if she is ever asked, she seemed to profess that there are no plans to bring Jane Foster back to the Marvel movie universe at this time. In fact, Portman said as far as she knows right now, her time as Jane has come to an end. While she joked they may ask her back for Avengers 7 one day, for now she has moved on with her career, which includes making her directorial debut with A Tale of Love and Darkness.
It was previously revealed Portman would not reprise her role as Jane in the upcoming Thor: Ragnarok , but since the movie will be largely set in space, it made sense for resident of Earth Jane to sit this one out. Now it sounds like Jane's final appearance was in Thor: The Dark World, even though no one knew it at the time. After Thor mentioned Jane in Avengers: Age of Ultron, it seemed inevitable she would return one day, but for now fans will have to assume the scientist called it quits with Thor. I mean, I know they had a long distance relationship, but I was pulling for those two crazy kids to make it work.
Knowing Portman and Marvel have parted ways for the foreseeable future is a real loss. Not everyone was a fan of Jane, but she kept the Thor movies grounded with her humanity. If Thor had never met Jane he would have no ties to Earth. She introduced him to a whole new world and made him want to be one of Earth's champions.
Jane was more than Thor's girlfriend, she was a brilliant scientist, and having her on-screen was a gift for young women who love STEM subjects. Even though she had no superpowers, Jane used her intelligence to solve problems, and assist S.H.I.E.L.D. with their growing alien concerns after she was recruited. Jane was also a wonderfully stubborn, brave character who wasn't afraid to punch Loki for messing with her friends.
The biggest loss of all may very well be seeing Jane and Darcy's friendship continue to grow. As wonderful as Marvel is, the company's movies have not excelled at showcasing strong female friendships. Jane and Darcy were a major exception. They were friends before Thor and they remained each other's strongest allies even after they met the Norse god. If Jane is gone there is not much hope of seeing Darcy again, and even if Darcy did return it would be without her BFF at her side.
It is the nature of ongoing franchises to evolve and lose characters along the way, but the confirmation that Jane will not be appearing in any of the upcoming Marvel movies is a shame. Not only are fans going to miss out on the subtle performance of Portman, but they are losing one of the Marvel Universe's few completely human, non-hero female characters.
Without Jane, the story of Thor will be free to explore the heavens without any human ties, but the franchise as a whole will have lost a true asset and an amazing character with the potential to be so much more than Thor's girlfriend.
Images: Marvel; Giphy (2)