No 'Thor: Ragnarok' For Natalie Portman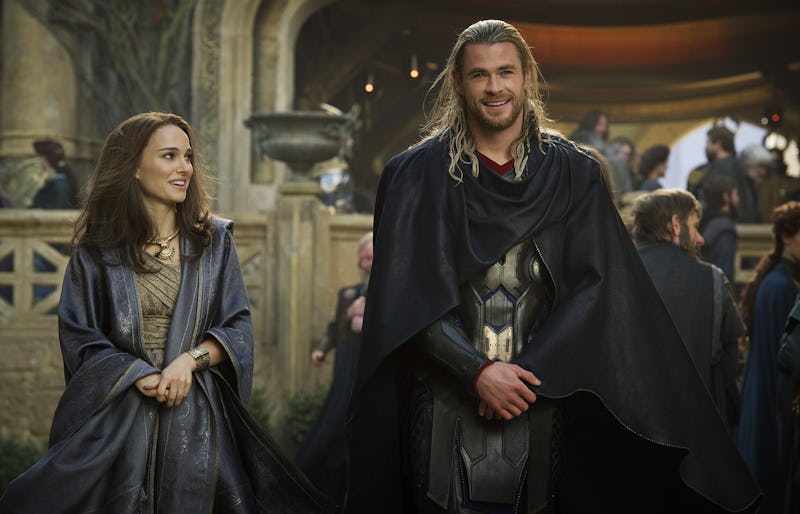 Sad news, Jane Foster fans: Natalie Portman is not returning for Thor: Ragnarok . Head of Marvel Studios Kevin Feige confirmed Portman would not be in the film during a recent Empire Film Podcast. According to Feige, the reasons why Jane could not be in Thor 3 will be made clear in the film itself, but one major reason could be the amount time the movie will be spending in space. "There are only a couple scenes on Earth in this movie," Feige told Empire. "The majority, 95 percent of the movie, takes place in the cosmos."
Since Jane is a human, it seems unlikely she would be involved in so much space drama, especially after she was infected by the Aether in Thor: The Dark World. While it will be sad not to get another chapter of Jane and Thor's romance anytime soon, Thor: Ragnarok appears to be the next piece in Marvel's push toward telling the epic, galaxies spanning story of the Infinity War. The studio still has a lot of work to put into uniting their Earthbound heroes and the ones who zip around space like the Guardians of the Galaxy, and Thor is the one character from the Marvel movie-verse who moves easily between Earth and space. Sadly, that leaves precious little time for an arc including the Earth-dwelling astrophysicist Jane.
Details about Thor: Ragnarok are scarce at the moment, but a new female lead has been cast. Deadline reported that Tessa Thompson will be playing a key role in not only the new Thor, but in more Marvel movies to come. According to Deadline, the Creed actress is rumored to be playing Valkyrie, a character comic book fans know as the leader of Odin's Valkyrior and a member of The Defenders. More telling is her comic book history with The Hulk. According to Variety, it has been confirmed Mark Ruffalo will play a major role in Thor: Ragnarok, which could mean The Hulk and Valkyrie will have a unique connection on the big screen as well.
In addition to Thompson's character, the movie will also feature more of the always badass Lady Sif, and, according to The Hollywood Reporter, Cate Blanchett will star as the movie's villain. That's good news for fans who prefer for their superhero movies to feature a diverse range of female characters. While I would love to have Jane (and her amazing BFF Darcy) back for the third adventure, it would be even more troubling if Marvel tried to force the characters into a story where they have no real role play.
Just because Jane is sitting out this installment doesn't mean she won't appear in future Marvel movies. As a brilliant astrophysicist, she has lots to offer, and don't forget, in the world of the comics, Jane even gets to be Thor for a while. I can deal with no Jane for now in favor of an epic space adventure, as long as the potential for a quality Jane story in the future still exists.
Images: Marvel Studios; Giphy (2)