Izzy & Vinny Are On Good Terms After 'BiP'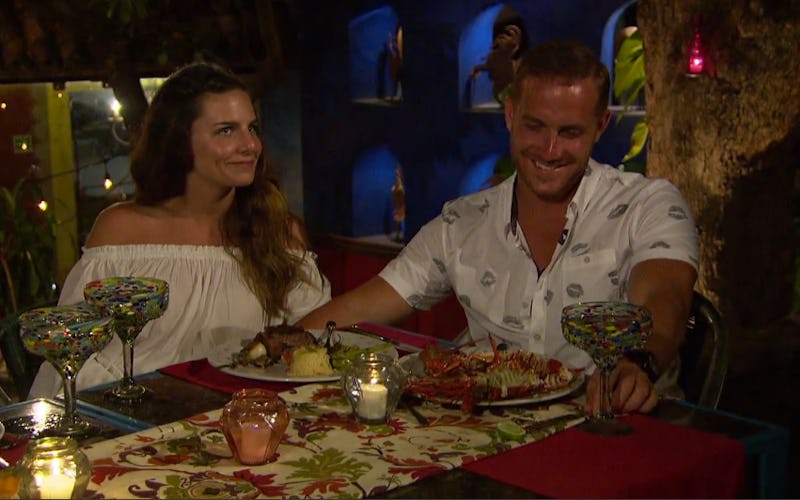 Izzy Goodkind and Vinny Ventiera were two Bachelor alums known mostly for their lack of screen time in their first appearances on the franchise. As soon as they entered Bachelor in Paradise, Izzy and Vinny formed a connection, grabbing that "Day 1 Couple" trophy with gusto. But that was all filmed months ago, so are Izzy and Vinny engaged now that they've left Paradise? The question of whether they found happily ever after in three weeks is on many viewers' minds, and my prediction is that while they're still friendly, I don't think they're planning a wedding.
Izzy and Vinny appear to still be in a good place, but that does not mean they will be trading vows. Their post-show relationship has mostly consisted of friendly banter on social media and in the Bachelor world, positive social media buzz is everything and can even boost a person's career and brand. So while they both seem happy on Twitter, that could also be because they want to promote their season of Bachelor in Paradise. They haven't been spotted together in-person by paparazzi or any news sites, though other BiP couples have. Still, Izzy's pinned tweet, a joke about the couple, is a good indication they are just fine with each other:
Vinny also likes and retweets comments about the couple. For this reason, it would seem that at least a friendship is still present between the two. However, I think that may be the only thing between them, as Monday night's episode showed Izzy falling for Brett, hurting Vinny's feelings in the process. They are still friendly, though, as evidenced by this IG snap.
But, it's hard to believe Monday's amount of tears and heartbreak leads into an engagement. It would seem that Paradise may be about to change for this couple and they may truly be done. While both people may be showing support for #TeamVizzy online, that doesn't mean Vizzy didn't take a turn from romantic to friendly. If that's the case, fans shouldn't be too upset. Vinny and Izzy are clearly OK with however things ended up between them, and the same can't be said of many other Bachelor Nation pairs.
Of course, I could be wrong and in a few weeks we may be watching Chris Harrison officiate a Vizzy wedding. But to me, it just seems that they are more focused on building a brand than a relationship. Vinny, who is a DJ and hairdresser, even sells tank tops through his Twitter — and just look how lovely and reality TV ready this tank is:
Izzy, who also seems to be a fan of Bachelor in Paradise, gets to promote her own brand by tweeting about her relationship with Vinny. As someone eliminated in the first week of Ben's season of The Bachelor, she should be proud to make it so far in Paradise and has every right to promote the season, whether or not she walks away from it with an engagement ring.
I hope that Vinny and Izzy replace their tears with roses, but at the end of the day, whether they ended up in love or not, they recognized that appearing on Bachelor in Paradise is a great opportunity and smartly capitalized on it.