A Killer Returns To 'Scream Queens' Season 2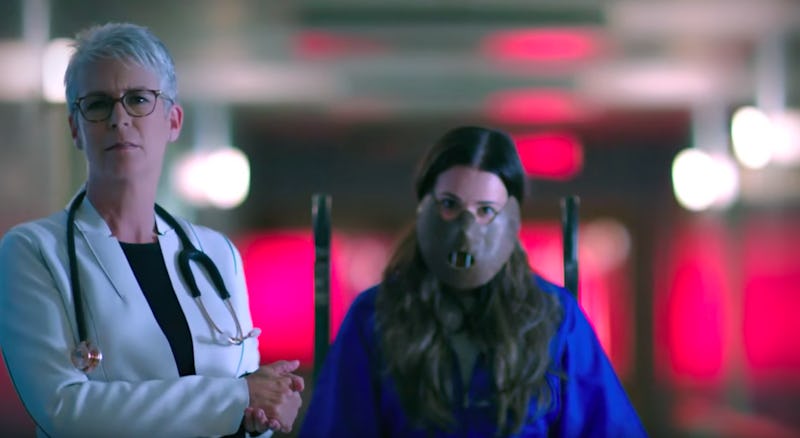 It has been ages since we unmasked the Red Devil killer on the first season of Fox's horror-comedy series Scream Queens, but just because the Wallace University stalker stopped her college killing spree doesn't mean she's dropped her murder-y tendencies. Lea Michele's death-obsessed sorority girl Hester was revealed to be the bathtub baby and the final Red Devil killer in the show's Season 1 finale, but, unlike many TV villains, she didn't go to prison. Instead, Dean Munsch made a literal deal with the devil and allowed Hester to get away with her crimes in order to protect herself from getting caught for her ex-husband's murder. So, is Hester really done murdering? A new promo for Scream Queens Season 2 hints that maybe she's not playing nice.
The new Scream Queens promo is as bizarre as we've all come to expect from this show, and it's making me very excited to see what the new season has in store. Season 2 of Scream Queens is moving away from the college setting and jumping ahead three years to when the Chanels and some of the other Kappa Kappa Tau sorority girls are working at a hospital. Dean Munsch is still in charge, this time taking on reforming the health care system rather than the sorority houses — and Hester looks seriously crazy. In this promo, we see Dean Munsch strapping Hester into a Hannibal Lecter-style face mask, perhaps clueing us in on Hester's flash-forward fate.
According to Michele at Scream Queens' Comic-Con panel, the other characters actually don't know where Hester is when Season 2 begins, and it's "great when [they] find out." Could Hester possibly be residing in the mental institution where Dean Munsch and the other Chanels will eventually meet up with her again? It's certainly possible: Hester may not have been caught for the murders at Wallace University, but you can't keep that kind of crazy down. Who knows how many murders Hester has committed after her freshman year at college? There's definitely a possibility that Hester would be locked away for some Hannibal-esque crimes.
However, just because Hester might still be murder-y doesn't mean she'll be the murderer of the season. Bustle's Jefferson Grubbs suggests that maybe Hester will actually help catch this season's serial killer, just like Hannibal helped Clarice get into the mind of fellow murderer Buffalo Bill. Anything can happen on Scream Queens, and, while we may not trust Hester, there's likely going to be an even badder Big Bad on the horizon to unmask.
Images: Scream Queens/YouTube (2)