This Is The #1 Opening Message Online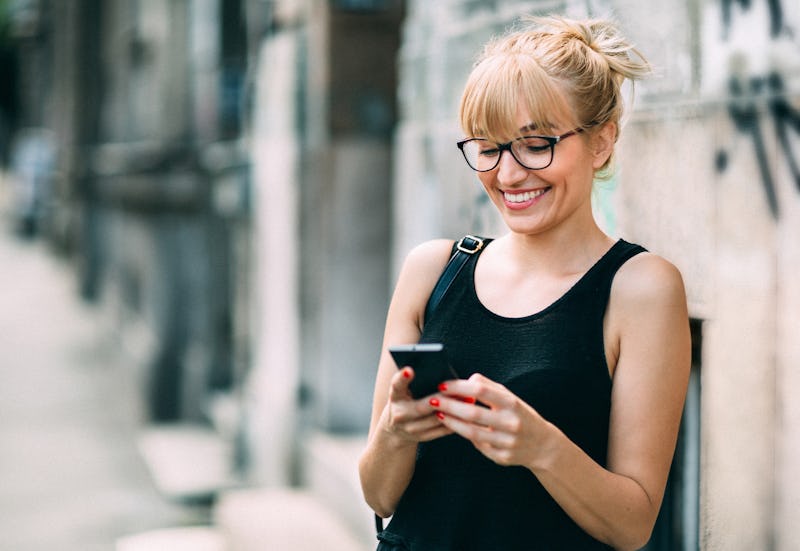 It's a great feeling when you match with someone on a dating app — until you put pressure on yourself to think of a witty, charming one-liner to greet them with. Though it's tempting to say something off-the-wall and attention-grabbing, sometimes the best opening lines on dating apps are the simplest. When you have nothing to go off of except a handful of pictures and a short bio, it's probably a good strategy to play it safe until you get a sense for the other person's conversation style and sense of humor.
Bustle teamed up with dating app Happn and surveyed 1,100 men and women to learn more about people's behavior on dating apps, and it provided tons of insight into how people actually interact with one another. When it came to popular first messages, "Hey, how's it going?" took the top spot. It might seem simple, but in my opinion, it's better to start with something friendly, inquisitive, and most important of all, not pushy. I'd much rather someone ask me how my day was than tell me I have "nice sideboob" (which happens a lot, for some reason). If the conversation starts to halt, there are plenty of ways to spice up your online dating convos — but it can't hurt to play it safe for the first message. When you're unsure of how to start things off, keep it simple with a "Happy Friday!" or "How's your week been?" Being bold enough to make the first move, regardless of your gender, can earn you serious brownie points, regardless of what you actually say. (Though there are definitely some things you should never say in a dating profile or message.)
The bottom line? A good opening line is just the tip of the iceberg when it comes to online dating success. After the first message jitters have subsided, all you can do is focus on building a (hopefully lasting) connection with your match. Here are three popular features that Happn users take advantage of to get the most out of their matches.
1. Sending Charms
According to the survey, 49 percent of Happn users take advantage of the 'Charms' feature. Essentially, it's like a poke or nudge to show interest in someone if you have yet to match. When you come across someone you're into, you can click the little magic wand icon, which sends the user a push notification letting them know you've sent a Charm, then they're free to like you back in order to open a chat between the two of you. It's kind of like the superlike on Tinder — both features allow you to express 'extra' interest in someone you want to chat with.
2. Showing Off Their Instagram
It's almost weird not to Insta-stalk someone before meeting them nowadays. Like many other apps, Happn gives you the option to link your Instagram to your Happn profile — which 25 percent of users surveyed did. That might seem like a low number (who wouldn't want to give their Insta a little more publicity?), but it's also worth noting that privacy is still important, and not everyone wants strangers sliding into their DMs. If someone does choose to link their Instagram, it's a great way to get a glimpse into their life, and most importantly, see more than the nine carefully chosen photos they used in their profile.
3. Sending Songs Via Spotify
When words fail, sometimes the best way to express your budding affection for someone is through song. Because it'd be a tad creepy to send someone a video of you serenading them, Happn helps out by allowing you to link your Spotify account to your Happn profile — a feature 12 percent of users surveyed took advantage of. When you do this, your profile will showcase some of your recently played music.
So if you're fearful of judgment from hipsters, be warned: They'll totally be able to see that you were just listening to Mariah Carey's greatest hits (again). With this feature, you can also send songs to someone you're chatting with by tapping on the music note icon. Really want to put the moves on someone but tongue-tied? Give them a super subtle hint by sending them "I'll Make Love To You" by Boyz II Men.
Images: Fotolia; Claire Joines; Giphy (3)