Where Can You Download Frank Ocean's "Nikes"?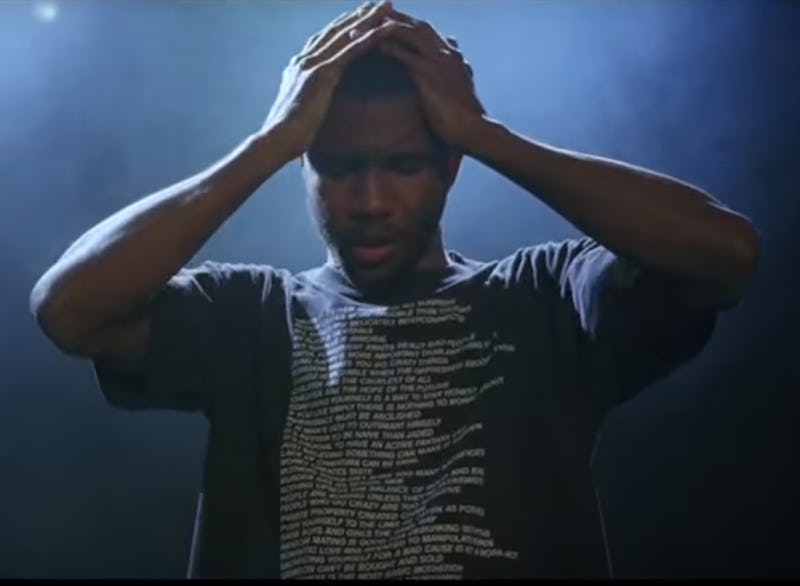 You didn't seriously think that Frank Ocean's visual album Endless was going to be the last of Ocean's surprises in August, did you? No way. And though we might still be waiting for the release of Ocean's second album, formerly known as Boy's Don't Cry, fans have instead been treated to a different musical surprise from the artist. On Saturday morning, Ocean released the song and music video for "Nikes," and it's nothing short of astounding. With a mesmerizing melody, and effects-heavy vocals which strip slowly down to Ocean's bare flow, it's unequivocally breathtaking. You can watch the glittering (and very NSFW) music video on Apple Music or Ocean's website, but knowing how great the song is, I'm sure there's only one question you're currently asking: Where can I download Ocean's "Nikes"?
Considering that Ocean has an exclusive content contract with Apple Music, you'd assume that fans would be able to download the song straight from the iTunes store. But, in this instance, you'd be wrong. In fact, "Nikes" is only currently available to watch as a music video on Apple Music via the Connect service. But don't lose hope, friends — just because it's not available for download now doesn't mean it won't be soon.
If you're wondering why Ocean has made the song only available for streaming as a music video, rather than as a standalone track, then I may just have the answer for you. In an interview with The Guardian back in 2012, Ocean revealed that he's far more interested in the narrative of a song, rather than in simply parlaying nothing but the musical aspect of it:
I focus on both sonics and story, but music sometimes, just music itself, can turn into more of a maths problem...But storytelling's a different thing. Like I said, it's the more interesting part about making music for me, or making albums and songs and stuff.
So there you go. There's no denying that the visuals of the "Nike" video are both visceral and a little confounding, but when paired with the music they definitely tell a story. And in what feels like the never-ending story of Ocean's long awaited second album, the album formerly known as Boy's Don't Cry. "Nikes" could well be the prologue which is preparing us for it's eventual release to unfold.
Images: Apple Music (2)