The Most Powerful Moments In Frank Ocean's "Nikes"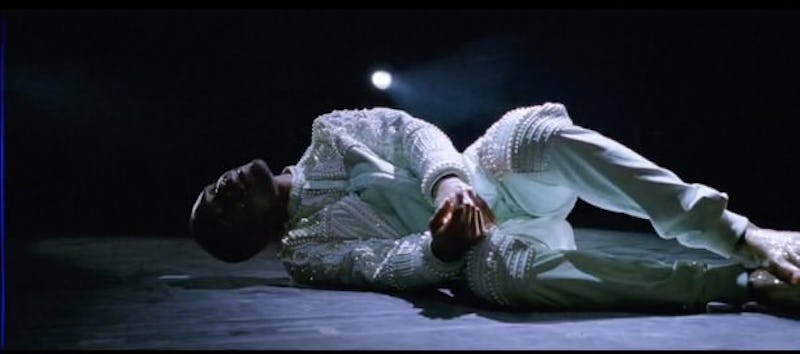 Frank Ocean might be the artist who has repeatedly cried new music, but when it comes to his single "Nikes," Ocean has over delivered, providing us all with the most meaningful and intentional content of his career. Since 2012's channel Orange, Frank has repeatedly teased fans with the promise of fresh material, only to push back release dates. Until finally, Ocean's visual album, Endless , dropped on Friday, Aug. 19. Following that, Ocean premiered a NSFW, glitter-filled video for "Nikes." In it, there's a self-immolating Ocean, a tribute to Black Lives Matter, and an overall painfully accurate attack on consumerist culture. In a lot of ways, "Nikes" feels more relevant than any music other video this year — and it's filled to the brim with powerful moments that prove "Nikes" is Ocean's best release yet.
Sure, there's a part of Ocean's noncommittal release attitude that can be frustrating as a devout fan, but along with that comes something brilliant and shiny in the haze of conformist music. A refusal on Ocean's part to commercialize himself or fit into boxes. Ocean doesn't play by the rules, and in the video for "Nikes," he reminds us why that's essential to his individual artistry. Take a look at some of the video's most incredible moments.
1. The Money Shot
Frank Ocean sings "B*tches want Nikes/They lookin' for a check" as we see one, and then two bodies draped across a bed of cash. It sets the tone for what's a critique of the hedonism of fortune and material pleasures.
2. A$AP Rocky Holding A Photo of A$AP Yams
While A$AP Rocky smokes a cigar, and holds up a photo of the deceased A$AP Yams, with whom he was close before A$AP Yams' tragic death in 2015 of an accidental overdose.
3. The Trayvon Martin Tribute
Later, we see Ocean holding a framed image of Trayvon Martin. "RIP Trayvon," Ocean sings "That n*gga look just like me." So powerful.
4. These Dual Images Of Ocean
The two sides of Frank Ocean — Frank Ocean as on-stage performer, covered in Balmain garments and glitter — and Frank Ocean as self-immolating artist, giving everything he has to his his music.
5. The Heaven's Gate Cult Shot
Though the "Nikes" in Frank Oceans song are a symbol of American consumerist culture, Ocean includes a dark shot that's a references to the "Heaven's Gate" cult, a group of 39 individuals who committed mass suicide in 1997 and were photographed in Nikes, with purple sheets covering their bodies. The cult lived an ascetic life, void of material possessions, before they decided to kill themselves.
6. The Meta Filming Shot
Right before Ocean comes in with his second verse, we see cameras panning around him, ready for him to stand on stage and give a "typical performance."
7. The Devil In The Theater
Ocean sings "Don't know what got into people/ Devil be possessin' homies/ Demons try to body jump" as a human dressed like a devil runs rampant through an empty theater. Is it the spirit of performing that feels devilish to Ocean? Is it the audience's consumption of the performance? More than likely, both.
8. The Flesh
The shot is quick, lasting just over a second, but amongst all the hazy party scenes, and the surrealism, it stands out to remind the viewer, quite literally, the rawness and humanity of Ocean's words.
9. The Couple
As Ocean sings, "I may be younger, but I look after you," the camera pans to a couple that holds each other and looks into the camera. One of the themes Ocean explores is romantic love and intimacy. The shot of these two shows that there are many variations of that ideal.
10. Ocean Falling To The Ground
In the last minute of the song, Ocean sings "I'm not him, but I mean something to you" and collapses. The meaning behind this could perhaps speak volumes about how Ocean sees himself — he gives himself to his music, completely.
11. The Newborn Eyes
The universal symbol of a new beginning caps a song and video that are otherwise full of nihilism — signaling that there might be some hope after all.
"Nikes" stands out as one of 2016's most tightly wound, interesting, and complex music videos. It's fair to say that it was well worth the wait.
Images: Apple Music