This Frank Ocean "Nikes" Lyric Explains So Much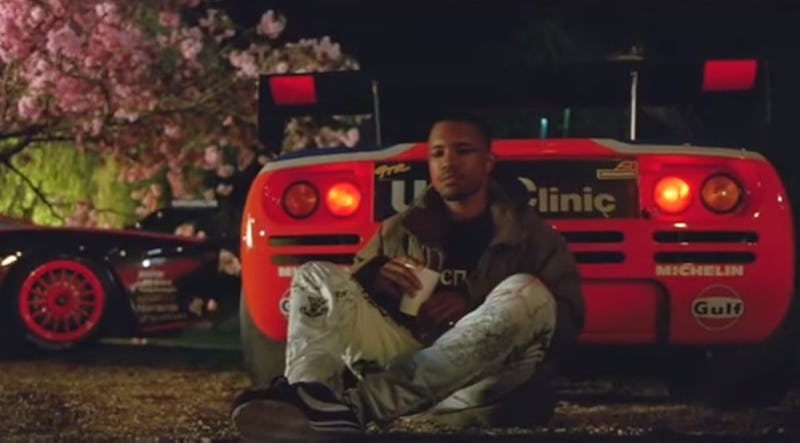 It's time for Frank Ocean to add master of surprise to his resume. After teasing fans with prospective release dates for years, Ocean released his surprise visual album Endless on Aug. 19, and then just one day later on Aug. 20, he debuted his new (NSFW) music video for "Nikes" on Apple Music and his website. It was definitely worth the wait: "Nikes" is a frenetic song touching on a multitude of topics. There are nods to the Black Lives Matter movement, references to intense party scenes, and a not quite love story running through the four and a half minute song. Considering the song works so well as one entity, it's difficult to pick out one lyric that sums up "Nikes," but there is one — and it makes the video and the lyrics make so much sense in retrospect:
"We'll let you guys prophesy, we gon' see the future first."
The line comes in during the second verse, and upon hearing it, "Nikes" suddenly makes sense. The song is a reflection of Ocean's state of mind and a study not only of current events, but of a particular atmosphere where people party hard and do everything necessary to stand out. Throughout the song, Ocean offers up shout outs to Slip-N-Slide Records, to A$AP Yam, to Pimp C, and most poignantly to Trayvon Martin. Ocean is looking to the past even as the song itself is all about living in the now and experiencing the future as it comes.
More than anything, "Nikes" is about looking ahead. Ocean knows he is on the cutting edge of music, but his promise that "we gon' see the future first" is not about the music industry. In the greater context of the song, Ocean's vow to see the future before the guys who prophesy it is a promise for real change. Society is in a state of flux right now, and the confusion of navigating a world so full of uncertainty is weighing everyone down.
Much of "Nikes" is devoted to Ocean singing about not wanting those around him to be after "basic" possessions, but a closer look reveals the song plays out in stages. There are nods to a past that can't be changed, frustration over the state of race relations in the United States, a desire to forget it all and just embrace the singularity of a wild night out, and finally the realization that change is possible, and people with clout like Ocean can be agents for that change. There is hope in his promise of seeing the future before anyone else.
"Nikes" is undeniably an unusual song with a number of threads running through it, but overall it is hopeful that eventually the world will move past the hate and the anger, and everyone can live for the moment instead of constantly worrying about what happens next.
Image: Apple Music